Trump's Gratitude for the 'Bad Guys'
The president of the United States isn't just "very thankful" for Putin. His list of accolades ranges from Turkey's leader to the Philippines president.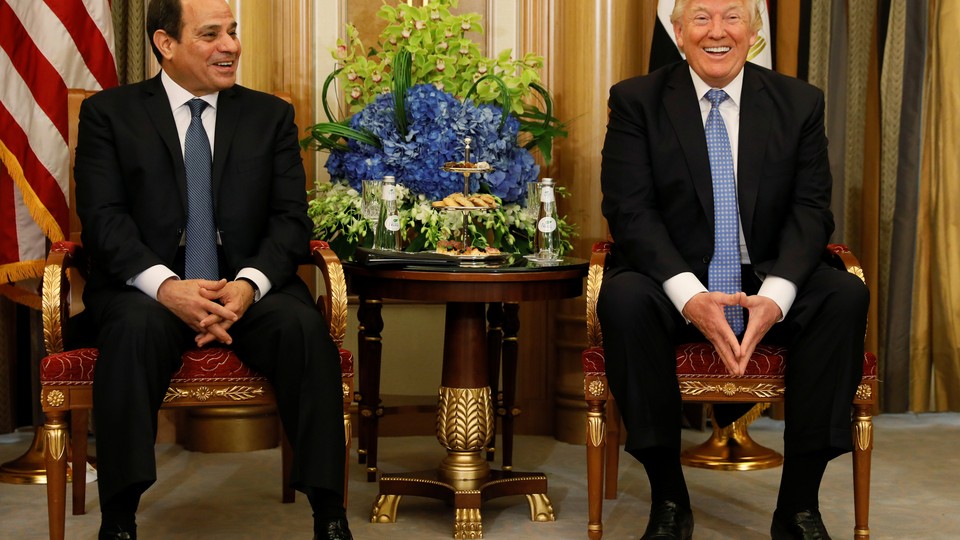 It took President Donald Trump more than 10 days to comment on Russia's expulsion of 755 personnel from the U.S. Embassy in Moscow, and when he did Thursday, he said: "I want to thank him [Russian President Vladimir Putin] because we're trying to cut down on payroll, and as far as I'm concerned, I'm very thankful that he let go of a large number of people, because now we have a smaller payroll. There's no real reason for them to go back. So I greatly appreciate the fact that we've been able to cut our payroll of the United States. We'll save a lot of money."
Notwithstanding the fact that most of those affected by Putin's order are Russians, or that Trump's remarks come amid poor morale at the U.S. State Department amid what many career officials are calling a "hollowing out," the president's comments hew to a familiar theme: his reluctance to not only criticize Putin, as my colleague David Graham writes, but also to actively praise other world leaders with authoritarian tendencies.
Part of this is because Trump views at least some of these leaders as figures who bring stability—or as he has said multiple times "at least they killed terrorists." It is in this vein, he said "we would be so much better off if" Moammar Qadafi, the former Libyan dictator, was still in charge of his country. Since Qadafi's ouster and ultimate killing in 2011, Libya has plunged into political chaos, with little clarity on who is in charge. Trump's remarks on Saddam Hussein, the former Iraqi leader, are similar. He called him "really bad guy," but added: "You know what he did well? He killed terrorists. He did that so good. … Today, Iraq is Harvard for terrorism."
Iraq, while not a Western-style democracy, has spent the last decade slowly building institutions. Its military, with U.S. support, is leading the successful fight against ISIS in Iraq. Trump has even moderated his criticism of Bashar al-Assad, the Syrian leader who has led a brutal crackdown on his people, leading to the worst refugee crisis in Europe since World War II.  Trump said while "Assad's a bad guy … they're all bad guys. We're supporting rebels. … We don't even know who they are."
There has been similar praise for Egyptian President Abdel ­Fatah al-Sisi, who has cracked down on civil society, banned anti-government protests, and continues the practice of torture and forced disappearances. Rodrigo Duterte, the Philippines president who has boasted about carrying out extrajudicial killings of drug dealers and criminals, is another of Trump's favorites. Trump not only praised him during a phone call, but lauded Duterte on the "unbelievable job on the drug problem." Trump's affinity for Duterte's actions against suspected drug traffickers echoes his remarks last month when he told officers "don't be too nice" to suspects.
Recep Tayyip Erdogan, the Turkish strongman, even received a congratulatory phone call from Trump after carrying out a referendum that consolidates power in his hands—a vote that was widely criticized by the country's opposition and international observers. Ditto with Prayuth Chan-ocha, the former Thai military officer who now runs the military-backed government. He received an invitation to visit the White House.  Even Kim Jong Un, the North Korean leader who at the moment is the target of Trump's surface-to-twitterverse messages, was not too long ago praised by the president. Trump has been candid about the threat he thinks North Korea poses, saying while he doesn't know whether Kim is sane, the North Korean leader is "a pretty smart cookie," adding he "would be honored to" meet with Kim if it "would be appropriate."
None of this is on its face unusual. Trump's advisers have pointed out that his relationship with these leaders is part of a strategy to build alliances—and it's hard to argue with that. After all, the U.S. has a long history of supporting dictators around the world while simultaneously preaching the virtues of democracy and capitalism. But much of that occurred during the Cold War when the political future of the world lay in balance. And while the U.S. did support unsavory leaders from Pinochet to Saddam, it also built up an international alliance against the Soviet Union and its allies, military alliances such as NATO, and concepts like international free trade. All of these were designed to pull U.S. allies around common goals.
This policy lasted for seven decades after World War II. The Trump administration, however, appears to train its criticism at exactly those instruments that have served it best: free trade, its European allies, and its military alliances. Trump's praise of strongmen by itself may not be worth paying attention to, but it raises troubling questions when it is accompanied by criticism of the values the U.S. has enshrined in others.