Ignore, but Sanction: The Trump Administration's Strange Russia Policy
The president has been mum on Russia's expulsion of U.S. diplomats. The secretary of state has reportedly declined funds to fight Moscow's propaganda.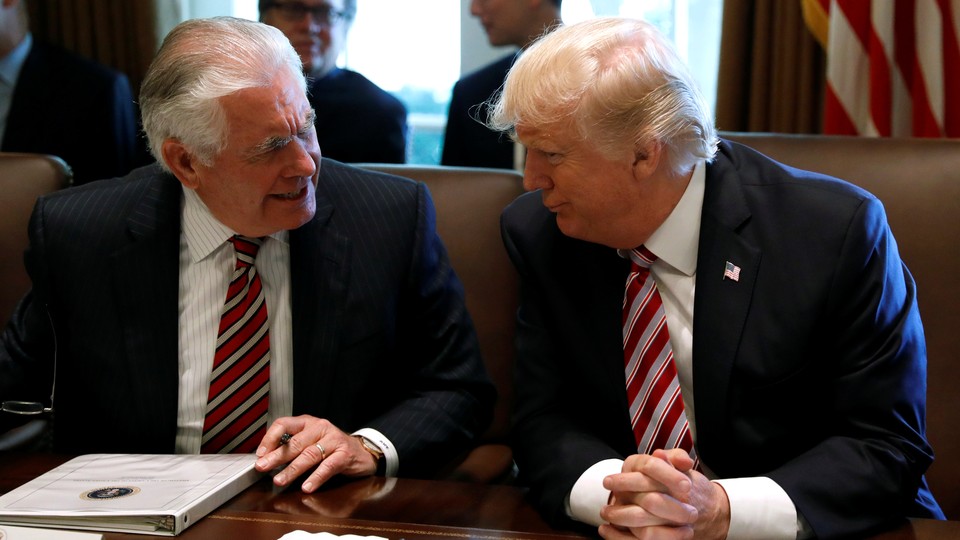 Updated at 6:44 p.m. ET
U.S. Secretary of State Rex Tillerson's reported resistance to taking $80 million allocated by the U.S. Congress to fight Russian and ISIS propaganda has been described as "highly unusual." But it fits into a larger pattern of what's shaping up to be a very odd Russia policy.
Consider this: Russian President Vladimir Putin ordered on Sunday that the U.S. reduce its diplomatic staff in his country by 755 (the order, as has been pointed out will mostly affect Russians). The move was a response to a similar, albeit much smaller, U.S. action announced by President Obama last December, in which 35 Russian diplomatic staff were expelled from the U.S. Since that time, President Trump has used his favored bully pulpit, Twitter, to exhort Republican senators to change the Senate rules on voting in order to pass his health-care legislation; has railed against the Affordable Care Act; has cited impressive stock-market data and economic figures during his six months in office; and has blasted "the fake news media and Trump enemies." References to Putin's actions: zero.
Nor, until Wednesday, had the president said anything publicly about the sanctions bill delivered to him last week by overwhelming majorities in both the House and the Senate, which makes the president consult with Congress before waiving punitive measures against Russia. The bill tightens restrictions on a range of Russian businesses and interests (and has also angered the European Union). Trump signed it Wednesday without fanfare, though he did express his concerns about it in a signing statement.
"Since this bill was first introduced, I have expressed my concerns to Congress about the many ways it improperly encroaches on Executive power, disadvantages American companies, and hurts the interests of our European allies," Trump wrote, calling the measure "seriously flawed."
He said it "encroaches on the executive branch's authority to negotiate … [making] it harder for the United States to strike good deals for the American people, and will drive China, Russia, and North Korea much closer together." But he added he was "signing this bill for the sake of national unity."
"I built a truly great company worth many billions of dollars," Trump said in the statement. "That is a big part of the reason I was elected.  As president, I can make far better deals with foreign countries than Congress."
Speaking at the State Department on Tuesday, Tillerson said "neither the president nor I are very happy about" the congressional action.
"We were clear that we didn't think it was going to be helpful to our efforts" to improve relations with Russia, he said. "But that's the decision they made."
Tillerson has long disliked sanctions—as Exxon's CEO he called them an ineffective tool to persuade regimes to change their behavior and a hinderance to businesses. As reported by Politico's Nahal Toosi on Wednesday, however, his rationale for declining to spend the counter-propaganda funds Congress allocated appears to be different. She wrote: "One Tillerson aide, R.C. Hammond, suggested the money is unwelcome because any extra funding for programs to counter Russian media influence would anger Moscow, according to a former senior State Department official." A State Department official said the Global Engagement Center, the focus of Politico's story, is already funded in FY 2017 with $16.3 million.
"The Global Engagement Center continues to execute its mission," the official said. "There is a process underway to ensure any future funding or programs account for the most appropriate tactics and strategy—especially in countering propaganda from countries such as Russia that have minimal protections for free speech or the media."
Hammond told Politico the department, which is in the midst of a Tillerson-ordered reorganization, didn't want to spend the money before there was a plan in place for it.
Tillerson, in his remarks Tuesday, said the U.S. relationship with Russia "continues to be under considerable stress," but added "one area of mutual interest" is terrorism. Tillerson may be, if the Politico's reporting is borne out, loath to take the $80 million because the U.S. needs Russian cooperation on terrorism and to influence the regimes in Syria and Iran, both allies of Moscow's the U.S. opposes. But it occurs in the context of an investigation into the Trump campaign's ties to Russian officials in the run up to the 2016 presidential election. U.S. intelligence agencies say Russia interfered in the election—using disinformation—in order to boost Trump, though it's unclear if Moscow's efforts succeeded. Trump's equivocation over the issue has led to more speculation about his campaign's ties to Russian officials—links that are being investigated by the Justice Department and congressional committees.
Still, however much the administration seek to downplay or ignore the problem of Russian interference in the 2016 election—and however much Trump may genuinely want to "move on" as he's stated—Congress is another matter. The new Russian sanctions are now law. And lawmakers are anxious not only to fund counterpropaganda efforts, but also to investigate the effect Russian propaganda and interference may already have had on U.S. elections. If the Trump administration is ignoring the problem, Congress seems only to happy to remind him of it.