The Foreign Fascination With Trump's White House
Palace intrigue knows no borders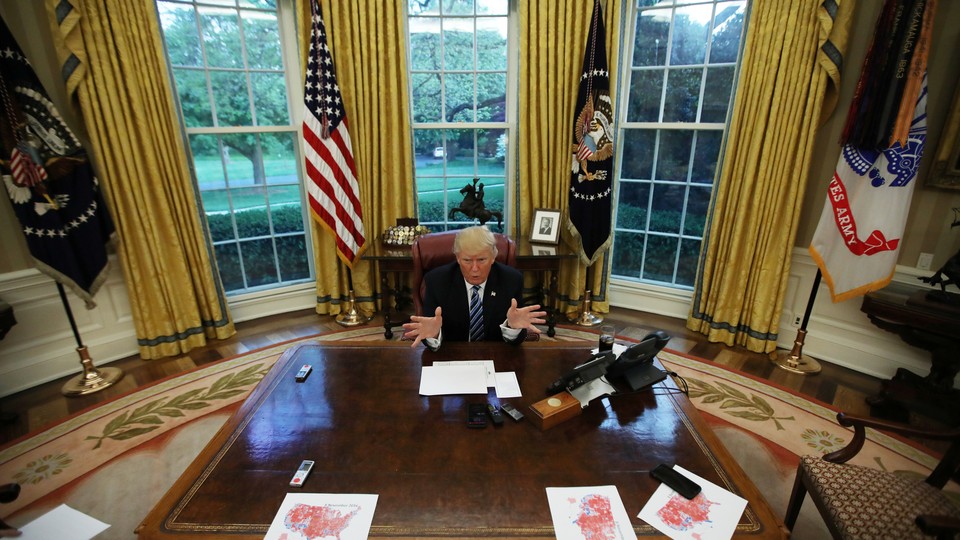 When news that Steve Bannon had left the White House began circulating online last week, it happened in multiple languages.
"Stephen Bannon, l'éminence grise de Donald Trump, quitte la Maison Blanche," France's daily newspaper Le Monde reported.
In Germany's Die Welt, "Trumps Chefstratege Bannon verlässt offenbar das Weiße Haus."
The news of Bannon's departure appeared in headlines in Arabic, Spanish, and Russian, as readers around the world began to learn that President Trump's chief strategist, known for pushing the populist and nationalist agenda that helped earn Trump's electoral victory, would not remain in his role long enough to see that agenda implemented. And perhaps widespread coverage of Bannon's exit was not surprising—it followed the high-profile departures of other well-known Trump allies such as former Chief of Staff Reince Priebus, former Press Secretary Sean Spicer, and former Director of Communications Anthony Scaramucci, the last of whose firing led the BBC homepage when it occurred. But the fact of major international news organizations devoting prime space to such stories does raise the question: Why do people overseas, who might not be able to name a single Obama-era strategy adviser or communications director, suddenly care so much about the internal staff shake-ups at 1600 Pennsylvania Avenue?
They certainly haven't always. "A year ago if you asked someone on the street in Paris or London to name one Obama adviser or spokesperson, you would have had very few answers," Jérôme Cartillier, the White House correspondent for Paris-based news agency Agence France-Presse, told me. Since then, he said, interest in internal U.S. politics has skyrocketed, both in Europe and elsewhere.
"There's many reasons for that, the most obvious one being that it's the presidency that in almost every single respect is out of the ordinary—beyond the norms," said Cartillier, who has been reporting from Washington, D.C. for five years, three of which have been spent covering the White House. "There's really a shift and there's some sort of granular knowledge of what's going on in this White House which was definitely different under the Obama administration."
Since Trump took office seven months ago, many of his top administration officials (some of them now former) have become household names—and not just in American households. In France, people watched Kellyanne Conway defend inaccurate depictions of the president's inauguration attendance as "alternative facts." In Israel, people heard Spicer contrast Syrian President Bashar al-Assad's use of sarin gas to the Nazis' use of "Holocaust centers" during World War II, in apparent reference to the concentration camps. In Brazil, people read about Scaramucci's explosive interview attacking soon-to-be-ousted Priebus just days before he too was removed from his post.
This isn't to say overseas fascination with American politics is a new phenomenon. "The Brits have been fascinated by Americans and American politics for a long time," Rhys Blakely, the Washington bureau chief for The Times, told me, noting that the U.K.-based newspaper sent a correspondent to cover the first battle of the American Civil War. "Everything that we see today seems so unusual, but it's easy to forget how crazy some of these past administrations were."
From President Obama's historic ascent to the White House to President Nixon's scandal-ridden exit and before, American politics in recent decades has been far from dull for most overseas observers. But the extent of that fascination—particularly when it comes to the internal dynamics of an American president's administration—is new. "Before this administration, even people who were regular newspaper readers might not have known who the director of communications in the White House was, who the press secretary was—you'd have to be pretty keen to know that," Blakely said. "But now these kind of characters—'Spicey' and 'the Mooch'— are part of the conversation in a way that people occupying those jobs wouldn't have been previously."
The White House has previously dismissed reporting about the internal power struggles within the administration as nothing more than "palace intrigue," rooted less in reality than in the desire for idle gossip. And while some D.C. correspondents for foreign outlets I spoke with acknowledged that much of the heightened interest in White House politics appears to be in part for its entertainment value, others said it's rooted in more serious concerns. "I will say from an Israeli point of view that because our country has such a strong connection to the U.S. and because in many ways our security and well-being is connected to the security and well-being of the U.S., many Israelis are paying close attention and they're laughing about it," Amir Tibon, the Washington correspondent for Israeli newspaper Haaretz, told me. "But on the other hand, some people are also looking at it with some concern because they're saying, 'Great, isn't America supposed to be the leader of the free world, the responsible and stable democracy, the country that everyone else looks to?'"
Amanda Mars, the Washington correspondent for Spain-based El País, told me the overseas fascination with the White House, in Europe at least, has less to do with those surrounding the president than it does with Trump himself. "This administration goes so fast. Everything changes so quickly, and now we have a president who makes his biggest statements through Twitter," she said. "A lot of people in Europe are still very surprised … that this outsider has become president."
Indeed, global confidence in the American president has seen a marked decrease since Trump took office. In a July survey, the Pew Research Center found that across 37 countries, only 22 percent felt confident that Trump will do the right thing when it comes to world affairs, down from 64 percent when Obama was in office. This puts Trump behind other world leaders, including Germany's Angela Merkel (42 percent), China's Xi Jinping (28 percent), and Russia's Vladimir Putin (27 percent).
But favorability and fascination are not the same thing. If anything, they could be inversely related. "I'm trying to think if there will be a moment when readers will have Trump fatigue, when they won't be interested in this anymore," Tibon said. "But right now, there's no shortage of interest."
This does not necessarily translate, however, to better understanding of U.S. politics and policy abroad. Cartiller noted that what his readers are paying attention to is "less about policy than about internal fighting—who is in, who is out, who has fallen from grace, and who is back in the president's good book."
"This is a president without a filter in a media landscape where the fact that he doesn't seem to have any personal rail guards, it mixes with the technology aspects and everything else … it's just a spectacle isn't it?," Blakley said. "It's a confluence of time and character that has just yielded this entrancing, encapsulating story."