The Countries Closing Ranks on Al Jazeera
The network's problems extend beyond the Gulf crisis.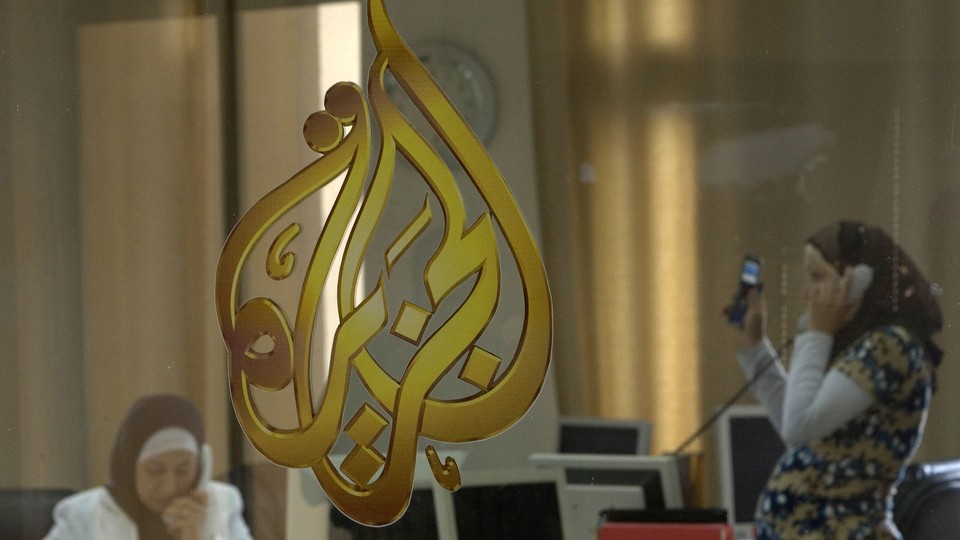 It hasn't been any easy summer for Al Jazeera. Since the onset of the months-long diplomatic crisis between Qatar and a Saudi-led coalition of Gulf Arab states, the pan-Arab broadcaster has been on the defensive, deflecting accusations by Qatar's detractors in the Gulf that the Doha-based news network is guilty of inciting violence. Those accusations, followed by Gulf countries' demanding, among other things, that Qatar shutter Al Jazeera in exchange for the blockade against the country being lifted, prompted the network to launch a social media campaign dubbed #DemandPressFreedom, condemning what it called "a siege against the journalistic profession."
But the latest salvo in the fight against Al Jazeera didn't come from the Saudi-led bloc. On Sunday, Israel announced its own plans to ban the network from operating within Israel and the Palestinian territories by stripping Al Jazeera journalists of their press credentials. Ayoob Kara, the Israeli communications minister, said the country would also seek to block the network's transmissions and close its Jerusalem bureau. Al Jazeera denounced the Israeli proposal, which it said ran counter to its claim of being the sole democracy in the Middle East. The Committee to Protect Journalists, a New York-based advocacy group, leveled a similar critique, noting that such actions "would put Israel firmly in the camp of some of the region's worst enemies of press freedom."
Though Israel isn't party to the Saudi-led coalition, it did cite their demands as inspiration. "When we see that all these countries have determined as fact that Al Jazeera is a tool of the Islamic State, Hamas, Hezbollah, and Iran, and we are the only one who have not determined that, then something delusional is happening here," Kara said Sunday during a press conference. He added: "Freedom of expression is not freedom to incite." Israel's Arab neighbors appear to feel the same way. Jordan and Saudi Arabia have already shuttered local Al Jazeera offices, and both the channel and its affiliated websites have been blocked in Saudi Arabia, the United Arab Emirates, Egypt, and Bahrain.
Still, Israel's criticisms of Al Jazeera are longstanding, which raises the question: Why now? It could be, as Kara suggested, that Israel was following the lead of its Arab neighbors, who in turn appeared emboldened by President Trump's comments urging Arab leaders to "drive out" extremism during his visit to Saudi Arabia in May. Israeli Prime Minister Benjamin Netanyahu's office did not immediately respond to requests for comment.
Though it's not common to see Israel and its Arab neighbors (including Egypt and Jordan, with which Israel has peace treaties) close ranks around a single media organization, the move does fit into the broader trend of increasing alignment between Arab leaders and Netanyahu's right-wing government over their shared opposition to the Muslim Brotherhood and Iran (Qatar is accused of supporting the former and being too chummy with the latter). In the case of Al Jazeera, all parties claim the network has been guilty of incitement in its coverage of conflicts throughout the region, from the Arab Spring to the on-going crisis in Yemen.
Such criticisms have some merit. As Gregg Carlstrom noted in The Atlantic in June, the network's Arabic language channel has been under heightened scrutiny since the start of the Arab Spring:
[M]uch of the English programming remains fair and objective—adjectives that no longer apply to its Arabic sister channel. Shortly after the coup against Morsi, Ahmed Mansour, a prominent anchor, was quoted on the Brotherhood's website as saying that the interim Egyptian president was a Jew carrying out an Israeli plot. Faisal al-Qassim, another presenter, once hosted a segment on whether Syria's Alawite population deserved genocide. In 2014, the channel's Iraqi affairs editor tweeted approvingly about the Camp Speicher massacre, in which the Islamic State killed more than 1,500 air-force cadets in Tikrit after singling out the Shia and non-Muslims. Some journalists quit in protest; the ones who remained continue to push a sectarian, pro-Sunni Islamist line. Though Al Jazeera is still widely watched, its reputation has been tarnished as its ratings have dropped.
Al Jazeera's critics agree on their overall opposition to its content, but they may not agree on much else. While Israeli officials have long criticized Al Jazeera as being biased against Israel (Netanyahu had also threatened to remove the network for its coverage of the recent crisis over security measures in Jerusalem), the network said it's also been criticized for appearing to be the opposite. "We were once accused of bias because Al Jazeera Arabic was the first Arabic channel to have Israeli politicians and commentators on the air," the network said in an open letter. "But what we were doing was ensuring we heard and challenged all relevant voices in a quest for good journalism."
Israel's actions against Al Jazeera could work in the network and Qatar's favor, allowing them to argue that this time it is Qatar's opponents that are aligned with Israel, and not the other way around. Walid Omary, the network's Jerusalem bureau chief, argued as much in an op-ed last week. "The collusion by Netanyahu with his Arab autocratic neighbors leaves little doubt that free independent media and truth are ready to be sacrificed as collateral damage in the power politics of the region," he wrote in Haaretz. "What difference then is there between Israel, as a perceived democracy, and these dictatorships?"
One key difference: Actually banning Al Jazeera in Israel won't be easy. The plan has already received pushback from the Foreign Press Association in Israel and, as Haaretz reports, pursuing legislation that will give the government license to implement such measures will certainly take time—and that's only if it's deemed constitutional.