Spanish Anti-Tourists and North Korean Defectors: The Week in Global-Affairs Writing
The highlights from seven days of reading about the world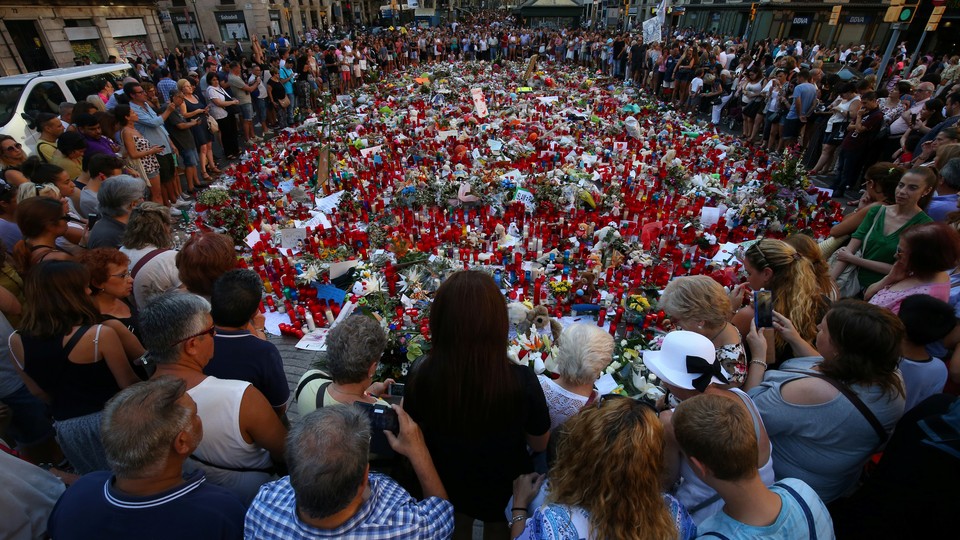 Barcelona, Undaunted
Matt Goulding | Roads & Kingdoms
"2017 has been a summer of discontent in the Catalan capital. The steadily-simmering anger and frustration surrounding Barcelona's booming tourism industry finally boiled over in the early days of July, as groups of young malcontents aimed random acts of violence and vandalism towards outsiders. Locals in Barceloneta staged beachside protests, unspooling floating signs in the Mediterranean as a reminder to visitors and officials alike that this is their neighborhood, too. Travelers at El Prat airport have staggered through three-hour security lines, the result of a protracted strike from weary employees rundown from ever-increasing numbers that require their vigilance. Turismofobia, long a minor ailment in Spain, grew into a full-blown disease."

* * *
Life in Little Pyongyang
David Josef Volodzko | Roads & Kingdoms
"In the summer of 1955, the bombed-out ruins of Pyongyang were still smoldering when groups of North Koreans began slipping south through the borderlands. They crept onto trains and rode through tunnels and mountain passes, clinging to the roofs of passenger cars to avoid inspection agents, leaping off before train station security could spot them, then making their way through burning forests and desolate villages gutted by U.S. air strikes to the banks of the icy Tumen or Anbok rivers, where they crossed at night to evade military patrols or sniper guards.
But freedom brought troubles of another kind. Those who made it, sometimes known as gwihwan dongpo or "returned brothers," settled in the slums of Seoul, where they faced terrible prejudice—and still do. Even today, almost half of North Korean defectors say they face discrimination in South Korea."
* * *
The Man Without a State
Emily Tamkin | Foreign Policy
"The former president of Georgia (turned exile, turned governor of Ukraine's Odessa region, turned exile again) is now camped out in Poland. There, he and some of his supporters and allies are working to figure out when the man known to many as Misha could make his way back to Kiev."
* * *
Trump Embraces the Moral Ambiguity of a Halfway War
David Rohde | New Yorker
"Increasingly, Afghanistan is a bloodbath for Afghan soldiers, policemen, and civilians, not for American service members. Afghan casualty rates are higher than at any other point in the country's 16 war, with an average of 31 Afghan soldiers and police, and nine civilians, perishing per day. All told, 6,000 Afghan soldiers, and 3,500 Afghan civilians, died in violence last year. During the same period, 14 American service members were killed in Afghanistan."
* * *
Why Is There So Much Dan Brown at Guantanamo Bay?
Katie Kilkenny | Pacific Standard
"What do prisoners get to read, watch, and play at Guantanamo Bay? For years, journalists who have visited the complex's detainee library have sketched a vague and intriguing picture: The library, situated behind barbed wire in Camp Delta, contains religious, social science, and philosophy books, among those representing other disciplines, as well as DVDs and video games. Inmates are not allowed to visit, though those who have been on good behavior can have items delivered to them. Many of the books are written or translated into Arabic, though the collection has a sizable English-language section as well, and the collection has grown substantially over the past few years: In 2008, it had 5,000 volumes, and, today, it now has 35,000 volumes—that's a 700 percent increase in the last nine years, during which time the inmate population fell 83 percent, from 242 inmates to 41.
Last week, a response to a Freedom of Information Act (FOIA) request threw further light on the facility's collection. On Monday, FOIA logging site Government Attic posted all 634 pages of Guantanamo's inmate library catalog, which the United States Southern Command's Joint Task Force-Guantanamo compiled to respond to a July 25th, 2015, request."