Why Are Some People Attracted to New Religions?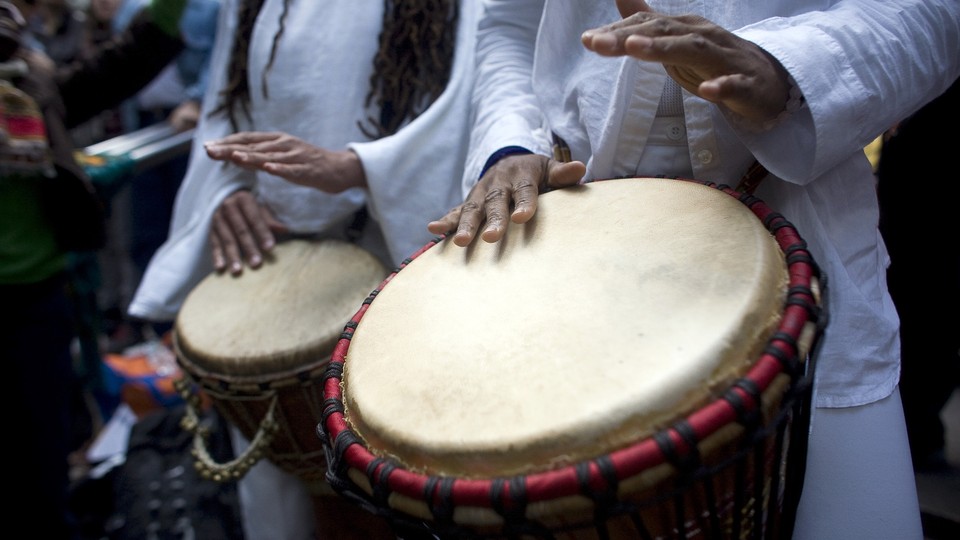 Editor's Note:
This article previously appeared in a different format as part of The Atlantic's Notes section, retired in 2021.
Earlier this month, Jon Emont investigated why it's so difficult for "baby religions" to get off the ground. That got me wondering: To the extent that modern people are attracted to new religious movements, what are the features that they find most compelling? I asked readers who've participated in such movements to share their experiences. Nearly 400 replied. Here are three responses that stood out.
For Kwabena Slaughter, the Sankofa faith (also known as Afrikania religion) offers a way to blend traditional African religions with modern Western life:
This is a religious organization in Ghana that merges elements of the traditional religions of Ghana with prayer practices similar to those in Christianity. The active recruiting arm of the group is the Afrikan Renaissance Mission (A.R.M.). They court people from Ghana and across the African diaspora who live modern lives, and teach them about the values of traditional African religion.

It's trying to cultivate the moral stricture of traditional African religions without the herbalism and shamanistic practices that are also part of African religions. The primary religious ceremony takes place on Sundays. The service is less raucous than an African-American Baptist church service, but not as tame as a Catholic Mass. The interaction of Africa and the Western world are fundamental parts of the structure. The Sankofa faith has as its target audience those Africans who have moved entirely into a modern life.

I studied with the A.R.M. for a month in 1998, becoming an Osofo (priest) in the faith. One of the things I enjoyed was going through religious training and initiation rituals alongside Africans from other parts of the diaspora. There were Ghanaians, British, and Americans all participating. It had a quality of creating a shared religious pursuit between all diasporans.
Roxana Ross appreciates the universalist vision of the Urantia Book. First published in 1955, it includes a biography of Jesus but deviates from some Christian tenets, and some say it was authored by celestial beings. She writes:
I read the Urantia Book partially when I was in high school and read all 2,097 pages while living in Chicago in my early 20s. It provided answers to so many questions I had about God, the purpose of life, and about Jesus's life. It confirmed that all people are children of God, not one specific group in preference to another. It does not require you to give up your own church or beliefs, but rather offers a deeper explanation of Jesus's life so that you can experience his message for yourself.

When I was around 12 years old, I attended a Christian church summer camp for a week. My group leader learned I had never been baptized. She wanted me to accept Christ as my Savior or I risked going to Hell. I asked her about all the people in the world, like Buddhists or Jews or atheists or Muslims, who didn't believe in Christ—were they all going to go to Hell? I couldn't believe a loving God would do that to his children. I still don't believe that. I do believe in the Urantia Book because I find its message logical, cohesive, reassuring, and even scientific. It is beautifully written.
David Drimmel writes about the sense of connection offered by The New Message from God, a movement based on the teachings of Marshall Vian Summers, an American who says he received divine revelations about alien life and other things:
The New Message from God is unique in that it emphasizes the importance of the theology of the greater community of intelligent life. It has broadened my perspective and understanding of what humanity is facing in the world today, the alien phenomenon, and quenches my thirst for knowledge about life in the universe.

When I first learned about the New Message, it was like I had been waiting for it, searching for it all my life. What sticks out for me the most is the emphasis on building the four pillars of my life on relationships, health, work/providership, and spiritual growth. The chapters about the pillars in the book Living the Way of Knowledge helped me see my life from a perspective that engages me in relationship instead of the disconnected, depressive state I was in. Essentially, I was called out of my depression and into the world.