Postcard From Dresden and India's Pilgrims: The Week in Global-Affairs Writing
The highlights from seven days of reading about the world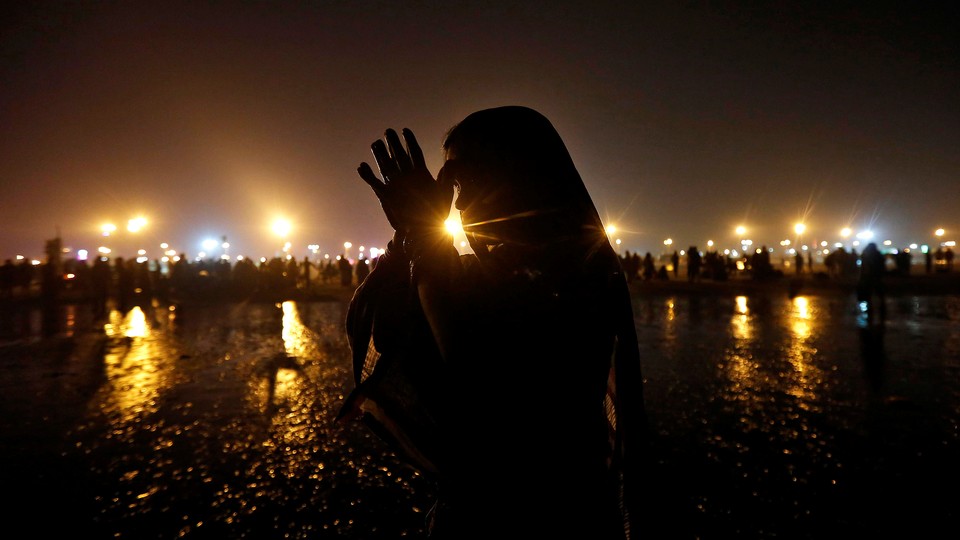 Postcard From Dresden: What It's Like to Be a Refugee in Germany's Conservative Stronghold
Jacob Kushner | Pacific Standard
"'Someone told me that, in Germany, it's very safe for people who are underage,' Romeo says. But Germany turned out to be no utopia for an African refugee. 'Here, if you take a train and you are black, all the seats will be full, but nobody will come and sit beside you. Same on the bus,' he tells me. On the streets of Freital, a town southwest of Dresden, Romeo says: 'They call, 'Hey, nigger.' You are living in fear.'"
* * *
India Is Weaponizing its Spiritual Tourists
Raksha Kumar | Foreign Policy
"Every July, thousands of buses, trucks, cars, mules, and palanquin bearers crawl up 12, 768  treacherous feet of mountainous terrain to reach the Amarnath cave, where a smooth ice stalagmite dedicated to the Hindu god Shiva reaches up from the cave floor. The devotees heading for this linga (a Hindu term for venerated, somewhat phallic objects) are making one of the most dangerous pilgrimages in India—not just because of the height and harsh weather, but because the cave is slap-bang in the middle of the divided, and violent, border state of Jammu and Kashmir.
But the Indian state has been encouraging, protecting, and controlling the flow of funds to these dangerous journeys. Kashmir has its fair share of traditional yatra (pilgrimage) sites. But India's current Hindu nationalist government is now backing efforts to turn it into an Indian Jerusalem, mixing religious and national sentiment to turn the disputed territory into sacred ground that can never be surrendered."
* * *
Man Without A Country
Raffi Khatchadourian | The New Yorker
"Assange is not an easy man to get on the phone, let alone to see in person. He is protected by a group of loyal staffers and a shroud of organizational secrecy. One friend compared him to the central figure in Philip K. Dick's 'The Man in the High Castle'—a recluse trying to reset the course of history. In many ways, the Embassy has become a surreal redoubt: a place of extreme seclusion in the center of a bustling world capital; a protective stronghold that few can enter, even though it is the target of millions of dollars' worth of covert surveillance."
* * *
Exit the Strongman
Jonathan W. Rosen | Roads & Kingdoms
"So far, everywhere else I've been inside the Gambia, a tadpole-shaped West African country that clings to the banks of the river that gave it its name, I've struggled to find any public images of Yahya Jammeh, the army lieutenant turned autocrat who ruled the country for 22 years, building one of the world's most extreme personality cults.
Jammeh, whose exploits as president included threatening to slit the throats of gay people, personally administering a dubious herbal remedy for HIV/AIDS, and claiming he'd rule for 'a billion years,' fled the Gambia in January under the threat of regional military intervention after refusing to accept a surprise defeat by the property developer Adama Barrow in elections last December. In most of the country, once ubiquitous banners depicting the president in his trademark robe and cap had been taken down in favor of less Orwellian signage. The most popular refrain, on official billboards and graffiti scrawled across concrete walls, celebrated the country's nascent democracy with the hashtag #GambiaHasDecided.
In Kanilai, though, I knew things would be different."

* * *
How Not to Solve the Refugee Crisis
Ben Taub | The New Yorker
"To the Italians, Mered was only ever a trophy. Across Africa and the Middle East, the demand for smugglers is greater than ever, as tens of millions of people flee war, starvation, and oppression. For people living in transit countries—the drivers, the fixers, the translators, the guards, the shopkeepers, the hawala brokers, the bookkeepers, the police officers, the checkpoint runners, the bandits—business has never been more profitable. Last year, with Mered out of the trade, a hundred and eighty thousand refugees and migrants reached Italy by sea, almost all of them leaving from the beaches near Tripoli. This year, the number of arrivals is expected to surpass two hundred thousand."