What's New About the Latest UN Sanctions Against North Korea?
Multiple previous rounds have not changed Pyongyang's behavior. Will this time be different?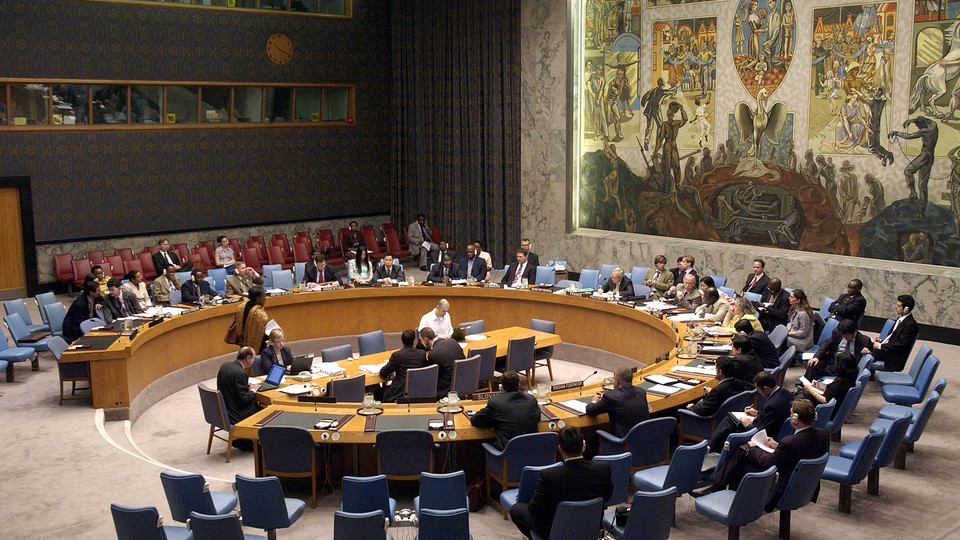 Nikki Haley, the U.S. ambassador to the UN, has described the latest UN sanctions on North Korea as "the most stringent set of sanctions on any country in a generation." But even that won't necessarily mean that the measure, which was approved unanimously Saturday by the Security Council, can either impede Pyongyang's missile and nuclear programs or compel it to return to negotiations.  North Korea is already subject to separate U.S. sanctions and six previous rounds of UN sanctions, which have done little to change Pyongyang's long-term behavior.
Among other restrictions, the new sanctions call for a total ban on North Korea's major exports, including coal (from which it earned $1.2 billion last year, according to the Associated Press), iron and iron ore ($251 million, according to the AP), lead and lead ore ($113 million, the news agency reported), and seafood ($295 million, according to the wire service). They also target institutions and individuals that aid the North's nuclear and missile programs, including the Foreign Trade Bank (FTB), the country's main foreign-exchange bank. According to some estimates, the sanctions will cost North Korea $1 billion a year—a third of its annual export revenue. What is particularly significant about these latest sanctions is that China, North Korea's main political benefactor and largest trading partner, voted along with the U.S. to tighten the restrictions that were imposed in response to North Korea's tests last month of two intercontinental ballistic missiles that experts say can reach the U.S.
The latest sanctions could make life marginally more difficult for North Koreans, but it is unlikely to have any long-term consequences for Kim's regime. His grandfather, who founded North Korea, and his father who ruled before him, governed the country through war, economic and political isolation, sanctions, and famine for decades. The family remains revered in North Korea, and Kim Jong Un himself is wildly popular. The latest sanctions are unlikely to hinder the North's missile and nuclear-weapons programs or force the regime into talks. As Chosun Ilbo, the South Korean newspaper that advocates a tougher line with the North, pointed out in an editorial, the sanctions leave out crude-oil supplies from Russia and China; China is estimated to export at a highly subsidized rate about 500,000 tons of crude oil to the North. It also allows North Korea to "keep collecting hard currency from slave laborers it has already sent abroad," the newspaper said, though the measure prevents Pyongyang from increasing the number of workers it sends overseas. North Korean workers who are sent overseas to work earn the country more than $2 billion annually, the UN says.
North Korea has been under strict international sanctions for years, and has found ways to skirt the restrictions. As Reuters reported, North Korean seafood, export of which is banned outright under the latest international sanctions, has for years been sold in countries that had already banned the products; they were labeled as being from China. There's also nothing in the resolution that would prevent China or any other country that wants to prop up the North from simply using a different commodity to engage in business with Pyongyang.
David Pressman, a former U.S. ambassador to the UN for special political affairs during the Obama administration, told me the North has "developed a pretty sophisticated method of trying to subvert the sanctions regime." But, he added, "They haven't had to work all that hard because they've continued to have next door to them a government that's willing to continue to do business with them."
Pressman, who is now partner at Boies Schiller Flexner LLP, called the latest sanctions an "important and necessary step" but added "they were modest in the face of two" intercontinental ballistic missile (ICBM) tests by the North. He said this resolution, like ones before it, will only be successful in changing the North's actions if China strictly enforces the sanctions. As an example, he cited the evolving language of restrictions on North Korean coal exports in earlier UN resolutions.
He said a previous UN resolution banned coal exports from North Korea, but provided a humanitarian exception. A subsequent version, he said, added a cap on how much coal could be exported as part of the humanitarian exception "because the Chinese were continuing to abuse the exception."
"And now we've gone to a straight ban," Pressman said, referring to the latest resolution. "It's not at all clear that just tightening the language or making a more stringent provision is necessarily going to change the behavior of the Chinese."
Despite pressure from the Trump administration, Beijing has been resistant to increasing pressure on Pyongyang, arguing its influence on the Kim Jong Un regime is limited. And though that may be true, it's equally true that China fears that a collapse of the North Korean regime would not only lead to political instability at its doorstep, but also result in China's encircling by countries opposed to its widening sphere of regional influence.
Meanwhile in the Philippines, North Korea's Foreign Minister Ri Yong Ho said Monday his country won't talk to the U.S. unless the Trump administration drops what he called its "hostile policy" toward the country. Earlier in the day, Rex Tillerson, the U.S. secretary of state who is also in the Philippines capital for a regional summit, said talks were possible if the North were "to stop these missile launches." North Korea says its missile and nuclear-weapons programs are purely defensive in nature, arguing that the bellicose language emerging from Washington suggests Pyongyang is right in pursuing ICBMs and nuclear weapons.
South Korean President Moon Jae In, who favors closer ties with Pyongyang, spoke Monday to President Trump for nearly an hour and reiterated, his office said, that "South Korea can never accept a war erupting again on the Korean Peninsula." The White House in a statement said the two leaders "affirmed that North Korea poses a grave and growing direct threat."