Did North Korea Just Inch Closer to the 'Red Line'?
A new intelligence estimate reportedly says Pyongyang has a miniaturized nuclear warhead. President Trump said any threat to the U.S. "will be met with fire and fury like the world has never seen."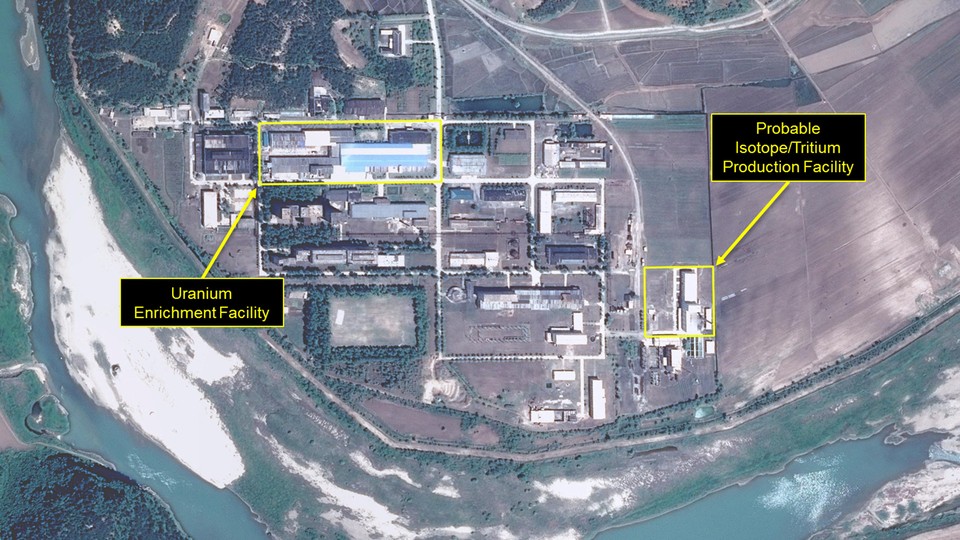 Updated at 3:34 p.m. ET
Last month, when North Korea tested two intercontinental ballistic missiles (ICBMs) capable of reaching the U.S., experts said Pyongyang would be able to fit those ICBMs with nuclear warheads by next year. That assessment dramatically shortened the timeline on previous assessments predicting that the North was on track to have that capability by the end of Trump's first term. But it turns out even that may have been too conservative.
The Washington Post reported Tuesday the North "has successfully produced a miniaturized nuclear warhead that can fit inside its missiles." The report was based on an assessment dated July 28 by the Defense Intelligence Agency (DIA), the Defense Department's intelligence shop, which is one of  17 different agencies making up the U.S. intelligence community, which said: "The IC [intelligence community] assesses North Korea has produced nuclear weapons for ballistic missile delivery, to include delivery by ICBM-class missiles."
President Trump, speaking in Bedminster, New Jersey, responded Tuesday. "North Korea best not make any more threats to the United States," he said. "They will be met with fire and fury like the world has never seen. He [Kim Jong Un] has been very threatening beyond a normal state, and as I said they will be met with fire and fury and frankly power, the likes of which this world has never seen before."
That North Korea has been developing nuclear weapons is no secret. The regime has tested nuclear weapons five times since 2006, most recently last September. Estimates of the number of nuclear weapons it possesses ranges from 30 to 60, according to a new estimate cited by the Post. What's different about the latest DIA estimate is that it claims, for the first time, that North can miniaturize a nuclear warhead, which allows it to be put on missiles. This is significant because the North as yet hasn't been proven to be able to marry its nuclear capabilities to its delivery capabilities—that is, while it clearly had nuclear weapons, and clearly had long-rage missiles, it wasn't clear it could actually use its missiles to send a nuclear warhead to the United States.
What we don't know about the DIA's assessment—since the Post pointed out that an excerpt was read to its reporters—is how confident the agency is in its assessment and what its assessment is based on. Nor is it clear whether other U.S. intelligence agencies share this view. More significantly, would this development cross the "red line" Trump issued in January, when he tweeted that North Korea developing a nuclear weapon reaching parts of the U.S. "won't happen"? Will North Korean leader Kim Jong Un, seeing what happened to Saddam Hussein and Moammar Qaddafi when they gave up their weapons, renounce his weapons in exchange for incentives?
Last month's missile tests resulted in the strongest international sanctions yet against the North, but how effective the new UN Security Council measures will be on the country is anybody's guess. The sanctions are estimated to cost North Korea $1 billion in trade each year, but the North, which has been under UN sanctions since its first nuclear test in 2006, has found ways to evade the restrictions and international monitors.  Kim Jong Un's regime maintains its nuclear and missile programs are purely defensive in nature, and that the more than six-decade-long U.S. troop presence in South Korea and Japan, as well as regular military exercises conducted by the three countries, are an existential threat to it.
North Korea's neighbors don't see it that way. They see an increasingly belligerent country determined to ignore international sanctions in order to pursue the ultimate weapon, so it can join the exclusive club of nuclear-armed nations. Japan's Defense Ministry, in an annual white paper released this week, tentatively came to a similar conclusion as the DIA, noting "it is possible that North Korea has already achieved the miniaturization of nuclear weapons and has acquired nuclear warheads."
The Trump administration has been clear that it will ultimately not accept a North Korea with with nuclear weapons—a position on which it is in agreement with all of the major players in the North Korean crisis, including China, Pyongyang's main political and economic supporter. But the U.S.'s options may be limited—even if its messages on what it plans to do are mixed. Lindsey Graham, the U.S. senator from South Carolina, said recently that President Trump had told him: "If there's going to be a war to stop [Kim Jong Un], it will be over there. If thousands die, they're going to die over there. They're not going to die here." Trump appeared to reiterate those remarks Tuesday with his remarks about "fire and … fury."
That stand would result in the deaths of not only tens of thousands of North Koreans, but also a massive number of civilians in Seoul, South Korea, upon which North Korea aims its missiles; not to mention the at least 70,000 U.S. military personnel in South Korea and Japan. But Rex Tillerson, the U.S. secretary of state, has said the U.S. was willing to talk to North Korea if it were "to stop these missile launches." North Korea has already rejected that offer of talks, saying the U.S. should first drop its hostile policy. Tuesday's revelation that North Korea already possesses a nuclear warhead that it can fit on an ICBM capable of hitting the U.S. is only likely to make the urgency of resolving the impasse with Pyongyang even more pressing.