How North Korea Cheats Sanctions
Will the latest UN action be different?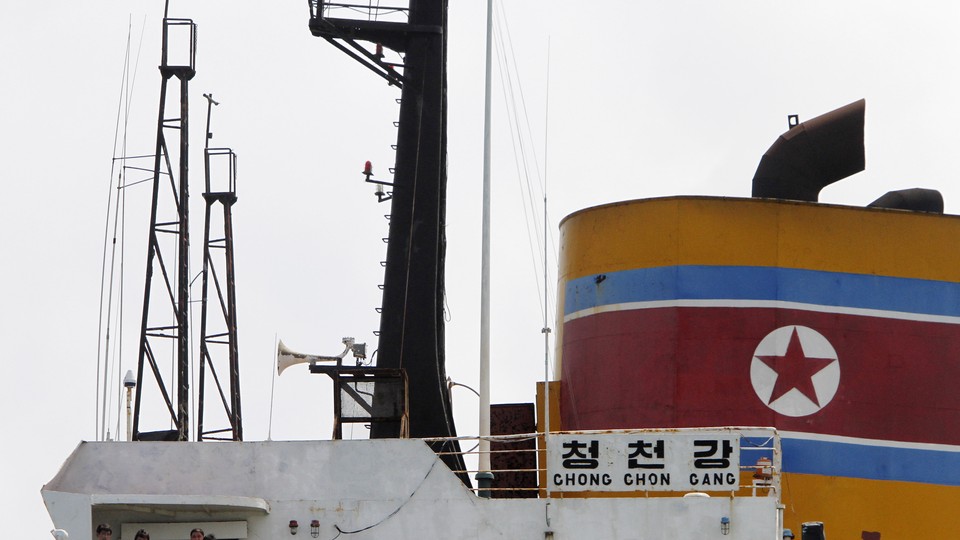 In July 2013, U.S. law-enforcement was tipped off about a North Korean vessel that was making its first visit to the Americas in four years. Authorities were told the Chong Chon Gang, which was supposed to be carrying sugar from Cuba to North Korea, was hiding drugs or weapons in its cargo. U.S. officials informed their Panamanian counterparts, who intercepted the vessel, finally managing to seize it after a five-day standoff with the ship's crew. What they found inside became the stuff of punch lines: Cold War-era military equipment on its way to be repaired in North Korea.
Three years later, after more stringent international sanctions, another North Korean vessel, the Jie Shun, was intercepted, this time by Egypt. The vessel's cargo included 30,000 PG-7 rocket-propelled grenades and other military equipment. The ship's stated cargo: iron ore. The UN described the haul as the "largest seizure of ammunition in the history of sanctions" against North Korea. Who the weapons were intended for is still not publicly known.
But what the affairs with the Chong Chon Gang and the Jie Shun illustrate is the lengths to which North Korea, one of the most heavily sanctioned nations on Earth, will go to earn the foreign exchange needed to finance its illicit missile and nuclear programs. Therein lies the fundamental flaw within nearly every Western-led attempt to pressure North Korea, including the latest measures approved unanimously by the UN Security Council last Saturday: How do you stop a country determined to find ways to evade sanctions against it?
"They can do the same things that they were doing before. They will continue to try and send cargoes abroad. They'll continue to try and engage in financial transactions. They'll continue to try and sell their goods," Richard Nephew, a former U.S. State Department official who is now a senior research scholar at the Center on Global Energy Policy at Columbia University, told me. "And to some extent, they'll find new goods to sell. When you find that you can't sell coal anymore, what that means is you're going to double-down on manufacturing clothing, or something like that. Because that's not yet prohibited."
International negotiators have long been aware of this. As recently as February, a UN panel of experts that monitors the implementation of sanctions against North Korea—Saturday's was the seventh round of UN sanctions imposed on the country since 2006—said that despite foreign ports blocking certain North Korean vessels, Pyongyang "has … adapted to these measures through various tactics, including identity fraud." The country, the panel noted, continues to circumvent UN sanctions through its trade in weapons and other illicit goods with African states by using "evasion techniques that are increasing in scale, scope and sophistication." North Korea, the panel said, also continues to enjoy access to the international financial system by "using agents who are highly experienced and well trained in moving money, people and goods, including arms and related materiel, across borders." These agents use citizen of other countries and front companies to move money around, the report said.
Scott Snyder, a senior fellow for Korea studies at the Council on Foreign Relations, told me that North Korea acts through a "combination of changing names of front companies and embedding themselves in the Chinese supply chain by using Chinese agents to obscure the real customer for North Korean procurement."
Anthony Ruggiero, a senior fellow at the Foundation for Defense of Democracies who spent nearly two decades working in the U.S. government, pointed out that other countries and regions are involved in trade with North Korea, as well, though on a smaller scale. Malaysia has long maintained close ties with the North (though those ties suffered this year following the assassination of Kim Jong Un's half-brother in Kuala Lumpur). Singapore sells it luxury goods; European firms ski equipment. Iran and Syria have bought its ballistic-missile technology, while other Middle Eastern countries employ North Korean workers. China may be North Korea's dominant trade partner, Ruggiero told me, but "there's still enough there on the outside to start squeezing" North Korea's other trading partners. In that case, even if China doesn't fully comply with the new sanctions, "it could still start to impact North Korea."
The latest UN sanctions, passed in response to two tests of intercontinental ballistic missiles in July, are perhaps the strongest ever enacted against the country: They call for a total ban on North Korea's major exports, including coal, iron and iron ore, lead and lead ore, and seafood. They also expand the definition of the kinds of companies that can be classified as financial institutions—an important step to battle those firms that provide Pyongyang access to money—and limit the number of North Korean workers overseas, who remain a valuable source of foreign exchange. At the same time, they attempt to strengthen some prohibitions on port calls by vessels that have been previously involved in illicit trade, Snyder told me.
"Those restrictions are already pretty strong but there's an additional effort on that front," he said.
Nephew, the former State Department official who contributes to the North Korea-focused website 38 North, said the challenge remains enforcement, and the degree to which states take it seriously.
"So you now have a set of restrictions on what people can buy from North Korea. Are they actually going to hold to that? And are they going to inspect ships and cargo containers and so forth when they are coming from North Korea to prove that, in fact, they aren't breaking those terms?" Nephew said. "Those are the problems that have bedeviled UN sanctions for quite a long time—and North Korea sanctions in particular."
The new UN sanctions have been advertised as particularly severe based on estimates that they will cost North Korea $1 billion a year—a third of its annual export revenue. But Snyder pointed out that much of the assessment of the value of trade with North Korea is based on officially reported trade statistics. North Korea does not maintain these. China, which accounts for 90 percent of trade with the North, simply moves some transactions off the books while reporting others. There is simply no way to measure North Korea's trade volume accurately—and thus no way to measure the true impact of the new financial penalties.
"By definition what we don't know is what is not reported," Snyder said. "People who go to Pyongyang and ask themselves the question: 'Gosh, it seems like there's a lot of liquidity here. Where is the capital coming from?' I think part of the answer to that question is that not everything that goes into North Korea is officially recorded."
For example, Snyder said: "We've seen the Chinese stop recording oil exports to North Korea," Snyder told me, though "I think the widespread presumption is  that the supply from China to North Korea has continued. Circumstantial evidence for the idea that they have continued is that there has been discussion in the run-up to this resolution [on the new UN sanctions] to implementing a petroleum trade ban. That does not appear in the resolution."
David Pressman, a former U.S. ambassador to the UN who is now partner at Boies Schiller Flexner LLP, said that, even if previous rounds of UN sanctions against North Korea have forced it to find new ways to look to circumvent the restrictions, the North hasn't "had to work all that hard because they've continued to have next door to them a government that's willing to continue to do business with them."
The counterintuitive reality may simply be that trade with the impoverished North Korea is simply too lucrative to pass up. Snyder said that "even if Chinese customs and border officials were extraordinarily scrupulous in doing their jobs, is it plausible to imagine that shady Chinese actors who are willing to circumvent Chinese regulations would not continue to engage with North Korean actors given the likelihood that the risk, and therefore the profit margins, would be even higher?"
That's a bet the North Korean regime is willing to take.
Nephew pointed out that sanctions usually take into account a small amount of evasion. The logic, he told me, is that if overall compliance is good, evasion will translate into relatively small dollar amounts.
"That's not the case with North Korea," he said.
Nephew compared the international sanctions on North Korea with those imposed on Iran over its nuclear program (which was ultimately frozen for 15 years in exchange for sanctions relief). He said the tens of billions of dollars involved in the Iran case "were really meaningful to the economy and the leadership."
"With North Korea, even if you take away $1 billion, I think the North Korean regime still feels pretty good about having $3 billion because they're not trying to make their population happy and satisfied in the same way that even Iran is," Nephew said.  "The problem with sanctions evasion with North Korea is every single small slip-up, every $5 million transaction, every $50 million transaction, is more meaningful to the North Koreans than maybe $1 billion was to the Iranians. This is why evasion with North Korea is even more dangerous."