North Korea Answers Trump's Vague Threats With Specific Ones
The unusual detail of the Kim regime's latest statement on Guam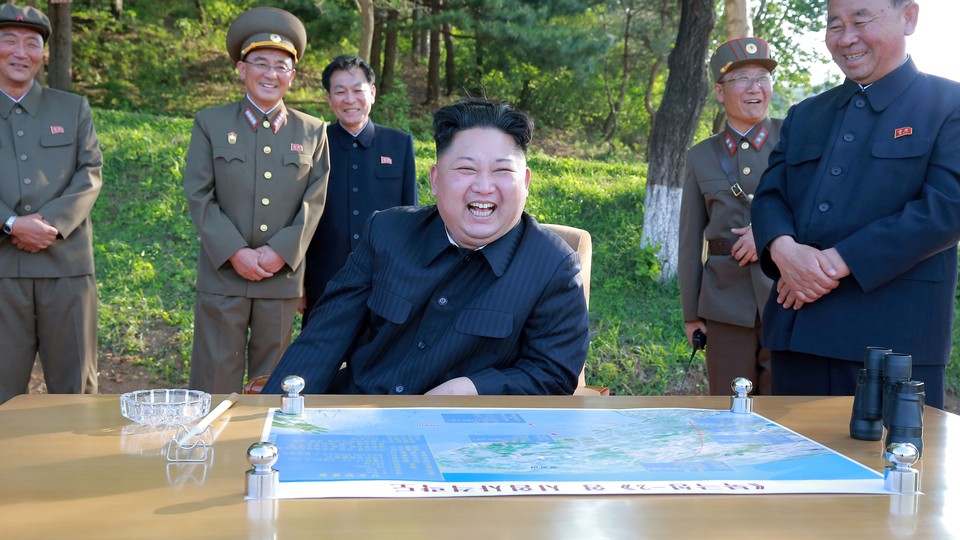 President Trump seemed to draw a red line Tuesday when he warned North Korea that continued threats against the United States would be met with "fire and fury like the world has never seen." The next day, North Korea crossed it.
Or at least it announced, in unusually specific terms, how it could. The country's state-run Korean Central News Agency (KCNA) on Wednesday night issued a statement that said the North is "seriously examining the plan for an enveloping strike at Guam through simultaneous fire of four Hwasong-12 intermediate-range strategic ballistic rockets in order to interdict the enemy forces on major military bases on Guam and to signal a crucial warning to the U.S." The statement, citing the North's Strategic Rocket Forces head General Kim Rak Gyom, added that the plan would be finished by mid-August before going to North Korean leader Kim Jong Un for approval.
"Sound dialogue is not possible with such a guy bereft of reason and only absolute force can work on him," the general said, in apparent reference to Trump, whose ultimatum he described as a "load of nonsense."
The announcement, coming a day after the North threatened Guam in vaguer terms, is stunning not only as an escalation, but also for the level of detail with which it describes the proposed strike. The statement spells out the number of intermediate-range ballistic missiles that would be involved (four), how far they would fly (approximately 2,085 miles), their exact flight path (they would traverse the three Japanese prefectures of Shimane, Hiroshima, and Koichi), plus how long all of this would take (about 20 minutes), and the earliest the plan would be ready (mid-August, so, conservatively, within a few days). And it takes care to specify that the end point of the missiles is not Guam itself, but the waters off its eastern coast (18 to 25 miles off, to be exact).
And while there are parallels between Trump's recent bluster and the bombastic rhetoric the North Koreans favor, this latest threat to Guam violates one of Trump's stated rules of threatening. As he said during the campaign regarding how he would defeat the Islamic State: "I don't want to broadcast to the enemy exactly what my plan is." Indeed, at times his administration has seemed to broadcast completely different kinds of plans with regard to North Korea—from regime change to regime acceptance to seeking negotiations to being done talking to "fire and fury."
What those comments have tended not to be is concrete and specific. In his most recent statements on the matter, Trump offered no plan of action for the U.S., choosing instead to proclaim via Twitter that the American nuclear arsenal is "far stronger and more powerful than ever before" and that "hopefully we will never have to use this power." Secretary of State Rex Tillerson, for his part, offered that North Korea does not pose an imminent threat to the U.S. and that Americans "should sleep well at night." (In fact, he landed in Guam on Wednesday on his way back to the U.S. from Malaysia for a prescheduled refueling stop, not long after North Korea first threatened the island.) Later the same day, Defense Secretary James Mattis issued his own threat, warning Pyongyang that any further provocation would "be grossly overmatched by ours and would lose any arms race or conflict it initiates."
The Trump administration has enacted specific policies—including, most recently, a new round of UN sanctions on North Korea—under the broad strategy of what the administration calls "maximum pressure and engagement," so some aspects of the U.S. plan are now a reality and a matter of public record. The Atlantic has published some of the clearest explanations of how a still-hypothetical U.S. attack on North Korea might unfold, from Mark Bowden and Uri Friedman. And it's fair to speculate that the Trump administration wants to cultivate some degree of uncertainty about precisely where, when, and whether the U.S. might strike. The element of surprise is a basic principle of warfare going back to Sun Tzu and before.
Which makes the latest North Korean threat even stranger than the vows of years past to turn Seoul into a "sea of fire" or nuke the White House. The flight trajectories cited indicate, at the very least, that the state news agency is projecting confidence about its missiles' precision; the clarity of the timing described is a clear intent to signal they're just about ready; the end point in Guam's waters, rather than Guam itself, is almost a de-escalation from, albeit somewhat consistent with, Tuesday's threat to make "an enveloping fire at the areas around Guam." Whatever the intended messages from either side, however, as the rhetoric escalates, they risk being misheard or misunderstood—with incredibly dangerous consequences.