Mattis's Mission to Reassure Ukraine
He'll be contending with a stalled Minsk process, unclear direction from Washington, and a still-hot war with Russia in the east.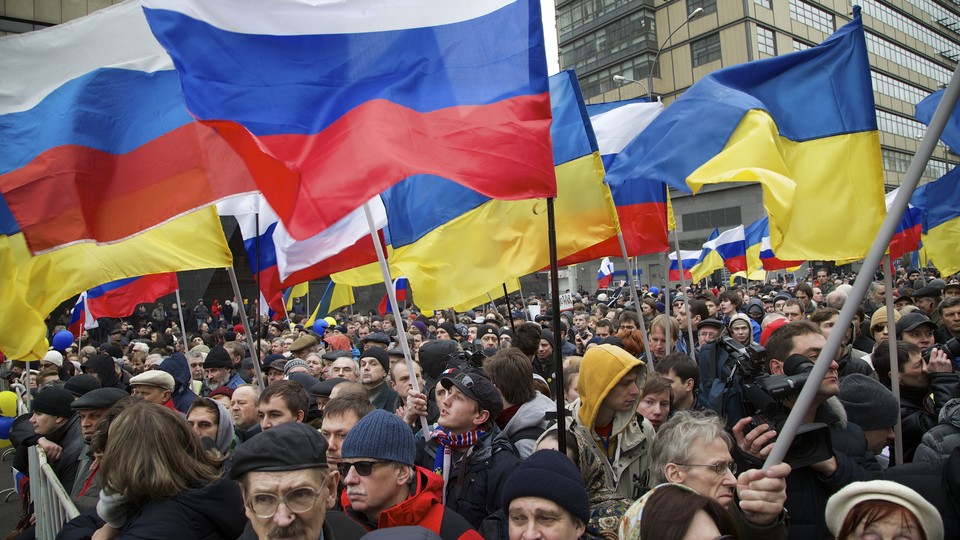 "It's not easy making a democracy," James Mattis, the U.S. secretary of defense, told reporters on Sunday as he prepared to embark on his foreign tour. So far, it has taken him to Iraq, Jordan, Turkey, and, today, Ukraine. Today is also the 26th anniversary of the country's independence from the Soviet Union; the occasion will be marked with a military parade, and Mattis will be on hand to express continued U.S. support for the nation's sovereignty and territorial integrity, according to the Pentagon. Or, as Mattis put it himself, he is visiting Kiev "just to make certain … that they know we're aware of the values and what they're trying to put together coming out of the history they've had in the past," he said on Monday. "It's not easy making a sovereign state, especially right now with the way Russia has been violating territorial integrity."
Indeed. For over three years, Ukraine has been locked in a "hot war" with Russia-backed separatists, who control a significant portion of the nation's eastern region. The fight has been raging ever since the 2014 Maidan Revolution, which resulted in the ouster of former President Viktor Yanukovych and the subsequent Russian annexation of Crimea. Despite the negotiated ceasefire, or the Minsk II agreement, which was implemented in February 2015, the nation has seen almost daily action on the front line, with over 10,000 casualties to date. In 2017 alone, 345 civilians were injured in fighting, 62 fatally, according to the Organization for Security and Cooperation in Europe. The 13-point agreement requires an immediate ceasefire, the withdrawal of all heavy weaponry, prisoner exchanges, an amnesty for fighters, local elections in the occupied regions of Donetsk and Luhansk, and Ukrainian constitutional reform, among other provisions.
This year, Independence Day is being celebrated with a new ceasefire to honor the start of the school year, brokered during a four-way phone call between the Normandy Four—Ukraine, Russia, France, and Germany—the same group that negotiated the Minsk agreements. But while there's little hope that it will result in a sustainable cessation of hostilities—similar start-of-year ceasefires failed to hold in 2015 and 2016—the new agreement may be the start of a revival, or perhaps a revision, of the existing settlement. And it comes as the White House weighs whether to provide lethal weapons to bolster Ukraine's defenses, a move that both the Pentagon and the State Department have endorsed, and which Ukraine, which has struggled to update its Soviet-era weaponry, sorely desires. During his visit, Mattis will also meet with Ukrainian Defense Minister Stepan Poltorak, who recently blamed Russia for recent reports that a Ukrainian plant may allegedly be linked to North Korea's recent nuclear advances.
"The current situation, the status quo, is not good for anybody," U.S. Special Representative for Ukraine Negotiations Kurt Volker said in Vilnius on Tuesday, after discussing the situation with Russian envoy Vladislav Surkov the previous day in Minsk. "What we need to do is to take a fresh look at how to increase security in Ukraine for the people that live there."
Surkov, too, said the two discussed "fresh ideas and novel approaches" to the conflict, prompting some observers to wonder whether the ineffectual Minsk agreement might be cast aside, given that neither Russia nor Ukraine have taken significant steps toward its implementation. Instead of moving toward re-integration, a Ukrainian economic blockade has cut off the occupied territory from the rest of the nation, heavy weapons and artillery remain very much in place on both sides, and the ceasefire remains largely fictive.
"The Minsk Plan hasn't moved in two years," Eurasia Group director Alex Brideau said. "There's a fundamental mismatch between what the Ukrainians view as the proper way to implement Minsk and how the Russians view it. And each feels it's the other's responsibility to move first."
For Ukraine, the Minsk agreements are very much a "victor's peace," as Samuel Charap, senior political scientist at RAND Corporation, put it, and it's unclear whether Ukrainian President Petro Poroshenko ever intended to implement them. "The status quo, to a certain extent, some would say is better than actually implementing Minsk, which means reintegrating the Donbass," Charap said. While the Poroshenko administration has repeatedly emphasized the return of Ukrainian sovereignty to both the occupied eastern regions and to Crimea, the practicalities of hypothetically reabsorbing the war-torn and potentially hostile territory could be politically and economically damaging to the Ukrainian president, who is up for re-election in 2019.
The flurry of diplomatic talks over the Minsk process, and renewed arguments over whether providing lethal aid to Ukraine is necessary or destructive, demonstrate how little has changed in the topography of conflict since Minsk II was implemented in 2015, when Congress pushed to arm Ukraine over opposition from the Obama administration.
So far, the Trump administration's policy toward Ukraine has not markedly diverged from Obama's approach. Despite early concerns that Trump might reverse course on Ukraine, his White House has kept Obama-era high-level dialogues with the Ukrainians open, with Vice President Mike Pence underscoring continued U.S. support in meetings with Poroshenko just as former Vice President Biden did in frequent trips to Kiev, maintaining the U.S. commitment to train, equip, and advise Ukrainian armed forces, and implementing sanctions against Russia (however reluctantly). "Although I think President Trump would not like to hear that," Steven Pifer, former ambassador to Ukraine and Brookings senior fellow, told me. "The question in my mind is, the policy you see being pursued now, which is very similar to the Obama administration policy, is one that mainstream Republicans all support. I'm not sure that this is a policy preference that the president personally shares. At the end of the day, does the president go with the consensus advice? Or does he go with his gut?"
Given the nature of the current administration, it's hard to say. In separate meetings with Poroshenko this year, both Mattis and Secretary of State Tillerson promised to maintain military and economic support for Ukraine, ensuring him that the United States still expects Russia to return Ukrainian occupied territory. There is also broad support for Ukraine in Congress, which pushed through renewed Russia sanctions despite opposition from within the administration.
The one thing that is virtually certain is that the White House's unpredictable position on Ukraine, and the state of U.S.-Russia relations, does not promise movement anytime soon. "There are too many options for spoiling to happen. No one wants to give the other side a victory," Charap said. "Concessions would have to be made by either or both sides, and that seems far-fetched under the current conditions."
"The Europeans are waiting for a signal from Washington, hoping for neither a grand bargain nor provision of lethal weapons," Michael Kimmage, a professor at Catholic University who previously served on the State Department's Policy Planning Staff, said in an email. "Neither the Russian nor the Ukrainian side has actual military objectives at this point, or they don't have realizable objectives that could grant them 'victory' in their terms—and yet there is not sufficient pressure on either side to enable concessions or genuine negotiation, hence the no exit quality to it all." For this latest, dark chapter of the Ukraine conflict, he said, "the best guide is no doubt Samuel Beckett," whose famous, absurdist adage advises: "Ever tried. Ever failed. No matter. Try Again. Fail again. Fail better."