Emmanuel Macron: Monsieur Unpopular
The French president's approval rating has taken a nosedive.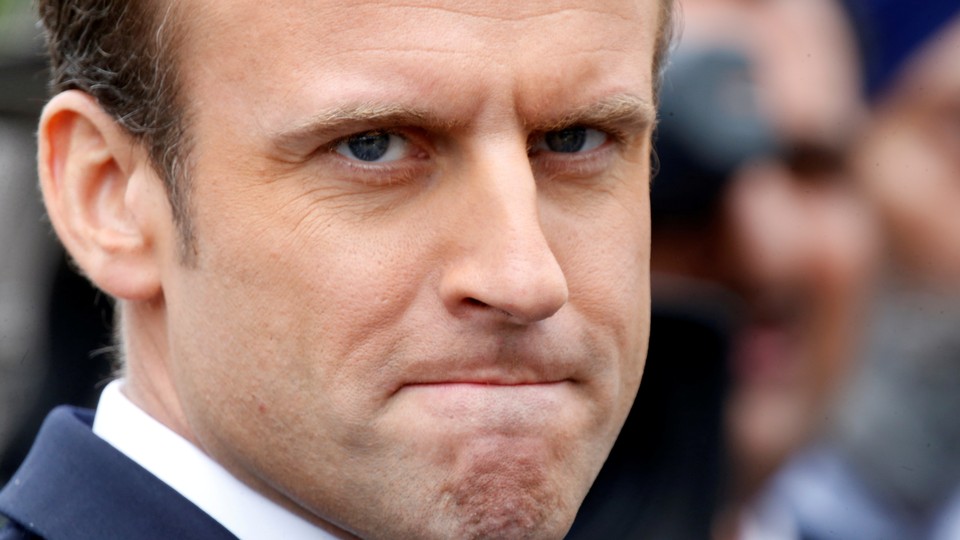 Emmanuel Macron has said that he wants to govern like the Roman god Jupiter, staying above the fray of everyday government issues. But less than three months into the French president's time in office, his poll numbers are proving just how mortal he is. U.K.-based pollster YouGov reported a seven-point drop in the young leader's approval rating, which fell from 43 to 36 percent over the month of July. French pollster Ifop observed a similar decline over the same period, noting that: "Apart from Jacques Chirac in July 1995, a newly elected president has never seen his popularity rate falling as quickly during the summer after the election."
The popularity decline is a stark shift from June, when both Macron and his prime minister, Édouard Philippe, saw their approval ratings rise from 62 to 64 percent and 55 to 64 percent, respectively. But their level of popularity isn't entirely outside the norm. Former President François Hollande enjoyed 56 percent approval at the same stage of his presidency; his predecessor Nicolas Sarkozy's was higher, standing at 66 percent.
What's perhaps most unusual is just how long Macron's popularity did last. His presidency benefited from multiple boosts early on, including high-profile meetings with foreign leaders such as President Trump (they both engaged in a now-infamous handshake that Macron later admitted was meant to show that he would not make concessions) and Russia's Vladimir Putin (during which Macron openly accused Russian media of being "agents of influence and propaganda"). Though such meetings raised Macron's diplomatic profile (France was ranked the world's top soft power in an annual survey, overtaking both the U.S. and Britain), they did little to quell concerns at home. Ifop political scientist Jérôme Fourquet said the fanfare surrounding Trump and Putin's visits was met with ire by the French public, with whom neither leader is popular. But he also attributed Macron's popularity decline to his plans to overhaul the country's labor code, as well as to his proposed 850 million euro cut to this year's defense budget—a move that led to the resignation of General Pierre de Villiers, France's military chief.
"He campaigned on the idea of trying to slim down the French state, trying to ultimately make it more competitive," Dr. David Lees, a Warwick University researcher who focuses on French politics, told me. "These things are going to prove unpopular because they will mean a big shakeup of the way France does business." This shakeup includes, among other things, cutting the number of French lawmakers by a third, reducing public spending, and implementing a number of market-friendly economic reforms (such as new rules that give employers greater flexibility to hire and fire people).
Macron's image has taken a hit in other ways, too. He's been accused of being standoffish with the media by granting minimal interviews and cancelling the traditional press conference typically held on Bastille Day (an Élysée Palace source reportedly told French newspaper Le Monde that the president's "complex thoughts" do not lend themselves well to press interviews). He has also faced pushback for his efforts to establish an official First Lady position, which does not formally exist in France. An online petition opposing the proposal has garnered more than 250,000 signatures so far. It notes that the timing of the proposal is ironic, as the National Assembly only recently passed a measure barring lawmakers from hiring their family members. "Brigitte Macron currently has a team of two or three aides, as well as two secretaries and two security agents," the petition reads. "That's enough."
Although some of Macron's policies have caused controversy, they were not unexpected. Macron vowed during his presidential campaign to implement many of them, and earned a mandate to do just that when his party, La République En Marche, won an overwhelming majority in the country's legislative elections. Still, his electoral victory doesn't necessarily denote public support. "I don't think he won because of his program—in fact, in many ways he probably won in spite of his program," Lees said, adding: "He is trying to do things which disrupt that status quo, and that will in turn make him even more unpopular."
With a sound majority in the National Assembly and a weak, fragmented political opposition, Macron is unlikely to have trouble pushing through his agenda. But that doesn't mean he isn't bound by public opinion. If Jupiter, as many have taken to calling him, hopes to stay above the normal political fray and avoid mass protests threatened by some in the opposition, he may want to start listening.