Will Brexit Lead to a 'Brexodus'?
The U.K. has yet to leave the European Union, but some Europeans have started leaving the U.K.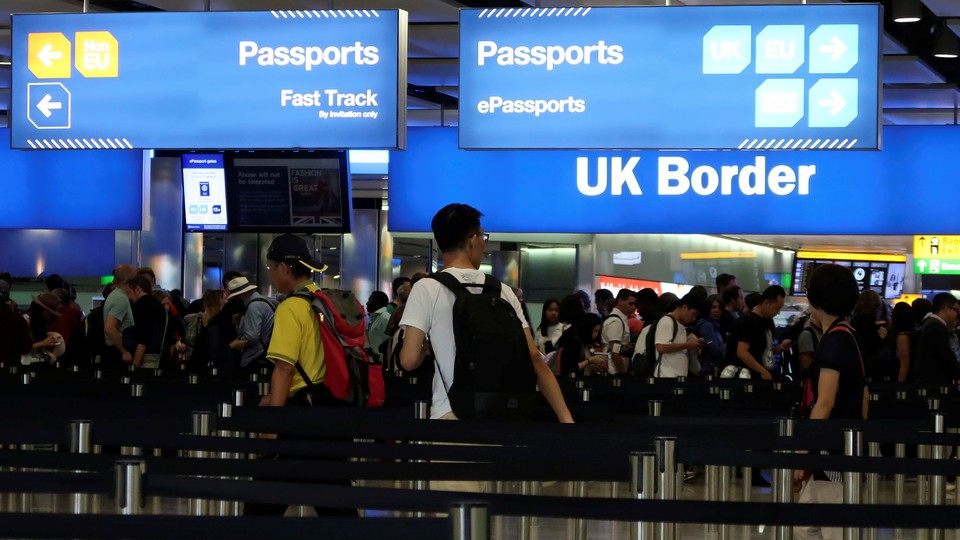 When Britons voted to leave the European Union last year, they did so in part so they could have more control over European immigration into the United Kingdom—giving them the power to decide who can come live and study and in the U.K., and who can't.
"We are not leaving the European Union only to give up control of immigration again," Prime Minister Theresa May, whose Conservative party pledged to reduce overall immigration to below 100,000 per year, told fellow Tory lawmakers at their party's conference in October. "We have voted to leave the European Union and become a fully independent, sovereign country. We will do what independent, sovereign countries do. We will decide for ourselves how we control immigration."
Though the U.K.'s actual Brexit date, March 2019, is still a ways off, their wish may already be coming true. Last week, the British Office for National Statistics (ONS) issued new findings that net migration (the difference between those entering the U.K. and those leaving it) fell by nearly a quarter, from 327,000 last year to 246,000 this year. This represents a three-year low, and it's primarily attributed to the departure of EU citizens from the Czech Republic, Estonia, Hungary, Latvia, Lithuania, Poland, Slovakia, and Slovenia. Though the ONS noted that Brexit may be what is influencing EU nationals' decision to leave the U.K., it also said that "it is too early to tell if this is an indication of a long-term trend."
The U.K.'s immigration minister, Brandon Lewis, welcomed the results of the report as "encouraging." But it may be too soon to celebrate, said Jonathan Portes, a professor of economics and public policy at King's College London and a senior fellow at independent research institute U.K. in a Changing Europe. "It's very odd to see that this is a success, in the sense that to the extent this is a result of Brexit, it's the result of the fact that the U.K. is less attractive to foreign nationals as a place to live, work, and raise a family," he told me. "We're not being more selective. It's the immigrants who are being more selective. It's not that we're choosing to have fewer immigrants, it's that fewer immigrants are choosing to come here."
If EU nationals are in fact deciding they would rather return to their home countries than stay in the U.K., there are good reasons. The decline in the value of the pound since Britons voted to leave the EU has made prospects of staying in the U.K. less advantageous for migrant workers. The looming debate over citizens' rights—an ongoing negotiation that will affect 3.5 million EU citizens living in the U.K. and 1.2 million British nationals living in Europe—more than a year after the Brexit vote took place hasn't helped, either.
Still, Portes said fears of EU nationals leaving en masse, or what some in British media have dubbed a "Brexodus," are overblown. "There are 3 million European citizens in the U.K.—it's not like a million have suddenly decided to pack up and go home," he said. "In fact, net migration is still positive—we still have more people coming than leaving. It's just that the rate of inflow has fallen considerably. … It's not a panic, it's not an exodus, this isn't in any way a sort of social or economic disaster at this point. It's just a worrying trend."
But some people, especially business leaders, are worried the trend might be indicative of a new reality, and have expressed concern that a continued loss of EU workers could have an adverse impact on the British economy. An ONS study last month revealed that EU migrants make up more than 20 percent of Britain's labor force spanning across 18 industries, including hospitality, construction, and higher education. This concern, my colleague Krishnadev Calamur has noted, hasn't escaped the British government, which announced last month that it would conduct a year-long study analyzing the long-term social and economic impact of EU immigration to the U.K. The study is slated to be done by September 2018—six months before the U.K.'s scheduled departure date, and just one month after Brexit negotiations are expected to conclude.
Whatever EU nationals decide to do between now and March 2019, it will likely depend on the outcome of Brexit negotiations, and what their existing rights will be like once the U.K. leaves. "They're obviously interested in what their future status will be, not just what their status is at the moment," Portes said, adding: "If a sensible agreement that largely guarantees existing residents the right to stay and the right to most, if not all, of their existing rights for a very long period, that will go at least some way in repairing the damage and reassuring people. If this continues to drag on and there is no agreement, or if the U.K. government behaves unreasonably or is perceived as behaving unreasonably, than that will do further damage."