Even Trump Is Surprised by Australia's Cynical Migrant Policy
In leaked transcripts, Malcolm Turnbull spells out a controversial practice in unusually stark terms.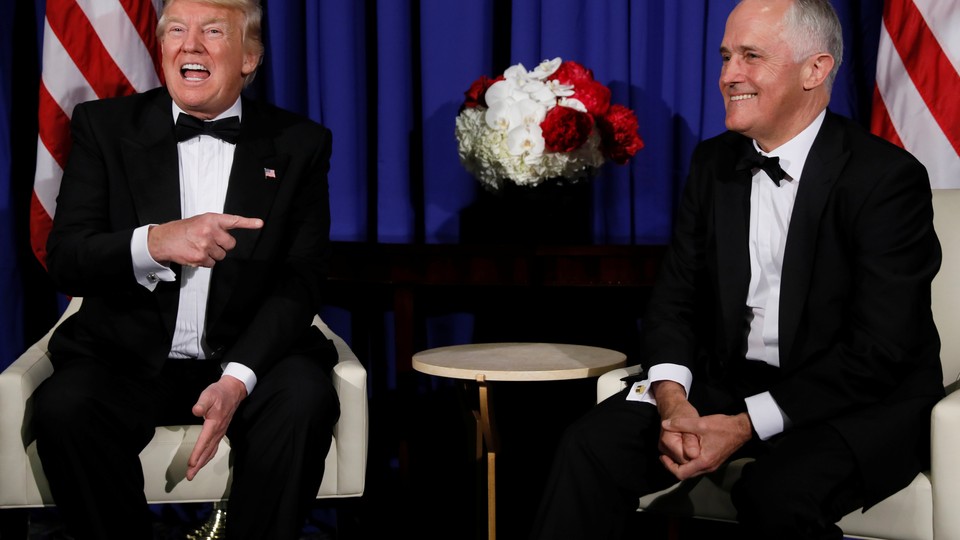 One can learn a lot from the transcripts of President Trump's phone calls with Enrique Peña Nieto and Malcolm Turnbull, which were leaked and published in The Washington Post on Thursday. For one thing, it's evident that Trump did not prepare much for these discussions. But in neglecting to research the most basic questions ahead of time, he ended up just asking some, and in particular forcing Australian Prime Minister Malcolm Turnbull to explain his country's controversial migrant policy.
"What is the thing with the boats?" the president says to the prime minister. Trump, who went into many calls early in his presidency without briefings from the State Department, comes in with little prior knowledge of Australia's long-standing policy of intercepting migrants who come illegally by boat and housing them in offshore processing centers.
But he gets Turnbull to spell out in simple terms what exactly is the thing with the boats.
Australia's offshore migrant facilities have become a political millstone around the prime minister's neck. The government is working to close its "processing center" on Manus Island in Papua New Guinea, where the supreme court has ruled it unconstitutional amid persistent reports of human rights violations. The Australian government is technically not forcing migrants to stay—it has offered cash rewards to individuals willing to go back to their home countries—but it needs to offer powerful incentives to people desperate enough to risk trying to reach Australia by sea.
One such incentive was a deal struck by the Obama administration, under which the United States agreed to vet, and possibly resettle, between 1,250 and 2,000 people who had been intercepted trying to come to Australia illegally. In the phone call, Turnbull is trying to persuade Trump to honor that deal. Of course, as Trump made clear, it went against the spirit of the executive order on immigration he had issued just the day before the two leaders spoke in January. "This is going to kill me," Trump tells Turnbull.
Trump, of course, makes the assumption any casual observer of the situation would make. If these people are being detained, they must be criminals. "I guarantee you they are bad," Trump says. "That is why they are in prison right now."
But Turnbull, trying to make the deal stick, is more forthcoming with Trump than he has been in public. The Australians know very well that none of the migrants at issue are security threats. "None of these people are from the conflict zone," explains Turnbull, presumably referencing Syria, which was entirely banned from sending refugees to the U.S. under Trump's order. "They are basically economic refugees from Iran, Pakistan, and Afghanistan. That is the vast bulk of them. They have been under our supervision for over three years now and we know exactly everything about them."
Trump, like the news reporters he loves to beat up on, asks the obvious follow-up. "Why haven't you let them out?" Turnbull explains that it's a principle at stake. "In order to stop people smugglers, we had to deprive them of the product. So we said if you try to come to Australia by boat, even if we think you are the best person in the world, even if you are a Noble [sic] Prize winning genius, we will not let you in."
Put in those terms, Trump immediately grasps the cynical logic at work. "That is a good idea. We should do that too. You are worse than I am."
And in that moment, he stopped playing journalist, and became the president again.