Charlottesville Makes Strange Bedfellows Around the World
Condemnation united Iran and Israel—and got the xenophobic National Front in France speaking out against white nationalism.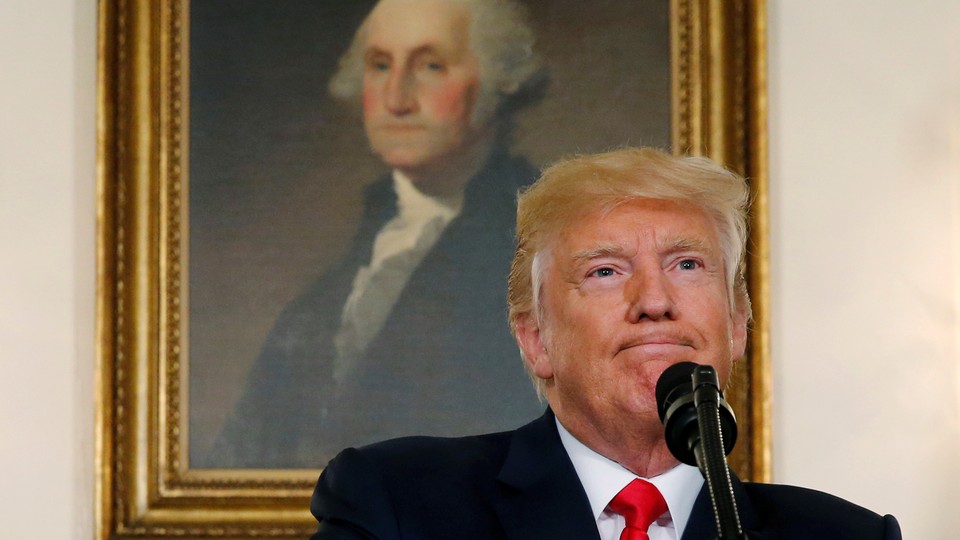 When President Trump assigned blame to "both sides" for the deadly violence in Charlottesville in remarks this week, he was met with condemnation from both sides of the aisle—and then from the other side of the Atlantic. Soon, leaders around the world began to take on the president's claim that both the white nationalists and neo-Nazis marching under the banner of "Unite the Right" and those opposing them bore responsibility for the violence that ensued last weekend.
In the U.K., Prime Minister Theresa May stated there is "no equivalence between those who propound fascist views and those who oppose them." In Germany, Chancellor Angela Merkel dubbed the protest as "racist" and "evil." In Scotland, First Minister Nicola Sturgeon cited KKK leader David Duke's endorsement of Trump's message as proof that he is "on the wrong side."
Diplomatic tradition discourages foreign leaders from weighing in on other countries' domestic disputes, especially when they concern close allies—which is not to say it doesn't happen. But the nature of Trump's remarks—and his seeming willingness to defend white nationalist and neo-Nazi protesters as including "some very fine people"—seemed to change the traditional calculus. Those who were among the first to denounce his comments were praised for their forceful condemnation; those who were slower to condemn—such as Merkel in Germany and Prime Minister Benjamin Netanyahu in Israel—faced backlash at home.
And Trump's remarks brought together political figures who don't often find themselves on the same side. France's National Front, a far-right party known for its xenophobic and anti-Semitic elements, joined the European chorus criticizing Trump's stance, despite having recently embraced his nationalist message in the party's own failed bid for the Élysée Palace this year. "These were white supremacists and racists," Florian Philippot, the party's vice president and the former campaign manager for far-right presidential candidate Marine Le Pen, told French broadcaster France Info Wednesday. "They need to be condemned in very clear terms."
Also condemning Trump's remarks was Iran. Ayatollah Ali Khamenei, the country's supreme leader, who has a history of Holocaust denial, tweeted: "If US has any power, they better manage their country, tackle #WhiteSupremacy rather than meddle in nations' affairs." Though this isn't the first time Khamenei has weighed in on U.S. domestic issues (he criticized the state of U.S. race relations and police brutality in a series of tweets in 2014), it does mark a rare occasion putting Israel and Iran on the same side, albeit for different reasons. It also falls squarely within the tradition of U.S. adversaries using America's racial woes for propaganda purposes—as Theodore R. Johnson once noted in The Atlantic:
During World War II, Germany dropped leaflets on black American troops reminding them that they were fighting for a country that subjugated them. Japan established "Negro propaganda operations" that sought to damage America's international reputation, destabilize the U.S. by deepening its racial divide, and dissuade black soldiers and sailors from fighting in World War II. The Soviet Union utilized racial propaganda during the Cold War; for example, the Russian newspaper Trud circulated a story of a Louisiana lynching where "a crowd of white men tortured a negro war veteran … tore his arms out and set fire to his body," and "the murderers, even though they are identified, remain unpunished."
Apart from the impact Trump's remarks have made at home (American business leaders and more than dozen members of the White House's arts panel have quit the administration in protest), it's unclear how much further it will damage his standing abroad, where he was already unpopular. An annual study published last month by the Pew Research Center found that across 37 countries, 22 percent of those surveyed have confidence in Trump to do the right thing when it comes to world affairs (64 percent thought the same of President Obama ). Though 55 percent of those surveyed said they viewed Trump as "a strong leader," they also described him as "arrogant" (75 percent), "intolerant" (65 percent), and "dangerous" (62 percent).
Numerous world leaders have tried to remain conciliatory and some have paid a political price for it at home. Diplomatic transitions aside, the American president may have caused some leaders to calculate that the political costs of not condemning an ally's behavior would be higher than staying silent.