How Long Can Michel Temer Last as President of Brazil?
Lawmakers prevented the center-right leader from facing corruption charges, but the public may be less forgiving.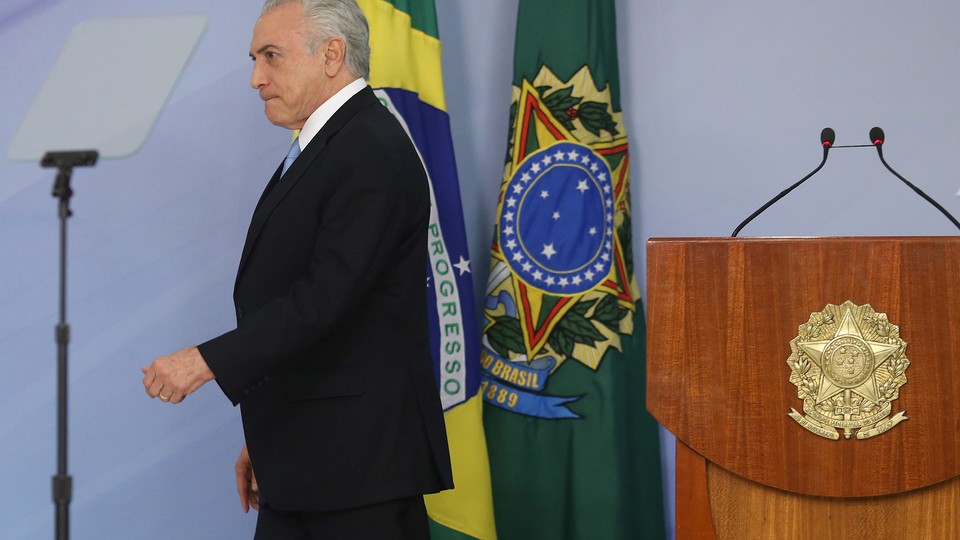 Brazilian President Michel Temer gets to keep his job—for now. The embattled leader eked out a historic victory late Wednesday night after the country's lower house of Congress voted 263 to 227 to spare Temer from standing trial on charges of corruption. This means the allegations that were brought against Temer in June will have to wait until the end of 2018, when his term concludes.
But he may not last that long. Though Temer's allies in Congress were able to forestall him facing prosecution for allegations that he received millions of dollars in bribes from JBS, the country's largest meatpacker, the center-right leader still remains deeply unpopular among Brazilian voters. Since the release of an audio recording in May that appeared to show Temer approving bribes that were meant to silence a possible witness in the country's ongoing corruption scandal, his approval rating has plummeted to 5 percent—lower than that of his predecessor, Dilma Rousseff, who was impeached last year for improperly handling the government's budget. His poor reputation is also due, in part, to the series of unpopular economic reforms Temer has vowed to pass in order to help the country recover from its worst recession on record.
Temer, who likened the corruption allegations to a "soap opera plot," welcomed the vote against his suspension and vowed to push forward with his economic agenda. "With the support the lower house has given me, we will pass all the reforms that the country needs," he said after the vote. "Now it is time to invest in our country. Brazil is ready to start growing again."
Temer's opponents won't make that easy for him. Brazilian Attorney General Ricardo Janot, who filed the corruption allegations against Temer in June, is expected to charge Temer again—this time, with obstruction of justice. If that happens, it will likely prompt another congressional vote. Though Temer was able to secure a wide margin of support from lawmakers this time around, even some of his most stalwart supporters could be more inclined to distance themselves from him as the country's general election nears.
"Temer is not a popular figure, he never has been," Dr. Riordan Roett, a professor and director of the Latin American Studies Program at Johns Hopkins School of Advanced International Studies, told me, noting that the country's political class "is really under a tremendous amount of scrutiny at the present time by the Brazilian public."
Political uncertainty won't necessarily stop Temer from going forward with his ambitious economic agenda, which includes freezing public spending and reforming the country's pension system. Considered Latin America's largest economy, Brazil is still reeling from a recession that has left roughly 14 million people jobless. Though Temer's reforms will require approval by majorities in both houses of Congress, Roett says it's not impossible. "Never underestimate Brazilian politicians," he said. "They may, for a price, be willing to pass a watered-down, skeletal pension reform system so that the government finance minister, Henrique Meirelles, can tell the financial markets and the banks, 'You see, we're trying very hard. We did pass something, we need to get through 2018, then the new government will be able to do even more.'"
He added: "There will be tremendous protest by the unions and others on the streets when they begin to try to do that. As we found out in this country, once you give people benefits, they don't see any reason for them to be taken away."
All of this hinges, however, on Temer's ability to stay in power. Another indictment would certainly derail his ability to implement any reforms and, if he's impeached, it's unlikely his successor would have much luck either. Brazilian House Speaker Rodrigo Maia, an ally of Temer who would be next in line for the presidency should Temer step down, is also implicated in the country's political scandal, as is virtually every member of Brazil's political class. This, Roett says, makes the prospects of who will succeed the presidency in 2018 all the more uncertain.
"The other traditional candidates just don't seem to have any traction," he said. "Politics doesn't like a vacuum, so somebody will appear … but it's not clear whether they'll come from the traditional center-right or the traditional center-left. We're really moving into unknown territory."