Another Fatal Ramming Attack, This Time in Barcelona
The incident is the latest in a European city in which a van was used.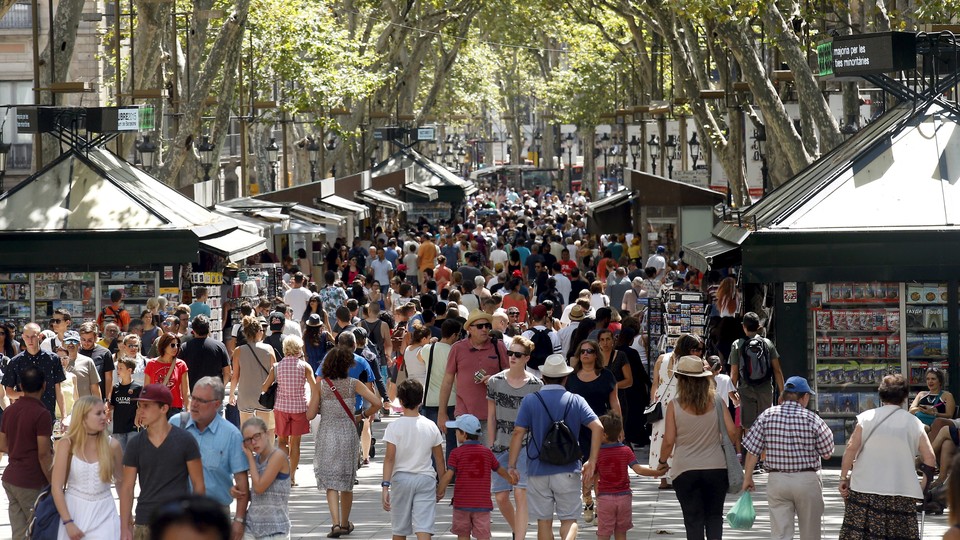 Updated at 3:34 p.m.
Authorities in Barcelona are confirming 13 deaths and 50 injuries in what they are describing as a terrorist attack at Las Ramblas, the popular tourist attraction that was immortalized in George Orwell's Homage to Catalonia.
Authorities said a van was driven onto a sidewalk and hit pedestrians. A suspect was arrested more than an hour after the incident, police said, describing the suspect as a "terrorist attacker." Police in Barcelona said unconfirmed reports of a second attacker holed up in a bar were false.
ISIS claimed responsibility for the attack through Amaq, its mouthpiece—though the extent of the group's direct involvement is not known. Although ISIS has steadily lost ground in Syria and Iraq, it maintains the ability to claim attacks in Europe, though it is unclear if the group is behind the operational planning of those attacks or whether it merely inspires its attackers through social media. El Pais, the Spanish newspaper, quoting anonymous officials identified the attacker as a Moroccan-born man named Driss Oukabir. Spanish authorities identified him as the man who had rented the van used in the attack.
Recent attacks in other European cities have been claimed by Islamists who claim they were inspired by ISIS. However, Barcelona has been the site of recent anti-tourism protests and anarchists had recently warned they would strike British tourists in Europe; Barcelona is a popular tourist destination.
Spain has had a long history with terrorism, but much of the violence was carried out by ETA, the Basque separatist group, which declared a truce in 2011. Catalonia, where Barcelona is located, is home to a powerful separatist sentiment, but that secessionist movement has not been violent. The most high-profile recent attack, however, was attributed to al-Qaeda in 2004 when near-simultaneous attacks on Madrid's commuter train system killed 192 people and injured more than 2,000. Those attacks, which came three days before the country was set to vote in general elections, was the worst in Spanish history.
The Spanish government maintains a national terrorism alert level in response to terrorist attacks in Europe and elsewhere, as well as information held by its security agencies. Since 2015 the Spanish authorities have assessed the threat level as "high", the second highest level (Level 4 out of 5). The current alert level is available on the Spanish Interior Ministry's website (in Spanish).Although not a target of the scale of attack seen in 2004, Spain maintains its alert level at 4, the second-highest level. It has been at that level since 2015. Enhanced security measures were directed at crowded spaces, prominent buildings, and mosques, according to Euronews.
"The armed forces are not directly involved in the current state of alert, as it is the case of France, for instance, but they remain under alert," the Interior Ministry told Euronews. "That means they could be called to support security forces in meeting objectives if it is truly needed and that they may have to act imminently."
El Pais, in a news report in June, noted "a silent 'army' of more than 3,000 officers from the security forces, spies, prosecutors, judges and analysts are working in the shadows in order to avoid another attack." Here's more:
Currently, more than a thousand people are on the radar of the Spanish police, while 259 people are being investigated by the courts and 500 telephones are being tapped as part of dozens of investigations. That's according to confidential information to which EL PAÍS has had access. The mission is so complicated that in their reports to the government the anti-terrorist services all arrive to the same, worrying conclusion: a new attack is inevitable.
The El Pais report noted that since 2005 Spain has arrested more than 700 people in connection with terrorism convicted dozens, and imprisoned 120 people. It has also, the newspaper reported, foiled several attacks during the planning stage. But the manner of Thursday's attack shows that despite the best preparations it's difficult to stop a man in a truck from causing harm.
The attack at Las Ramblas matches several recent high-profile terrorist attacks across Europe, including in Nice, France, and London. What's different about such attacks is the number of casualties vary widely. A recent car and knife attack at Ohio State in 2016 injured a few people; one woman was killed in last weekend's attack in Charlottesville, Virginia; six people were killed in the Westminster Bridge attack in London; and more than 80 people were killed in Nice. But as my colleague Uri Friedman wrote in April after a truck was used to strike pedestrians in Stockholm: "But the nasty truth about violence so basic—requiring no training, weapons, or collaboration with a terrorist group, nothing more than access to a vehicle and the ability to drive it—is that it is extremely difficult to prevent. The less complex the terrorist plot, the harder it is to thwart."
Uri added:
The type of terrorism on display in Stockholm leaves societies with three choices: 1) Try to secure open spaces by heavily fortifying them, thus transforming people's way of life; 2) Try to stop would-be attackers by dramatically expanding the government's surveillance and investigatory powers, thus increasing the state's intrusions into people's lives; or 3) Try to minimize the frequency and lethality of terrorism, while learning to live with the threat of attacks and to be resilient when they inevitably occur. Those choices are lurking behind fierce debates in many European countries right now about how to better protect public places, control immigration, and balance privacy and security.
That's a challenge for tourist-friendly cities like Barcelona—and even New York—that rely on pedestrian traffic for much of their business. Terrorist groups recognize not only the impact and efficiency of using simple means—like vehicles—to carry out attacks, they also recognize the challenges policymakers face when they respond to terrorism. Indeed, President Trump tweeted the U.S. condemned the attack "and will do whatever is necessary to help." The Department of Homeland Security in a statement said: "We will not terrorism become the new normal." The balance between public safety and normalcy has always been delicate, preserving normalcy in not-normal times may now be more important than ever.