Steve Bannon Goes After Asia Officials
The White House chief strategist said he was aiming to replace experts at the State and Defense departments.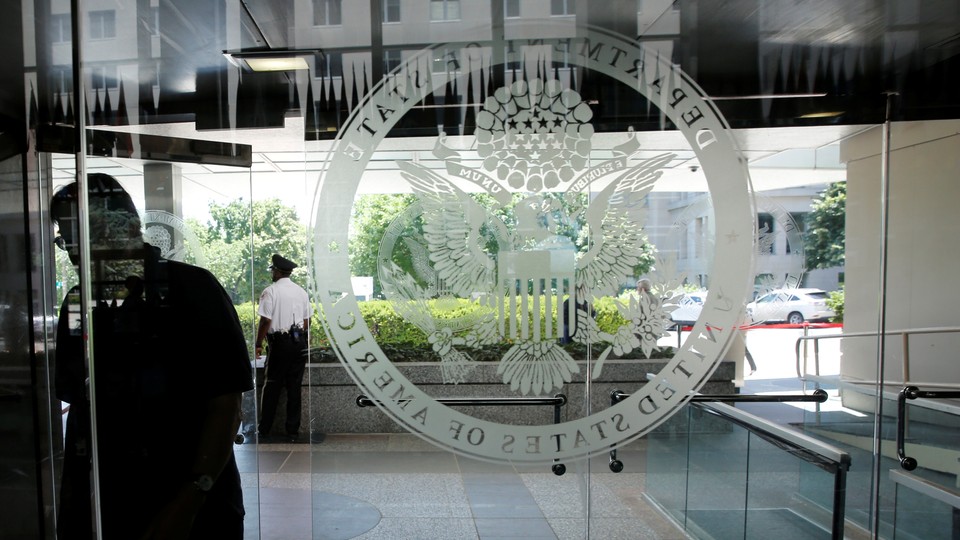 Updated at 1:32 p.m. ET
At a time when Asia threatens to present the Trump administration with its first real foreign-policy crisis, the White House chief strategist Steve Bannon has said he plans to marginalize the Asia-related bureaus at the U.S. State and Defense Departments, which he views as insufficiently committed to a hard line on China.
"I'm changing out people at East Asian Defense; I'm getting hawks in," Bannon told The American Prospect, a liberal magazine, in a candid interview. "I'm getting Susan Thornton [acting head of East Asian and Pacific Affairs] out at State."
At issue in the interview are Bannon's views toward China—"We're at economic war with China"—and what he sees as its inadequate help reining in North Korea. ("On Korea, they're just tapping us along. It's just a sideshow." He also said he doesn't believe there's a military solution for North Korea.)
Although Bannon's remarks about those U.S. officials are striking, the senior positions at both State and Defense are technically vacant. Their current occupants are Thornton, a career foreign-service officer who is the acting assistant secretary for East Asian and Pacific Affairs; and David Helvey, who is the acting assistant secretary of defense for Asian and Pacific Security Affairs. The two officials have been at the forefront of the U.S. response to North Korea's missile tests last month and its threats to strike near Guam, the U.S. territory in the Pacific.
Incoming administrations typically name their own candidates for these senior positions, but the Trump administration has been unusually slow in this regard.
"Political appointees in agencies are always selected through a delicate dance between the White House and the Cabinet secretary," Kelly Magsamen, who was the acting Assistant Secretary of Defense for Asian and Pacific Security Affairs in the Obama administration, told me. "Sometimes it is a White House pick and sometimes it is a SecDef or SecState pick. It's not uniform.  But usually both have to have some kind of agreement on who is put in those jobs."
At the U.S. State Department, for example, there have been no nominees for 96 out of 141 senior positions that require Senate confirmation, according to a database maintained by the Partnership for Public Service—the highest number of vacancies for any Cabinet-level department. The corresponding figures for the Defense Department are 26 out of 53.
Bannon's remarks are surprising given that he's publicly claiming say over key appointments.
"I think it's striking that he would publicly claim such a strong role on personnel, especially given reports that both Secretary [Rex] Tillerson and [James] Mattis [the defense secretary] have been frustrated with the slow progress of appointments, which are usually their domain," Abraham Denmark, a former deputy assistant secretary of defense for East Asia who is now director of the Asia Program at the Wilson Center, told me. "The people currently acting in those positions ... I certainly can't speak to their positions on these issues, but I've known them to be consummate professionals and dedicated civil servants who are driven by mission to defend the United States and implement the policies of the leadership."
The naming of Thornton, in particular, is likely to rankle the State Department where morale is said to be low because of what many employees view as its diminished role in the Trump administration.
The State Department's 96 vacancies, including key ambassadorships, notwithstanding, the department is also being reorganized, with the secretary of state having brought in two consulting firms to make recommendations. Tillerson himself has been described as aloof, and news reports have described the department as directionless. (Tillerson has rejected these claims.)
Thornton has been at the center of U.S. diplomacy with North Korea and China during recent tensions on the Korean Peninsula and has traveled with Tillerson to the region. Earlier this month, Tillerson singled her out for praise "for her help in advancing" understanding of issues related to the U.S. and China.
"Susan Thornton also has been key to our relationship with China, and I think it's important that everyone understand that North Korea does not define the relationship with China," Tillerson said.
Ambassador Daniel Russel, who served as assistant secretary of state for East Asian and Pacific Affairs during the Obama administration, said in an emailed statement that he'd selected her to serve as his deputy "because of her expertise in the region, her excellent policy judgment, her professionalism, and her tremendous leadership skills.
"Susan is precisely the type of talented and dedicated Foreign Service Officer that this country needs in positions of responsibility," Russel, who is now at the Asia Society, said.
Magsamen told me that by naming Thornton Bannon "sort of threw her under the bus with her colleagues, her foreign counterparts, who all now know she is going to be replaced."
"Because that position is a political appointee position, she would have likely been replaced anyway, but it certainly undermines her further in her current work," she said. "And it's not like they have nominated a replacement yet. Susan, a career foreign service officer, deserves better."
Thornton was reportedly Tillerson's top pick to permanently fill the position she is occupying, but BuzzFeed News reported last month that "White House officials opposed her due to concerns that her views were out of step with the president's agenda."
Thornton, who joined the State Department in 1991, has been principal deputy assistant secretary since February 2016; she was previously deputy assistant secretary. Her biographical page on the State Department's website says Thornton "has spent the last twenty years working on U.S. policy in Eurasia, focused on the countries of the former Soviet Union and East Asia." An expert on the Soviet Union and contemporary Russia, as well as China, Thornton speaks Russian and Mandarin Chinese.
A State Department official said Thornton continued in her capacity as acting assistant secretary for the Bureau of East Asian and Pacific Affairs.
"The Secretary asked Susan Thornton to lead in a very important role and he continues to rely on her to lead the State Department's diplomacy in Asia," the official said, adding additional questions should be directed at the White House.
In an apparent show of support, Tillerson shook Thornton's hand Thursday before meeting with Japanese officials at the State Department.