Why Is Brexit So Expensive?
It's less about economics than about negotiating power.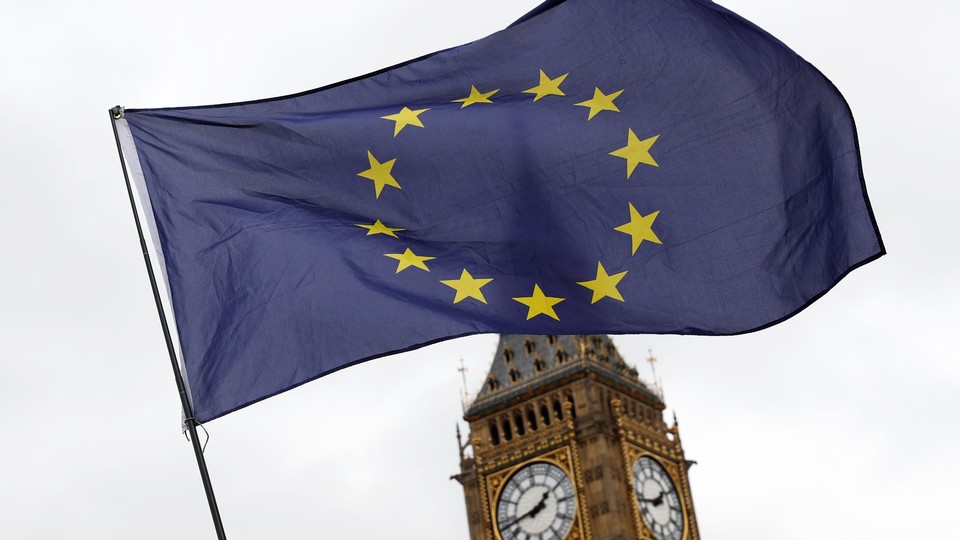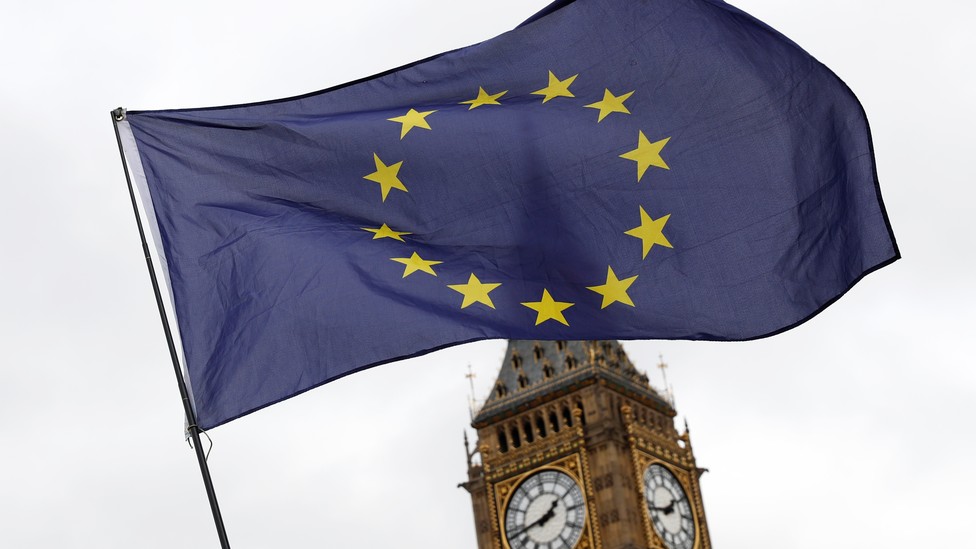 "Why," begins a classic joke, "is divorce so expensive?" The U.K. is now facing its own divorce bill from the European Union, and though the exact figure is still under negotiation, it fits the premise—economic analysts project the sum could fall anywhere in the range of 20 billion to 100 billion euros. But with some U.K. leaders insisting they shouldn't have to pay at all, it's less clear it will fit the punchline: "Because it's worth it."
The massive range is a hint of just how difficult it is to determine what, if anything, the U.K. owes to the bloc it's trying to leave behind after a generally solid, if not always blissful, 44-year union. For the EU, which claims the bill will cover financial obligations to the bloc the U.K. incurred before it voted to leave, the sum is "simply settling accounts." As the EU Chief Brexit Negotiator Michel Barnier explained last week during a press conference in Brussels, "It's not easy and it might be expensive, but we are not asking for a single pound or euro more than they have legally agreed to provide. You can discuss this or that budget line, but they have to start by recognizing that they have entered into commitments." Though the U.K. hasn't yet presented a formal response to the EU's financial demand, some British lawmakers have dismissed the very idea of an exit bill as "absurd" and "extortionate."
Settling on a final sum is among the many contentious issues to be settled before the U.K. can head out on its own. The issue is featured multiple times on the EU and U.K. negotiators' agenda this week, as the sides have resumed Brexit talks in Brussels. EU negotiators have warned that it could be a sticking point, and have threatened not to move forward on other topics, such as working out a trade deal between the U.K. and the remaining 27 EU countries, until the U.K.'s financial obligations are addressed.
The European Commission, the EU's executive arm, says the financial settlement will be "based on the principle that the United Kingdom must honor its share of the financing of all obligations undertaken while it was a member of the Union." As a member of the EU, the U.K. is responsible for approximately 15 percent of the 28-member bloc's common budget. Since the EU budget is determined every seven years (the current one spans until 2020), European lawmakers want the British government to honor the financial commitments it made when the budget was agreed upon in 2013. These obligations include EU-wide investment projects, pension promises to EU officials, and other liabilities. If it agrees, the U.K. would effectively be paying into the EU budget a year beyond its projected exit date: March 2019.
Martin Beck, the lead U.K. economist at Oxford Economics, told me the issue is complicated by the fact that the U.K. is one of the EU's few net contributors—it puts more money into the EU budget than it takes out. "That's been true for almost every year of our membership," he said. "If you add up the U.K.'s net contributions since 1973 and express it in current prices, you get a number of about 140 billion pounds. There's this argument that it's a bit bizarre to present the U.K. with a divorce bill given we've been subsidizing the other member states for the last 40 years." This argument was raised last week by British Foreign Secretary Boris Johnson, who said European leaders could "go whistle" if they expect Britain to pay more than it already has.
But the EU could say the same right back. Maria Demertzis, the deputy director of European economic think tank Bruegel, told me that while the U.K. has the negotiating advantage when it comes to the divorce bill, it has a lot to lose when it comes to trade. "There isn't a legal basis for penalizing the U.K.—it relies a lot on a gentleman's agreement," she said. "But when it comes to the trade deal, the U.K. has a lot to lose simply because it needs a good deal with all 27 members." It's estimated that nearly half of all U.K. exports go to the EU—something that is certain to change if a trade agreement isn't reached.
It's not that the U.K. can't afford to pay. Demertzis said that even at its highest projection, the bill would amount to at most 3 percent of the U.K.'s GDP. The problem, however, is the way it looks. "You could compromise on the amount, but you could also come to some diplomatic outcome about how the payments are structured, whether they're paid overtime, whether we can dress them up as payments for continuing access to EU programs," Professor Anand Menon, the director of U.K. in a Changing Europe, an independent research institute, told me. "There are all sorts of ways you could dress this up to make it look more palatable than a simple, 'You owe us a check for 60 billion euros.'"
Whatever the final sum, if any (some reports suggest the U.K. isn't planning to present its own financial estimate before this week's round of negotiations conclude Thursday), it's not clear the haggling itself is worth it. "We're spending a lot of bitterness and a lot of our political and negotiating capital on a small amount when what we ought to be doing is spending all of our capital on ensuring that we have a good trade deal," Demertzis said, adding that: "The clock is ticking and trade deals require some time."
With Britain's exit date projected to be just 19 months away, there isn't much time to waste. "These are only the first part of the Brexit negotiations," Menon said. "If you've ever watched two developed countries negotiate a trade deal, you'd know it's like hell." And that's just for getting together; breaking up is much harder to do.