A Typology of Undisclosed Trump-Russia Meetings
From the standard to the highly suspicious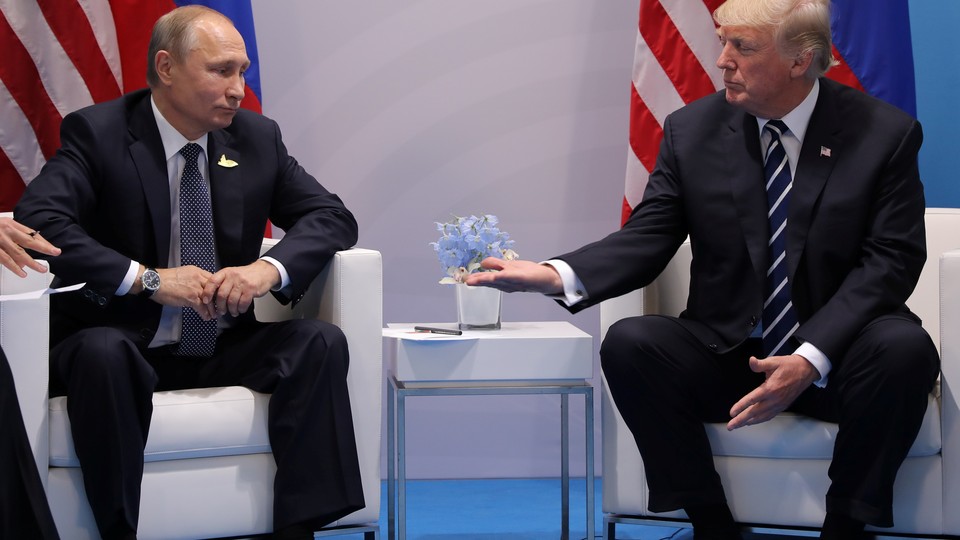 We know that Donald Trump and his top aides have held a range of meetings with Russian officials—some ordinary (Secretary of State Rex Tillerson's tense visit to Moscow after U.S. airstrikes in Syria), some extraordinary (Trump revealing sensitive counterterrorism intelligence to the Russians in the Oval Office), and some thoroughly perplexing (a sit-down in which Trump did—or did not—accept Vladimir Putin's denial of Russian interference in the 2016 U.S. election). We know this because the U.S. and Russian governments publicized these meetings, if not the precise details of their proceedings.
But there's a whole other class of meetings between the Trump camp and the Kremlin: those that haven't been disclosed to the public until the media discovered them. Trump's second conversation with Putin at the G20 summit in Germany, reported on Tuesday, belongs in this ever-expanding category. And that—not the fact that the American president got to talking with his Russian counterpart at dinner, not even the fact that the talk only involved Trump, Putin, and a Russian interpreter—is the primary reason (as far as we currently know) that the encounter is significant. It's the key and puzzling theme that runs through a range of Trump camp-Russia meetings, from the probably banal to the potentially sinister, from the campaign into Trump's presidency. Here's a guide to the different kinds of encounters that, for whatever reason, Trump and his allies didn't mention at the time.
Potentially Illegal
Donald Trump Jr.'s meeting with a Russian lawyer (June 2016): The president and his defenders have sought to portray his son's meeting with Natalia Veselnitskaya at Trump Tower as politics-as-usual. But his son's inbox suggests otherwise. In welcoming a visit from someone billed in email correspondence as a "Russian government attorney" with dirt on Hillary Clinton collected as part of the Kremlin's "support for Mr. Trump," Trump Jr. appears to have expressed openness to getting involved in the Russian government's efforts to meddle in the American presidential election—even if, as Trump Jr. claims, Veselnitskaya ultimately didn't deliver the promised goods. The episode doesn't prove collusion between the Trump campaign and the Russian government, but it constitutes the most compelling evidence to date that people in Trump's orbit were willing to consider it. Also initially undisclosed, even as Trump Jr. admitted to meeting with the lawyer: other participants in the meeting, including a Russian American lobbyist and a Russian American businessman who had been investigated in the U.S., but never charged, for money laundering. And in taking the meeting, Trump Jr. may have run afoul of U.S. laws that prohibit political campaigns from soliciting or accepting something "of value" from foreign nationals, though there is considerable legal debate at the moment on this question.
Suspicious
Michael Flynn's phone calls with the Russian ambassador (December 2016): When reports emerged that Trump's incoming national-security adviser had discussed sanctions with the Russian ambassador to the United States—around the same time that the Obama administration imposed sanctions against Russia in retaliation for Russian intervention in the U.S. election—some wondered whether Flynn had violated the Logan Act, an obscure and unenforced law that prohibits private citizens from conducting foreign policy without government authorization. But the most pressing questions about Flynn's conversations didn't revolve around the legality of his actions; instead they centered on whether he had misled U.S. officials about those conversations (for which he was eventually fired)—and whether that exposed the president's top national-security aide to Russian blackmail.
Jared Kushner's meeting with the Russian ambassador (December 2016): Shortly before Trump's inauguration, Flynn and Trump's son-in-law, Jared Kushner, reportedly met with Sergey Kislyak, the Russian ambassador who would later consult with Flynn about sanctions, at Trump Tower. By Kislyak's own account to Moscow as first reported in The Washington Post, Kushner floated the idea of establishing a communications channel between Trump's transition team and the Russian government—and to keep the channel secret from the U.S. government by using Russian diplomatic facilities. It's not unprecedented for incoming U.S. presidential administrations to set up back channels with foreign governments, and the channel that Kushner and Kislyak discussed seems to have never been set up. But what makes the incident suspicious is Kushner's failure to report the contact with the Russian diplomat in his security-clearance application, and the lack of an explanation for why the Trump transition team would take such extraordinary measures. As Clint Watts, a former FBI agent, told The Atlantic, "What information would the Trump team want to make sure is hidden from U.S. intelligence? The idea of using Russian facilities to skirt Russian surveillance in the U.S. would either be a serious attempt to hide something or the actions of a young amateur."
Unusual
Trump's follow-up with Putin (July 2017): Trump reportedly had a lengthy conversation with just Putin and Putin's interpreter during a dinner with world leaders at the G20 summit in Hamburg, Germany earlier this month. It's not common for a U.S. president to keep such a conversation so closely held, but it's not unheard of either. As my colleague David Graham writes, "Harry Obst, who worked as an interpreter for seven presidents, told me that Richard Nixon also sometimes met with foreign leaders without a U.S. interpreter because he distrusted the U.S. State Department, which runs the interpretation program, and worried interpreters would pass along information to the secretary of state. Trump has sometimes shown tendencies toward paranoia himself, and the initial meeting in Hamburg was reportedly kept small to minimize leaks." One administration official told The Washington Post that Trump had also met alone with other leaders, including France's Emmanuel Macron and India's Narendra Modi.
What makes the encounter newsworthy is that it came amid a sprawling investigation into the Trump campaign's ties with Russia, and at first went unacknowledged by the U.S. government despite a well-publicized first meeting between Trump and Putin earlier in the summit. And this only applies to the fact of the conversation itself. The substance of what the two leaders discussed could have been perfectly innocuous, or not—there's no record from the American side of what was said.
Standard?
Jeff Sessions's encounters with the Russian ambassador (July/September 2016): As a top campaign adviser to Trump, Jeff Sessions, now the U.S. attorney general, met twice with Kislyak—first briefly at a think-tank event during the Republican National Convention that was attended by dozens of ambassadors, and then in his Senate office. Sessions and his supporters have argued that such encounters are completely normal for a senator going about his work in Washington. And normally that would be an easy argument to make. But two factors weaken the argument. First, as my colleague Julia Ioffe has reported, Sessions came into more frequent contact with foreign officials after joining the Trump campaign as a foreign-policy adviser, which suggests he was being sought for his role in the campaign, rather than in his capacity as a senator. And secondly, Sessions didn't report these contacts until they came out in the press.
Trump and his allies have emphasized that there's nothing inherently wrong with meeting with foreign officials, especially not ones representing a country with which Trump apparently believes he can make advantageous deals for America. And for a few of the meetings noted here, there are plenty of perfectly good explanations for the encounters themselves. What, then, is the reason for not talking about any of them?