The Trump-Macron Handshake: A Play in Four Acts
How two leaders ruined a perfectly good gesture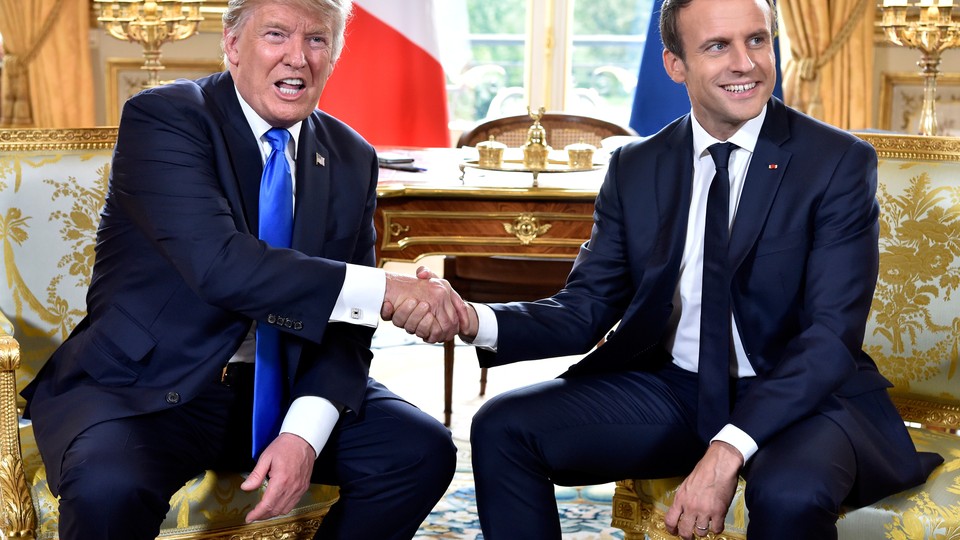 The president of the United States and the president of France have weaponized an ancient gesture invented to signal the absence of weapons. They have double-handedly ruined the handshake. On Friday, they made it official, in an excruciating conclusion to a long-running saga.
I. The Test of Wills
This story begins with what the French president, Emmanuel Macron, has described as a "moment of truth," but which in truth was several long moments of calculated alpha-male bravado. Ahead of a NATO summit in Belgium in May, the French ambassador to the U.S. had warned his boss that Trump was a domineering handshaker; by this point, the American president's fearsome Yank-Grip-and-Pump had already ensnared the likes of a Japanese prime minister and U.S. Supreme Court nominee.
Macron, fresh off an election victory that made him the youngest president in French history, decided to prove that he wouldn't back down on the issues where he and Trump were at odds, including combatting climate change and strengthening the European Union. He chose to communicate this through a feverish clasping of hands that, according to one reporter in the room, caused each man's knuckles to turn white and jaw to clench. When this became too much for Trump, he tried to break free. Macron wouldn't allow it.
II. The Snub
A crisis in U.S.-French handshake relations swiftly followed. At the same NATO summit, Macron and Trump approached each other from opposite directions, Jets and Sharks-style. As Macron approached, Trump abruptly shook hands with the leader to his right and then put out both hands, as if to dare the cocky Frenchman to have another go. Instead, Macron suddenly swerved, greeting German Chancellor Angela Merkel with a kiss on each cheek, and saying hello to two other leaders, before settling in for a brief tug-of-war with Trump.
Macron didn't stop there: He then posted evidence of the hand-to-hand combat to Twitter. It was a fitting visual for a summit in which Trump refused to promise that the United States would lend a hand to its NATO allies if they were attacked, prompting Merkel to declare that Europeans needed to "take our fate into our own hands." Indeed.
III. The Peace Offering
Macron has criticized Trump for withdrawing from the Paris climate agreement and Trump has characterized Macron as weak on terrorism, but both leaders understand that France and the United States can't afford to be estranged. Hence why Macron invited Trump to France this week for Bastille Day celebrations—a move designed, according to one French government spokesman, to "prevent the president of the United States [from] being isolated" in the world.
In recognition of their budding friendship, Macron and Trump engaged in a surprisingly boring handshake when the U.S. president arrived in Paris on Thursday. "The grip by both was less feral than the initial handshake" at the NATO summit, wrote Maggie Haberman of The New York Times.
IV. The Descent Into Madness
Just when it seemed like Macron and Trump had learned to shake hands like normal people, it came time to say goodbye. On Friday, the two leaders clutched each other's hands for roughly 24 seconds longer than they should have. Macron nearly tripped, the two men spoke at length, Trump bid farewell to Macron's wife—and yet somehow, through the pushes and pulls, they never let go.
It was a final act full of symbolism: Two men who have starkly different views of the world—an internationalist and a nationalist, an environmentalist and a climate-change skeptic, a centrist and a populist—gradually acknowledging that they have no choice but to work together. A true moment of truth. And a painfully awkward moment for the rest of us.