The Two Ways Trump Associates Have Mischaracterized Their Russia Contacts
The president's aides have repeatedly omitted details of their dealings with Moscow. Why?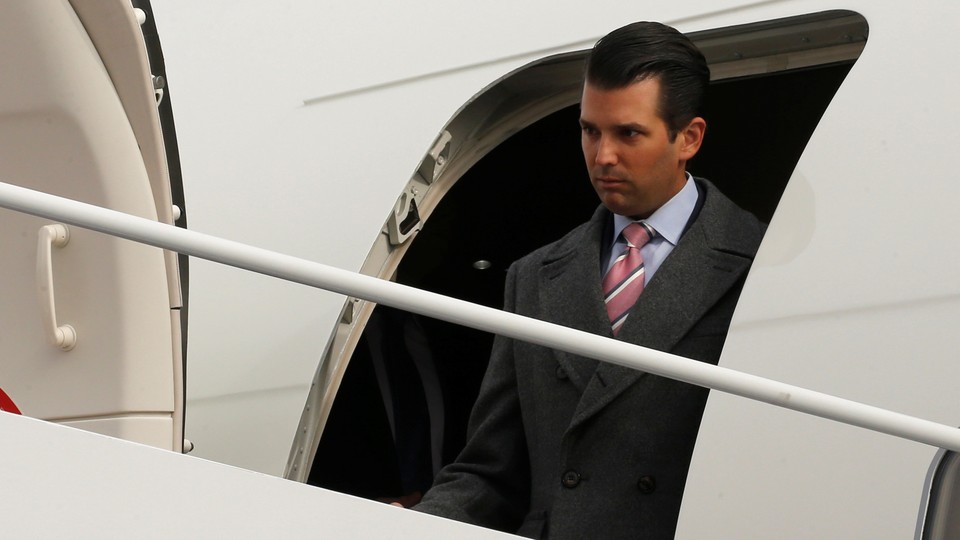 On Monday, the American president's son explained why he'd given two different accounts over the weekend of his encounter with a Russian lawyer during the 2016 U.S. presidential campaign. "No inconsistency in statements, meeting ended up being primarily about adoptions," Donald Trump Jr. wrote on Twitter. "In response to further Q's I simply provided more details."
Among those additional details: While Trump Jr. and the lawyer had indeed discussed a dispute involving American adoptions of Russian children, Trump Jr. was there in the first place because the lawyer, whose clients have included companies owned by the Russian government, had promised to share damaging information about Hillary Clinton and the Democrats. Trump Jr. claims the lawyer turned out to be bluffing and only interested in talking about the adoption issue, but that doesn't make the details of the meeting—which also included Donald Trump's son-in-law Jared Kushner and then-campaign manager Paul Manafort—insignificant, according to my colleague David Graham. "If there was no collusion between the Kremlin and the Trump inner circle [to weaken Clinton], it was not because top Trump aides were against it," he concludes.
Trump Jr. could, in fact, be accused of inconsistency; back in March, he told The New York Times that he hadn't organized any campaign-related meetings with Russian nationals. This is in keeping with a pattern among Trump associates of shifting, misleading statements about their contacts with Russian authorities or people with connections to the Kremlin. Michael Flynn, Trump's former national-security adviser, told Vice President Mike Pence and other government officials that he hadn't discussed U.S. sanctions with the Russian ambassador to the United States prior to entering the White House, when in truth he had done just that. Trump's aides repeatedly insisted that members of his campaign had no contact with Russian officials during the election, even though we now know they did—however innocuous those contacts may have been.
But Trump Jr.'s account seems more indicative of another emerging pattern among Trump associates in regard to their Russia contacts: mischaracterization by omission rather than commission. In his initial statement to the media on Saturday, Trump Jr. noted that he had "primarily" spoken with the Russian attorney about the adoption dispute, which is consistent with his second statement. There was just the small matter of what he left out of that first account: that the lawyer had dangled compromising intel on Hillary in front of him—and that he and Trump's most senior campaign advisers had jumped at the bait.
During his Senate confirmation hearing, Attorney General Jeff Sessions similarly failed to report his interactions as a Trump campaign adviser with Russian Ambassador Sergey Kislyak. In applying for a government security clearance, Kushner likewise didn't disclose a meeting with Kislyak—reportedly an attempt to establish a secret communications channel between the Trump transition team and the Russian government—or a separate meeting during the transition with the head of a Russian state-owned bank. (Trump Jr.'s encounter with the Russian lawyer, in fact, was revealed to government officials when Kushner filed a revised security-clearance application.)
The explanations for these omissions might be innocent enough. They may only appear suspicious under the merciless glare of the Russia Scandal. Trump Jr. has justified his reticence by arguing that the meeting with the Russian lawyer "went nowhere" and that campaign staffers routinely hear out allegations about their opponent, whatever their source. Kushner didn't mention numerous contacts with foreign officials in his security-clearance application—not just contacts with Russian officials—and his lawyer described the oversight as an error made when Kushner submitted his questionnaire prematurely. Sessions and his defenders claim that the attorney general interacted with the Russian ambassador in his capacity as a senator, not a Trump campaign adviser.
But this stubborn and suggestive fact remains: In recent months, Trump's associates have repeatedly elided or evaded details about their contacts with the Kremlin and its allies—that is, until further questions have sussed out something closer to the truth.