The 'America First' President Heads to France
Trump reminisced about the origins of the French American partnership in his visit to Paris.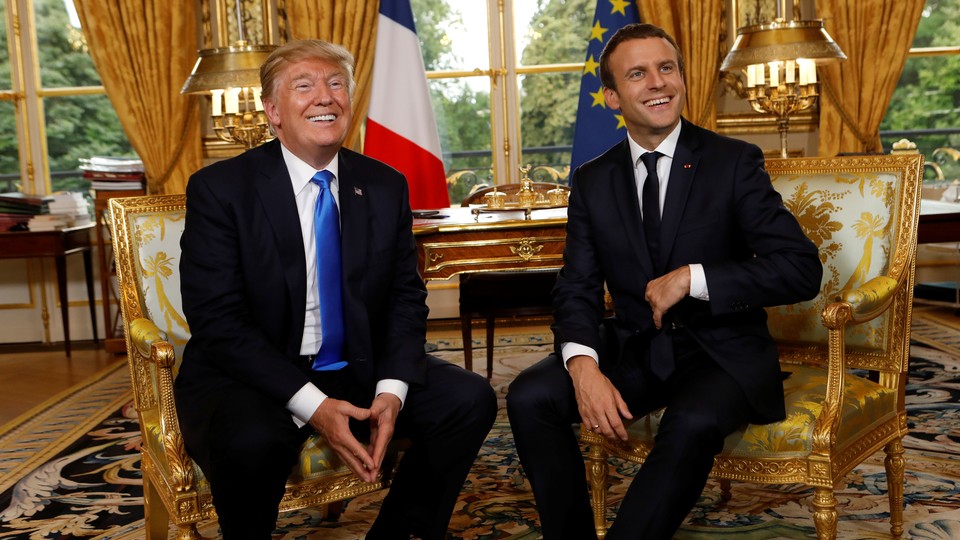 In a visit laden with ceremony, President Trump, standing alongside French President Emmanuel Macron in Paris, took the opportunity to remind everyone about the historic nature of the U.S.-French alliance.
"France is America's first and oldest ally—a lot of people don't know that," Trump said Thursday at a joint news conference. "Ever since General Lafayette joined the American fight for independence, our fates and fortunes have been tied unequivocally together. It was a long time ago, but we are together ... perhaps more so than ever, the relationship is very good."
Trump's remarks came on the eve of France's annual Bastille Day celebration and at the start of a long-anticipated meeting between the countries' two leaders. Their two previous encounters—the first at the May NATO summit in Brussels and the second during last week's G20 summit in Hamburg—led many observers to speculate their relationship was anything but "very good." The two have been cast as diametrically opposed to each other. While Trump has pushed for a more protectionist, "America First" agenda, Macron has positioned himself as a champion of European globalists, pledging to tackle climate change and European Union reform.
In an interview with Ouest France, a regional newspaper, published Thursday, Macron said the West "has been cracking since the American election," noting that with the U.S. expressing doubts over international agreements, "Europe is an absolute necessity." He added, however, that he is not giving up on working with his American allies. On the subject of the U.S. withdrawal from the Paris climate agreement, Macron said he "will do everything to convince the cities, the states, American entrepreneurs to follow us. Americans will be a part of the Paris agreement, whether the government wants to or not."
This idea of working together despite differences was reiterated during Thursday's press conference. "We have a number of disagreements," Macron said. "Should that have an impact on the discussions we are having on all other topics? No, absolutely not."
Indeed, they have found common ground in the past, and said their discussions Thursday covered areas of mutual concern, including security, counterterrorism, and building a political roadmap for Iraq and Syria. They managed to sidestep questions aimed at highlighting their differences. When asked about the Paris accord, Trump appeared to suggest the U.S. could reconsider its position, noting "we'll see what happens." When asked about the scandal involving Donald Trump Jr.'s meeting with a Russian lawyer, Macron said: "I think it's always good between partners and allies not to interfere with the others' domestic life." (Trump, to laughter, responded: "What a good answer that is.") On Friday, Bastille Day, U.S. troops will march alongside their French counterparts down the Champs-Élysées.