The Twilight of Brazil's Anti-Corruption Movement
The country's ascendant right sees little value in continuing to clean up its politics.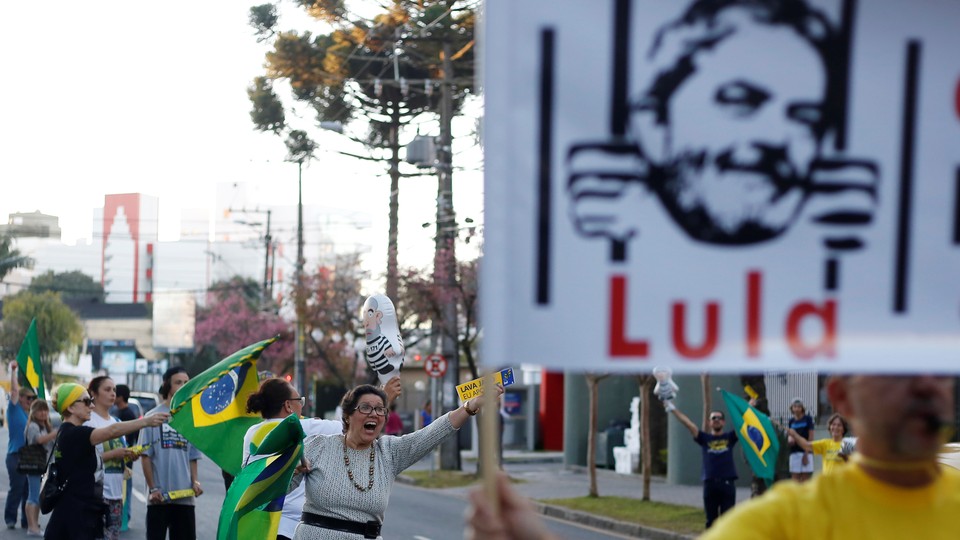 It should have been a climax. On July 12, Luis Inácio Lula da Silva, the former president of Brazil, was sentenced to nine and a half years in prison after Judge Sergio Moro found him guilty of accepting bribes (in the form of a beachside apartment) from the building cartel at the heart of Lava Jato, or "Operation Car Wash." Operation Car Wash is a money-laundering investigation that began in March 2014 and eventually uncovered a sprawling corruption scheme in which a construction cartel manipulated bids for contracts at Petrobras, Brazil's state-run oil firm, by paying bribes to the company's employees and to the politicians who appointed its executives. Further investigations showed that virtually all political campaigns in Brazil were financed through bribes. In Brazilian journalist Renata Lo Prete's words, Brazilian politics has been living under the "Império da Lava Jato"—"Rule of Operation Car Wash."
Once Operation Car Wash picked up steam, it became harder to stop. The judges and prosecutors in charge seemed sincere about punishing corrupt politicians from all parties: They have unearthed damning evidence against Aécio Neves, who ran against former president Dilma Rousseff in 2014, and have also brought down key allies of President Michel Temer. Lula's conviction should offer definitive proof that no Brazilian, no matter how beloved—he still leads the polls for the 2018 presidential election—is above the law. And yet with the rise of a new, much stronger conservative coalition, Operation Car Wash is fighting for its life.
In April, shortly before Brazil's lower chamber of Congress voted to impeach Rousseff, Romero Jucá, who now leads Temer's coalition in the senate, was caught on tape openly plotting against Operation Car Wash. On the tape (recorded by a former Petrobras executive who was negotiating a plea bargain), he called for a big deal involving all parties and the Supreme Court to "stop the bleeding" caused by Lava Jato—a deal that would, in other words, protect all Brazilian politicians, of both the left and the right, from the probe's penetrating glare. Jucá seemed to understand that the best way to accomplish this would be to replace Rousseff with Temer, her running mate in 2010 and 2014. (Brazil allows multi-party coalitions to present multi-party tickets.) "Michel [Temer]would be our best solution," he said in the recording.
What now seems clear is that Jucá's remarks were the opening salvo in a sustained attack from the political class against Operation Car Wash, one unprecedented in its ruthlessness. Two weeks ago, Temer's new justice minister disbanded the Car Wash task force, which was housed under the federal police. The government said that while Operation Car Wash would proceed, its investigators would no longer work exclusively on Car Wash cases, while other investigators new to the task force would also be brought on. The government insisted this would have no impact on investigations, but Car Wash prosecutors have argued that this is a deliberate effort to dismantle the investigation. Meanwhile, since Rousseff's fall, Brazilian lawmakers of all ideological stripes have twice tried to give themselves amnesty from prosecution for campaign finance fraud, failing only after intense pressure from the media and the Brazilian public.
If the already unpopular Temer does in fact halt Operation Car Wash, his governing coalition will lose support. That'll force him to rely even more heavily on Brazil's political and economic elites, who are far more likely to align with his Brazilian Democratic Movement Party (PMDB) than the PT. (Even if Temer is ousted for corruption, he will be replaced with another conservative, Rodrigo Maia, the hapless head of Congress.) There is little question that Lula and many other PT leaders would have stopped Operation Car Wash if they could. But because the Brazilian left has always been far weaker than its right-wing adversaries, the PT had little recourse as the investigation began to ensnare its top members. In addition, neither the PT nor its leftist coalition has ever come close to winning a congressional majority. As good, union-supported leftists, the party was also comparatively less enthusiastic about market-friendly reforms. Instead, it bought elite support by granting tax breaks and doling out government subsidies. Eventually, the Brazilian state ran out of money to provide either, which is part of the explanation for the current crisis.
Many PT leaders (including Lula) put enormous pressure on Rousseff to replace her justice minister, José Eduardo Cardozo, who did not interfere with the investigations. She resisted the pressure for a time. But as it became clearer that her presidency was entering its final stretch, in a move to shore up congressional support, she replaced Cardozo, eventually settling on Eugênio Aragão, who is widely regarded as anti-Car Wash. By then, she was too weak to work out any deals that could have saved her.
Temer's conservative coalition is much stronger than the PT. While his PMDB party has never won the presidency at the ballot box outright in the nearly 30 years since the beginning of democracy in Brazil, it has managed to install three of its vice presidents in the presidency (twice following impeachments). The party's formidability stems, in part, from its record as perhaps Brazil's most efficient rent-extracting machine. It has sold its support to every government since democratization: In the country's fragmented political system, where the president's party usually has no more than 20 percent of congressional seats, a big party like the PMDB has always been a sought-after coalition partner.
Meanwhile, several of Temer's closest associates are in jail. One of them, Eduardo Cunha, is negotiating a plea bargain that could well implicate the rest of PMDB. Temer himself has recently become the first sitting Brazilian president to be criminally prosecuted.
It's no surprise, then, that Temer's people want to stop Operation Car Wash. On July 24, Carlos Fernando dos Santos Lima, one of the operation's leading prosecutors, wrote: "Ending Car Wash. That seems to be PMDB's next step." In fact, the new government seems to be in a much better position to fight for the survival of the Brazilian political class.
The new coalition demonstrated its superior firepower on June 9, when Temer was acquitted by the National Electoral Court on charges of campaign irregularities—specifically, accusations that the Rousseff-Temer ticket had funded its campaign with bribe money. Most people believe the trial was a sham: The president of the court was Gilmar Mendes, Temer's close ally and a constant presence at the presidential palace; the trial was also delayed until Temer could legally replace two of the judges. It is hard to believe those same judges would have acquitted Rousseff, who ran with Temer, if she were still president. Judge Mendes was notoriously harsh against PT defendants.
Temer's political survival is premised on giving the elites, like the powerful Federation of São Paulo Industries, just what they want: pro-market reforms. Since he took office, Brazil's congress has approved a 20-year spending cap and an overhaul of labor regulations, and is attempting to reform pensions. While Rousseff eventually became more market-friendly, Temer has promised to be far more reform-oriented and fiscally conservative; he's cautious about reversing tax breaks, and, with some reluctance, has restricted the role of the development bank. Moreover, he gave key economic, diplomatic, education, and justice ministry posts to the right-wing parties who lost the 2014 election. Thanks to Temer's agenda—parts of which are reasonable and necessary—the Brazilian right will get to implement its agenda without winning an election.
That, it seems, is Temer's grand bargain: to buy economic elites with market reform, and political elites with the apparent promise of impunity. This is a much more solid coalition than anything PT could ever cobble together, and certainly more capable of resisting Operation Car Wash—a political machine that needs little from the people to sustain itself.
For now, Operation Car Wash is kept alive by the media (including, to their credit, some conservative outlets), very small leftist parties, and parts of the judicial system. Business leaders who supported Operation Car Wash before Rousseff´s impeachment have gone oddly quiet. Yet the Operation remains wildly popular: an IPSOS poll from March shows that Sergio Moro, the judge who convicted Lula, has an 63 percent approval rate. But this widespread support has not yet translated into effective political action. This is partly due to political polarization. Supporters of Operation Car Wash on the left and on the right are not willing to march side by side. That is why it's too soon to divine the meaning of Lula's conviction. No one can be sure that it is part of a complete overhaul of the system. In fact, Lula might actually manage to avoid punishment amid some kind of general amnesty concocted by his adversaries.
Perhaps a revived left could emerge in the wake of Lula's conviction, one that could negotiate economic reforms with a better balance between fairness and efficiency? Easier said than done. According to the polls, the only Brazilian who could tie Lula in the second round in 2018 is Sergio Moro, the very judge who convicted him. Maybe that's a sign that Brazilian society is desperately trying to reconcile the demands of social justice and clean politics—to bring together Lula's and Moro's legacies. As the Temer administration demonstrates, it may end up with neither.