What the Heck Is a Russian 'Crown Prosecutor'?
Technically, there's no such position. But the man who holds the office's nearest equivalent in Russia is a Putin loyalist of long standing.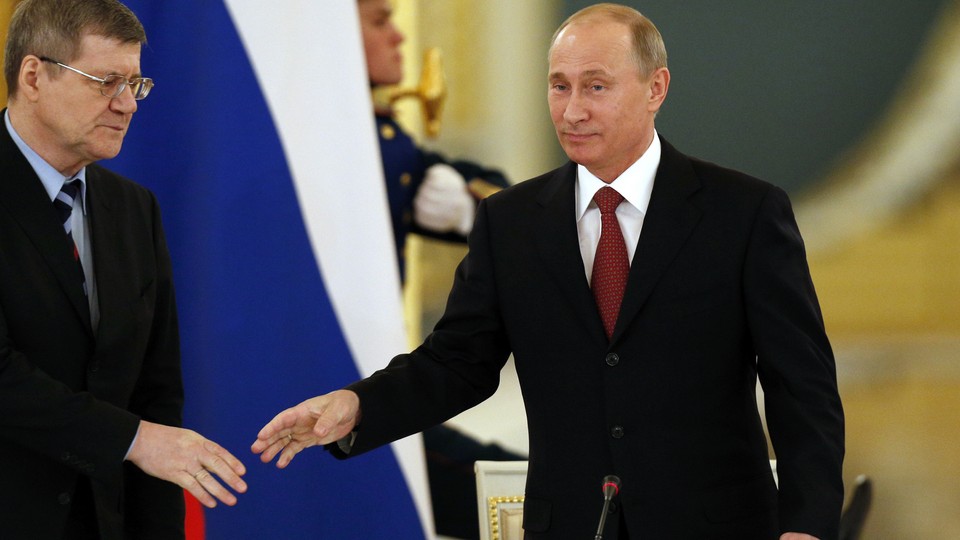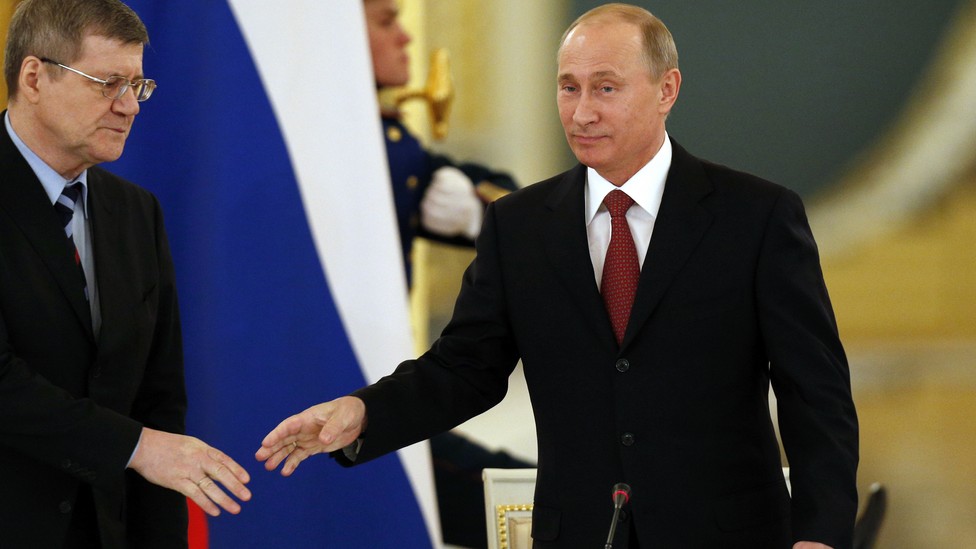 Updated on July 12 at 9:26 a.m. ET.
In emails he released on Tuesday by Donald Trump Jr., the president's eldest son and former campaign surrogate, Rob Goldstone, a former British tabloid journalist, told Trump Jr. that "the Crown prosecutor of Russia met with … Aras [Agalarov] this morning and in their meeting offered to provide some official documents and information that would incriminate Hillary and her dealings with Russia and would be very useful to your father." Which raises the question, who is "the Crown prosecutor of Russia"?
Goldstone seems to have garbled things a bit; in the United Kingdom a Crown prosecutor is one that works for the Crown, i.e., a federal prosecutor. There's no such position in Russia technically, but the analogue would be the top federal prosecutor of Russia, and that is Yury Chaika, the prosecutor-general of the Russian Federation. (It's also possible Goldstone meant to refer to Alexander Bastrykin, the head of the feared Investigative Committee and Vladimir Putin's law school classmate. But Chaika is the most likely candidate given that he's close to Agalarov and is currently a prosecutor.) Goldstone was likely translating a foreign title into its local equivalent. Translated into American titles, Chaika could be referred to as Russia's attorney general.
Like the U.S. attorney general, the Russian prosecutor general is a figure politically close to the president. In Russia, that is especially true. Chaika has been extremely loyal to Putin, and stayed that way even as Putin reduced the power of the prosecutor's office in the late aughts. In 2012, for instance, when pro-democracy protests rocked Moscow, he said, as Putin did, that they were financed by shadowy actors from abroad.
That loyalty has been rewarded amply. Chaika is part of the bloc of siloviki—or people allied with security services, literally the people who settle disputes through force—inside the Kremlin, as is Putin himself. Chaika has been protected from being pushed out by more powerful members of the clan, and Putin has willfully turned a blind eye as Chaika's two adult sons have made a killing, accumulating hundreds of millions of dollars in business and choice government contracts. According to an investigation released by opposition politician Alexey Navalny in December 2015, the Chaika brothers used the protection afforded to them by their father's office and the prosecutors he oversaw to rig state auctions of choice assets and extort whole businesses from people, including from one man who ended up strangled to death. (Though he is a politician, Navalny's investigations are well-documented and thorough, and he has often filled the void left by the death of independent journalism in Russia. One opposition activist once described him to me as "the last investigative journalist in Russia.") According to Navalny, the Chaika brothers then squirreled away their money in houses in Switzerland, where they obtained a residency permit, and in a luxury hotel in Greece.
When confronted with the evidence, Putin's spokesman was forced to respond, but he said that the investigation "is not interesting to the Kremlin" and that "the information was not new." He added that Chaika's sons were grown men—meaning their actions were separate from their father's. He did not deny the substance of the allegations. Chaika himself did deny them, and in a response that has become standard practice for officials dismissing Navalny as a Western agent, said that the report was a paid hit job, done for "lots of money!" In January 2017, after the business daily Vedomosti calculated the 27-year-old Igor Chaika to be worth some $5 billion, the elder Chaika responded to say that his sons were talented, punctilious businessmen "who built their businesses themselves."
Navalny's investigation implicated the elder Chaika, as well, alleging that his deputy had done business with the Tsapok clan in southern Russia. The Tsapok clan was one of the most violent in Russia and, using protection from local prosecutors, literally raped and pillaged locals until a mass murder—the Tsapoks slaughtered 12 people in one house, including four children—shocked the country forced the Kremlin to intervene.
Chaika was central to the fusing of Russian organized crime and the siloviki, which has resulted in a kind of nationalization of extortion, racketeering, and other targeted violence. A thorough profile in the independent Russian news site Meduza alleges that Chaika's ties to organized crime in Russia go back decades to when he was a prosecutor in eastern Siberia in the early 1990s. It was the era of privatizing the Soviet economy, and it was often violent, especially in Siberia. While Chaika spoke often about fighting "bandits," the ones who operated in the areas he was responsible for were often mysteriously escaping prosecution. At the end of the decade, he came under scrutiny himself for two things: In one case, he was under government investigation for accepting a gold Longine watch worth thousands of dollars as a bribe, and in the second, $1 million of the money he asked the government to allot to build a local law school disappeared. (When a local newspaper reported on the government's investigation, according to Meduza, their offices were raided by the special police, who planted pornography on the editor in chief. Chaika has never denied the substance of the profile; after other newspapers reported on the story, the police backed off the local editor.)
Chaika's name continues to appear in some of contemporary Russian history's least flattering moments. According to a profile in the liberal Russian New Times magazine, which Chaika also appears not to have disputed, when the prisoners of a Siberian prison rioted in 1979, Chaika, a young prosecutor at the time, allegedly brought them drugs in exchange for confessions. When in 1999 Vladimir Putin, then head of the FSB, took out one of his main impediments to getting the Russian presidency with kompromat—a tape of a man who looked like then-prosecutor general Yury Skuratov frolicking with prostitutes—Chaika was happy to go along and move the criminal case against Skuratov, his former boss, forward. During Putin's first presidential term, Chaika headed the Ministry of Justice and oversaw the neutralization of political parties. Any group hoping to be an official political party in Russia needs to register with the Ministry, which can and does deny registration for parties that could possibly be a threat to Putin. Under Chaika's leadership, the Ministry helped remove potentially problematic figures from ballots in regional elections across the country.
This is the man who made an oblique appearance in emails to Trump Jr. Natalia Veselnitskaya, the lawyer who conducted the meeting with Trump Jr., Jared Kushner, and Paul Manafort in Trump Tower last summer, is very close with the Chaika family, having gone to law school with the Chaika's oldest son, Artem, according to a source familiar with the parties involved. And when Navalny's expose of the Chaika family's dealings broke, it was none other than Aras Agalarov—a Russian businessman and one of Russia's richest men— who defended the Chaika family in a column in Russia's biggest newspaper. Aras Agalarov is the person to whom Chaika, according to Trump Jr.'s emails, offered potentially damaging information on Clinton. And it's Agalarov's son, middling Russian pop star Emin Agalarov, who is also mentioned in the emails, and who was acquainted with the Trumps through his family's role in setting up the Miss Universe pageant in Moscow in 2013.