The 'What About Ukraine?' Defense of Trump Jr.'s Russia Meeting
The president's supporters say it's his opponent who benefited from foreign collusion. Are they right?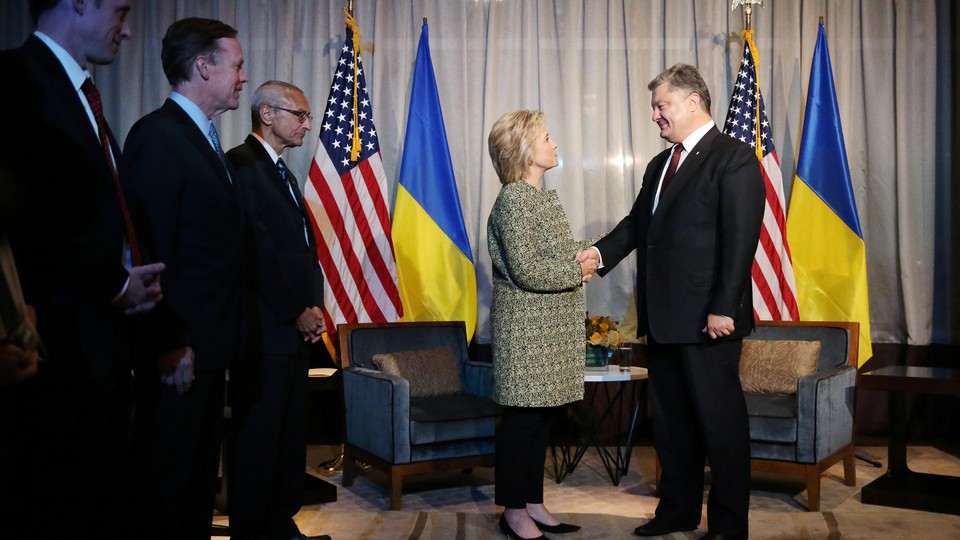 Before welcoming Donald Trump Jr. onto his show on Tuesday, Sean Hannity boiled down his defense of the president's son to one word: Ukraine. In obsessing over whether Trump's campaign colluded with Russian officials to interfere in the 2016 presidential election—and most recently whether it was ethical and legal for Trump Jr. to meet with a Russian lawyer in the hope of obtaining damaging information about Hillary Clinton from the Kremlin—Democrats and journalists "have completely ignored an example of actual election interference," the Fox News host fumed.
A Democratic National Committee "operative and Ukrainian government officials tried to aid and assist Hillary Clinton and damage Donald Trump," Hannity said, and the fact that nobody is talking about it demonstrates that the media is hysterical about Russia, hypocritical in its outrage, and hopelessly in the tank for the Democrats. The Ukraine rebuttal has been ricocheting across right-wing media in recent days, advanced by Trump aides such as Sebastian Gorka and Sarah Sanders and commentators like Rush Limbaugh and Kayleigh McEnany.
Despite this week's revelations, there's still "not a syllable, there's not a vowel, there's not a consonant of evidence" that Trump colluded with the Russians to boost his candidacy, Limbaugh declared on his radio show. And yet the Democrats' collusion with the Ukrainians is written out in complete sentences for all to see: "We know for a fact that Ukraine did try to help Hillary sabotage Trump," Limbaugh said.
So what precisely do we know about the Ukraine scandal that nobody's heard of? How does it compare to the Russia case and what lessons does the comparison offer for where benign foreign involvement in elections ends and malignant foreign interference begins?
The ur-text for the Ukraine counterargument is a Politico report from January headlined, "Ukrainian efforts to sabotage Trump backfire." The investigation details three distinct ways in which Ukrainian officials allegedly assisted Hillary Clinton's campaign.
The Political Operative
The first involves the Ukrainian American political operative Alexandra Chalupa. As a paid consultant to the Democratic National Committee, Chalupa was tasked with something unrelated to Ukraine: helping the party reach out to various ethnic groups in the United States. But during her time in that role, which ended after the Democratic convention in July, she was also immersed in a side project: investigating Paul Manafort, Trump's onetime campaign chairman, and the work he did advising the former pro-Russian Ukrainian President Viktor Yanukovych. Politico reports that as part of this effort, Chalupa cultivated a network of sources in Ukraine and the United States, including "investigative journalists, government officials, and private intelligence operatives." She "occasionally shared her findings with officials from the DNC and Clinton's campaign" and voiced her concerns about Manafort's Russia ties with Ukraine's ambassador to the United States, Valeriy Chaly, during a meeting at the Ukrainian Embassy.
A DNC official told Politico that the party didn't incorporate Chalupa's findings into its opposition research on Trump, and the Ukrainian Embassy has denied involvement in Chalupa's inquiry. But relying on the account of a former Ukrainian Embassy staffer and several anonymous sources, Politico sketched out a triangle of interactions between Chalupa, the DNC, and the Ukrainian Embassy—one based on apparent sympathy with Chalupa's research project, if not outright coordination:
[T]he former DNC staffer and the operative familiar with the situation agreed that with the DNC's encouragement, Chalupa asked embassy staff to try to arrange an interview in which [Ukrainian President Petro] Poroshenko might discuss Manafort's ties to Yanukovych.

While the embassy declined that request, officials there became "helpful" in Chalupa's efforts, she said, explaining that she traded information and leads with them. "If I asked a question, they would provide guidance, or if there was someone I needed to follow up with." But she stressed, "There were no documents given, nothing like that."
Politico uncovered little concrete evidence of Chalupa's work having a major impact on the presidential campaign. Her attempt to launch a congressional investigation into the Trump campaign's connections with Russia didn't succeed. She served as a resource to journalists investigating Manafort but, as Politico noted, "it's not uncommon for outside operatives to serve as intermediaries between governments and reporters."
The Corruption Investigation
What had a greater impact on the campaign, according to Politico, was the decision by a Ukrainian anti-corruption agency to investigate a ledger that allegedly showed millions of dollars in off-the-books payments to Manafort when he was serving as a political adviser to Yanukovych—and the decision by one Ukrainian lawmaker in particular, Serhiy Leshchenko, to publicize the probe. News of the ledger and the investigation made its way into The New York Times and the Clinton campaign's talking points about Trump's troubling relationship with Russia, and Manafort soon resigned as Trump's campaign chief amid the fallout from these revelations and other reports of his activities in Ukraine.
The Ukrainian president has denied targeting Manafort (the government agency conducting the investigation is independent of the president's office). But Leshchenko, a member of the president's political bloc, admitted at the time that one of his goals in raising alarms about Manafort was to expose Trump as a "pro-Russian candidate who can break the geopolitical balance in the world" by allying with Moscow rather than longtime U.S. allies like Ukraine. And, as Politico notes, the investigation into the payments listed in the ledger—which in April were partially corroborated by the AP through wire transfers that Manafort claimed were legitimate—mysteriously faded after the U.S. election, raising questions about whether Ukrainian officials aired concerns about Manafort less to root out corruption than to undermine the Trump campaign.
The Public Criticism
The third way Ukrainian officials sought to influence the election is the most explicit and straightforward: A number of them made their preferences known. The Interior Minister Arsen Avakov, for example, dismissed Trump as a "dangerous marginal." Ukrainian Ambassador Valeriy Chaly may deny collaborating with Alexandra Chalupa on her Manafort research, but he can't exactly distance himself from an op-ed he wrote in The Hill in response to candidate Trump's suggestion that he might recognize Russia's annexation of the Ukrainian territory of Crimea.
Trump's remarks, Chaly wrote at the time, "call for appeasement of an aggressor and support the violation of a sovereign country's territorial integrity and another's breach of international law. In the eyes of the world, such comments seem alien to a country seen by partners as a strong defender of democracy and international order."
* * *
The public critiques of Trump by Chaly and other Ukrainian officials were arguably unwise and unconventional from a diplomatic perspective, but they're not all that different from German Chancellor Angela Merkel praising Hillary Clinton or Russian President Vladimir Putin calling Trump "bright" as they maneuvered to defend their interests in the presidential race. Such foreign involvement in elections is to be expected in a country whose politics is as internationally consequential as America's.
Where things get more complicated is in comparing the specifics of the Russia and Ukraine cases—at least to the extent that we understand them so far. In both cases, a foreign government appears to have influenced the U.S. election in significant but ultimately unquantifiable ways. The Ukrainian government announced an investigation that contributed to the downfall of Trump's campaign chief, while the Russian government is thought to have spread fake news and hacked and distributed Democratic Party emails that helped shape the political debate in the final stretch of the presidential campaign.
But there are also critical differences in the nature of the influence exercised by these governments: It remains unclear, for instance, whether the Ukrainian investigation into Manafort was expressly designed to weaken Trump, whereas U.S. intelligence agencies have concluded with confidence that Russia's cyber campaign was intended to hurt Clinton and help Trump. The Russians stealthily dealt in stolen emails, the Ukrainians in evidence collected as part of a public investigation. The Ukrainian probe has been linked to a government agency and a crusading lawmaker, but not to the president himself; the Russian campaign seems to have been directed from Vladimir Putin on down. The Ukraine story involves one government investigation and one woman's side project; the Russia story involves, as The New York Times once described it, a foreign government-sponsored "cyberespionage and information-warfare campaign" to disrupt an election without precedent in American history.
As Kenneth Vogel, one of the journalists who wrote the original Politico article, noted on Twitter on Wednesday, "overall Russian gov't effort to sabotage Hillary/boost Trump was obviously MUCH MORE CONCERTED than anything done by anyone in the Ukrainian gov't."
"The Ukrainian operation was pretty small beer. It just didn't rise to the level" of the Russian influence campaign, David Stern, a Ukraine-based journalist and the co-author with Vogel of the Politico article, told me. "I think we're dealing in very broad strokes with something similar, but when you get into the details, they're totally different situations."
In terms of collusion between U.S. political operatives and a foreign government, the evidence is mixed in both instances. In the case of Russia, the clearest indication of collusion so far is Donald Trump Jr.'s eagerness to meet with a Russian lawyer who he thought had dirt on Clinton from the Russian government. Here was a figure at the highest reaches of the Trump campaign seeking out opposition research from a purported representative of a U.S. adversary. Based on what we know so far, however, the meeting didn't produce further collaboration between the parties. Relative to Trump Jr., Chalupa was a lower-level operative with a far more tenuous connection to the presidential campaign she was associated with. But she claims to have received tangible "help" from actual government officials (albeit U.S. allies), not merely the promise of help from figures with apparent ties to that government.
As far as the law is concerned, in contrast to what Trump Jr.'s emails reveal, "there is not clear evidence of the Clinton campaign coordinating with a foreign national or encouraging or accepting their help," Lawrence Noble of the Campaign Legal Center told The Washington Post this week. "If the Ukrainian government did oppo[sitional] research in coordination with the Clinton campaign or the DNC and they knowingly accepted the information, there is a possible [illegal] foreign national contribution. But if Chalupa was gathering the information and passing it on, the question is who did the work and what did the Clinton campaign and DNC know."
Yet the Trump Jr. meeting doesn't constitute a clear-cut violation of the law either. In arguing that it would be a stretch to construe Trump Jr.'s meeting with the Russian lawyer as a prohibited solicitation by a campaign of something of value from a foreign national, the legal scholar Jonathan Turley cited Chalupa's alleged work with Ukrainian officials as a similarly ambiguous case. "It is common for foreign governments to withhold or take actions to influence elections in other countries," he wrote. "Information is often shared through various channels during elections from lobbyists, non-government organizations, and government officials."
While the scale of the Russian influence campaign may dwarf that of the Ukrainian campaign, the difficulty in each case of defining what constitutes improper collusion or illegal engagement with a foreign government is instructive, as are the Trump camp's efforts this week to trot out other examples of foreign interference in the election—such as the Chinese ambassador to the U.S. requesting a private meeting with Clinton campaign officials. Surveying trends such the flood of money into politics and the increasing sophistication of technologies to exert political influence, the law professor Zephyr Teachout wrote in 2009 that "Given the global impact of United States policy, twenty years from now massive efforts to influence United States elections—from outside its borders—will be routine." Turns out we didn't have to wait 20 years. We're already seeing how varied those efforts can be.
As Stern put it to me:  "We've had these debates about foreign governments trying to influence [U.S. elections] for a while now, haven't we? The question is: What's acceptable? … One does recognize that there will be an attempt [to influence elections]. The question is how that attempt is met—whether it's greeted, whether it's flat-out rejected. How high on the food chain does it go?"