The Russian Attorney at the Center of the Trump Jr. Scandal
Who is Natalia Veselnitskaya, and what does she want?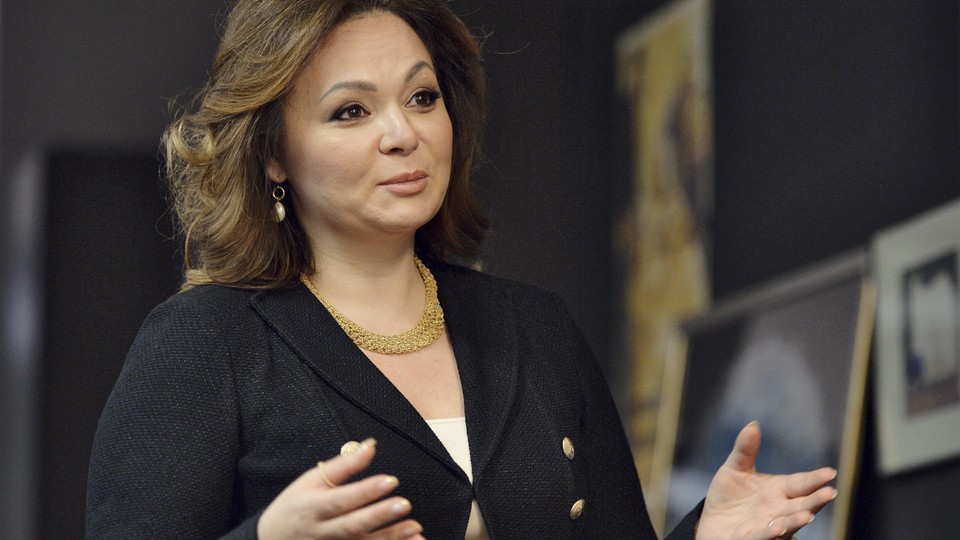 Natalia Veselnitskaya has a tendency to appear from out of nowhere and become the center of attention. Before a now-infamous meeting with Donald Trump Jr. at Trump Tower last summer—one that also involved a former Soviet counterintelligence officer and current American citizen and D.C. lobbyist Rinat Akhmetshin—Veselnitskaya was a relatively unknown figure, even in Moscow. When her name did find its way into the international news, it was because of her spirited defense of some of Russia's least defensible actions.
"She's like tank," says her friend, the Russian-born film director Andrei Nekrasov. "Maybe she overstepped some bounds when she was there [in New York last June]. But she felt she could do something on behalf of Russia. That's the kind of person she is. She could get misty-eyed talking about this stuff. She's a patriot."
And it was evidently this sense of patriotism that took her from obscure origins as a regional prosecutor in Russia to Trump Tower last summer—and from there to the center of a scandal engulfing the American president.
* * *
Veselnitskaya, 42, once served as a prosecutor in the Moscow region, an area that encompasses the vast Moscow suburbs, military towns, and dacha communities. The region is both rich and rife with corruption and organized crime. It is this relatively rough and provincial background that makes Russian observers skeptical about Veselnitskaya's sudden entrée into the distant scandals of Washington. "Instead of the highest [Russian] officials, spies, and the famous diplomat [Sergei] Kislyak, we now get a Moscow region mover and shaker with a reputation for as a 'fixer,' who fits into the scandals at the local, regional level, but seems absurd as part of the world of geopolitics," writes the Russian journalist Oleg Kashin.
Few people in Moscow had heard of Veselnitskaya until she burst onto the pages of The New York Times this week. Those who had, though, spoke of her fearsome reputation. "She was probably the most aggressive person I've ever encountered in all my conflicts with Russians," says Bill Browder, a former investor in Russia who has been fighting Veselnitskaya in court for four years. "She is vindictive and ruthless and unrelenting." According to Browder, Veselnitskaya hired a team and spent millions of dollars to track his movements around the world in order to serve him with a subpoena that would force him to turn over 20 years worth of documents. Veselnitskaya did not respond to multiple requests for comment.
The Moscow region was a good place for a young lawyer to sharpen her teeth, as well as to find the clients and political patrons that would help her rise. She became close to both the powerful governor of the region, Boris Gromov, as well as to the family of Yury Chaika, then the Russian justice minister and now the prosecutor general of the Russian Federation. (He seems to be the person mistakenly referred to as "the Crown prosecutor of Russia" in the emails Trump Jr. released this week.) According to people who know her, she remains close to the Chaika family; she told The Wall Street Journal on Friday that she knew Chaika personally.
It was also during this time that Veselnitskaya became close to the family that would bring her to New York and, ultimately, to Trump Tower.
In 2002, Pyotr Katsyv, a powerful local businessman and later the region's transportation minister, and his son Denis had been accused of extorting land from a local business owner, who then turned to a man with alleged mafia connections for help, according to an investigation in the liberal Russian newspaper Novaya Gazeta. As the Katsyvs' lawyer, Veselnitskaya got the reputed mobster sent to jail, and secured international arrest warrants for the business owner and his family.
When Denis Katsyv was sued in New York on accusations of money laundering in 2013, Veselnitskaya again served as his counsel. But the case had implications bigger than the $14 million Katsyv was accused of stealing from Bill Browder. In his lawsuit, Browder alleged that Katsyv had used New York real estate to launder the money as part of a scheme uncovered by the lawyer and auditor Sergei Magnitsky, who died in a Russian prison under mysterious circumstances in 2009. People familiar with the Katsyv case say that Katsyv, like nearly all wealthy Russians, was simply getting his own money out of Russia using "established channels," and that the $14 million at issue was not part of the $230-million fraud Magnitsky had uncovered.
The case was settled in May and Katsyv's company did not admit fault. But in the four years of fighting the case, Katsyv and Veselnitskaya had decided to go after Browder, and his efforts to punish Russian officials for Magnitsky's death. Magnitsky had been denied medical attention in jail despite his worsening gall stones pancreatitis, and appeared to have died a violent death. Browder, who had been his client, sought revenge and got it with the passage of the 2012 Magnitsky Act. The law froze the U.S. assets of and banned entry to a list that eventually had two dozen Russian officials allegedly involved in Magnitsky's death. It enraged the Kremlin, which retaliated with a law banning American adoptions of Russian children, and by launching a massive lobbying effort to get the bill repealed.
Katsyv began to fund lobbying efforts to try to have the act repealed, and to keep an expanded version of the law, the Global Magnitsky Act, from getting passed. (Congress passed the measure last December.) Veselnitskaya became the representative of a brand-new Russian NGO, registered in Delaware in February 2016, called the Human Rights Accountability Global Initiative Foundation, dedicated "to help restart American adoption of Russian children." Katsyv also employed Akhmetshin, the former counterintelligence officer who attended the Trump Tower meeting. Akhmetshin, now an American citizen, reportedly briefed congressional staffers, telling them "'it was a shame that this bill has made it so Russian orphans cannot be adopted by Americans."
The anti-Magnitsky efforts gave Veselnitskaya another turn in the spotlight. Last summer, shortly before the Trump Tower meeting, Nekrasov, the Russian director, released a film that questioned Browder's version of Magnitsky's story. It was supposed to have its premiere on the floor of the European Parliament, but at the last moment, Browder got the showing canceled. Suddenly, Veselnitskaya, whom Nekrasov says he had never met before and who he says had no involvement in the film's production, appeared and delivered a searing indictment of the cancellation—in Russian. "[N]o one speaks Russian in the Parliament," Nekrasov told me. "She gave a speech that was, to my taste, a little too emotional. She said something like, 'It's my country, it's been shamed, it has been covered in dirt.' It was very effective—she's a lawyer, she can speak well—and all the media was there and the cameras all turned toward her. She became the star."
Veselnitskaya quickly seized the mantle, organizing showings of the film in New York and Washington, as well as in Moscow, where Nikita Mikhalkov, the Kremlin's favorite film director and Putin advocate, introduced the film. "She's a very passionate person and maybe sometimes she gets carried away," Nekrasov says.
* * *
When Veselnitskaya found herself meeting with Trump Jr., Jared Kushner, and Paul Manafort, she had been in New York to deal with the Katsyv case and the Magnitsky Act. It was this, she claims, that she wanted to discuss with Trump Jr., who by his own account was disappointed that she hadn't come bearing kompromat on Hillary Clinton. (According to Veselnitskaya's account in an interview with the Today Show, Kushner got up and walked out mid-meeting, and Manafort seemed uninterested, eyes glued to his phone.)
On a later trip to New York, in January 2017, she managed to catch both Donald Trump's inauguration and the national women's march. She didn't like what she saw. "'My body, my choice' is all about abortion, homosexuality, illegal migration and two presidents," she wrote on her Facebook page along with a dozen photographs taken from a window above Fifth Avenue. "Anything goes. But for those who didn't get what this is about, this is now called 'human rights.'" In another post, she called the protests "a pussy strike … all orchestrated by [Senate Minority leader Chuck] Schumer."
Until she became a subject of intense speculation in the American and Russian press, her Facebook page was decorated with the Russian flag and crest—it has since changed to a meditative quote from Aristotle—and it reflects the politics of both a dedicated lawyer and an ardent Russian patriot. She writes glowingly of Soviet culture, of the importance of the Soviet victory in World War II (a special point of emphasis for Putin), and assails the Russian opposition as "the so-called liberals." But many of her posts are dedicated to publicly trashing Browder. She frames their legal battle over $14 million in grand geopolitical terms. When the New York judge handed her team a victory in a procedural hearing in 2014, she wrote a long post titled "1:0 Russia." When the case settled in May and more than half of Katsyv's money was unfrozen, Veselnitskaya wrote, "For the first time, the USA has acknowledged that the Russians are right." Appearing on a Russian television channel, she defended her client by railing against the sanctions of the Magnitsky Act, saying that it was just a "pretext," a way for the American government to "use administrative levers of power to politically influence our country's leadership."
Despite not speaking English, she pays close attention to news coming out of the U.S., especially since Trump took office. When Trump fired acting attorney general Sally Yates for directing U.S. attorneys not to defend the travel ban, Veselnitskaya was baffled. "I can't think of a single norm that would allow the attorney general to do something like this," she wrote. "In such instances, the general has to resign. This is reminiscent of the games of Obama's last days in office." She floats reports of rumors that Trump was considering appointing Texas Senator Ted Cruz to the post of attorney general. She praises the Trump State Department for stopping a money transfer to the Palestinian Authority (but what she believes is Hamas) that "Obama and Kerry … tried to push through in their last hours in power." She recirculates American far-right conspiracy theories that the Women's March in Washington was organized by a member of Hamas. She concluded, in English, that "liberalism is a fucking mental disorder." She assailed the American press for their "infantilism" and "complete lack of understanding of what's going on in the masses." After a trip to the States that coincided with the turbulent first two weeks of the Trump presidency, she wondered aloud if the chaos in America weren't a good thing. "Maybe," she wrote, "this is that time that is given to us in order for humanity to continue its existence?"
"I don't know why it always happens like this," she replied to a friend in a post about the women's march while she was still in the U.S. "Every time I'm here, something insane happens."