'Mosul Is Completely Destroyed'
The impossible task of rebuilding the recently reclaimed city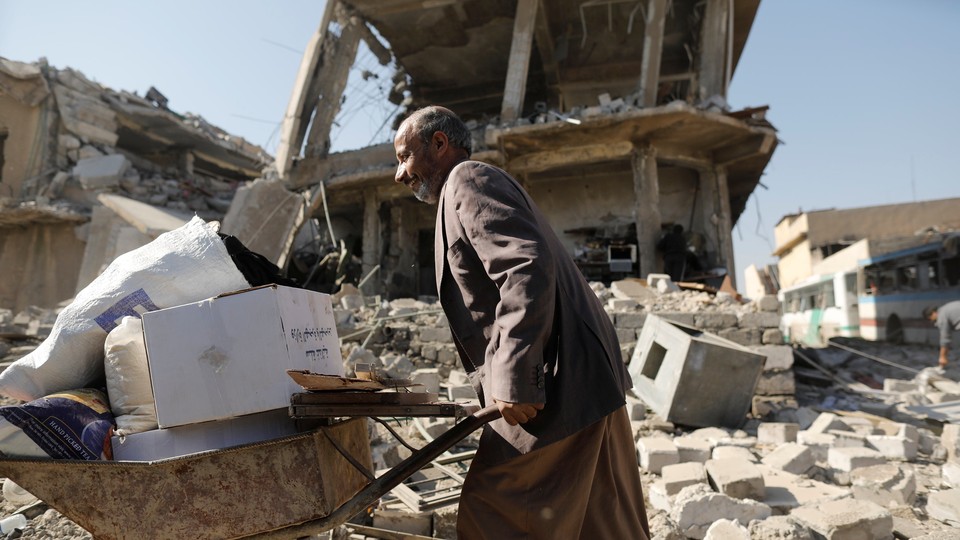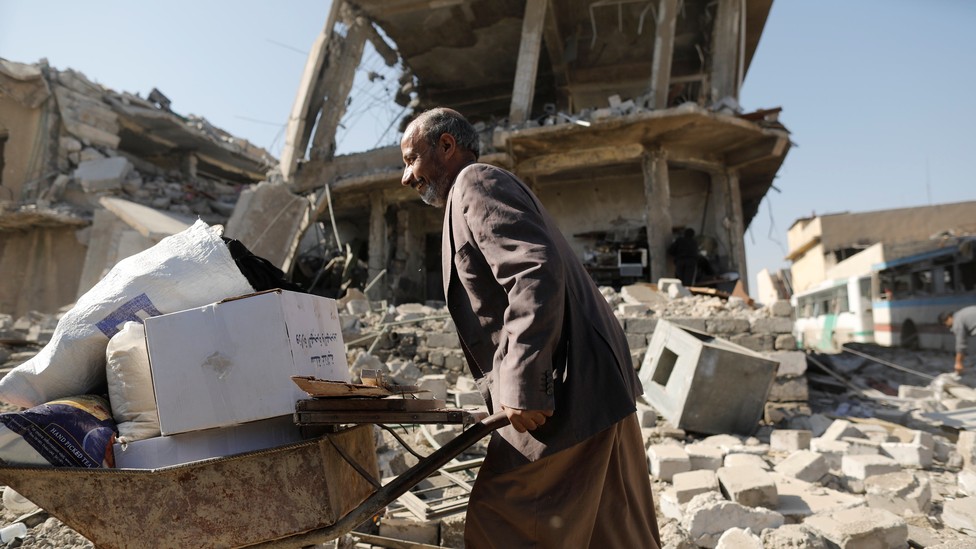 ERBIL—When Iraqi Prime Minister Haider al-Abadi arrived in western Mosul to declare its liberation from the Islamic State, he was surrounded by mountains of rubble and shattered stone—all that remains of the majority of the once-great city.
Rebuilding Mosul, Iraq's second-largest city, will require many years, many billions of dollars, and deep coordination between government agencies and international partners like the United Nations Development Program or the German NGO Rebuild Iraq Recruitment Program, which support various reconstruction efforts. If lessons from the past are any indication, the reconstruction will be stymied by economic troubles, corruption, mismanagement, security problems, and the sheer scale of the destruction itself.
The longer the reconstruction is delayed, the harder and costlier it will become. This will have a serious impact on the fates of millions of people, Iraq's economy, and its future stability, and may well lay the groundwork the creation of future militant uprisings.
Destruction is nothing new for Iraq, a country whose history is marred by cyclical conflict. Neither is the mismanagement of rebuilding, part of which stems from poor choices made by foreign partners, as well as from Iraq's institutional corruption, a problem even before the U.S. invasion of 2003. This problem was on prominent display in a 2013 report by the Special Inspector General for Iraq Reconstruction, which found that the $60 billion in U.S. funds spent over 10 years in the country produced few tangible results. The report blamed this on poor coordination with Iraqis, misplaced priorities, misplanned projects, contractor wastefulness, corruption, and security problems. Iraq's government, which spent $138 billion during this period, did not do any better
The same difficulties now face multiple Iraqi population centers, including Mosul. However, the level of destruction in this once-great city may dwarf even the most-serious problems with corruption, according to a range of Iraqi experts and members of the government of Nineveh province. "Mosul is completely destroyed," Emad al-Rashidi, an adviser to the governor of Nineveh province, of which Mosul is the regional capital, told me. "We need a lot of money and we don't get much help from the world, because the money is stolen by policymakers that pretend that they are rebuilding Mosul."
Walking among the rubble of western Mosul, it's rare to see a fully intact building still standing. Ghanim Jalil Younis, a staff director in the office of the Nineveh governor, said that while eastern Mosul is half-destroyed, the devastation in the western half is much greater. Donya Ammar, a member of a local volunteer group, said that the destruction in the west is close to "99 percent."
According to Asien Hamza, the manager of Nineveh governorate's reconstruction committee, three-quarters of Mosul's roads, almost all of its bridges, and 65 percent of its electrical network, have been destroyed. Much of the city's water infrastructure has been booby trapped by militants. The city was home to 1.8 million, over 875,000 of whom are displaced. Many can't return home because their houses or livelihoods are gone. "There is nothing left for me to go back to in Mosul," Abu Abd, a former handyman now living in Khazer refugee camp in Kurdish territory, told me.
Much of the reconstruction is currently being done in east Mosul by individuals working on their own homes. A few-thousand volunteers, including Ammar's group, are helping clean debris from the roads and important buildings, including hospitals. Critical services are already coming online and markets throughout the liberated areas are crowding with people trying to get back to their daily lives.
But Nineveh officials agree that this piecemeal work can only do so much, and rebuilding most of the city will require much bigger initiatives and budgets.
In January, the Iraqi government approved 27 reconstruction projects for eastern Mosul. Some are still without timetables for implementation. The Iraqi government has also asked the United States and other foreign governments and NGOs for as much aid as they can contribute. Foreign-aid organizations from multiple countries are actively working to clean up and rebuild in liberated parts of the city.
Rebuilding will take massive sums of money, government officials agree. But most found it hard to estimate just how much. Younis said that Mosul's reconstruction budget is $1 billion. However, Mosul is larger than Ramadi, the needs of which were estimated in January at $12 billion by the Anbar provincial council. Though the devastation of Mosul wasn't nearly as complete as that of Ramadi, the volume of reconstruction is likely greater: Several Mosul officials told the media in May that "billions" of dollars will be needed.
Even the $1 billion is, at the moment, a pipe dream, according to members of the Nineveh government. "We go a lot to Prime Minister Abadi … if we ask for something, they give us 1 percent," Hamza said. "Most of the budget for Mosul is put into military operations. [Nineveh governorate had a] budget of 390 billion dinar [about $335 million] for 2016 and this year, it's only 90 billion dinar [about $77 million]." Younis confirmed that "very little money is coming from the government because it's being spent on the military … We get almost nothing."
With the scant budget, the Nineveh government is unable to implement even a fraction of the reconstruction necessary to get the city going once again. "The main obstacle to reconstruction is the government—both federal and local," Ammar said.
If rebuilding is stalled, hundreds of thousands of displaced citizens will be thrust into limbo. Many of the displaced live in camps, while others are staying with relatives, fellow tribesmen, and strangers, while others yet have been relocated to other Iraqi cities. Many rely on donor funds from groups like UNHCR and the International Organization for Migration. But even some of these are starting to get stretched thin. The UNHCR said on June 2 that it urgently needs $126 million in funding through the end of the year to continue to support populations displaced from Mosul. Many displaced people also hope that they will receive cash from the government to help restart their lives, according to Haider al-Ibrahimi, executive director of community reconciliation NGO SANAD.
The longer these people remain displaced, the more likely they are to draw upon Iraqi and international funds for food and shelter, according to Saieb Gailani, a former deputy minister of health and public policy adviser to the Iraqi parliament. Delays will also stymie the economy of Mosul and its surroundings, which are known as Iraq's "breadbasket," Gailani said. "Of course we are afraid of Mosul [reconstruction] taking a long time," Ammar said. "If we don't do it quickly ... the economy can't function."
Experts said that what money does become available for rebuilding will likely be consumed by corruption and the misplaced priorities of international donors. According to Transparency International's 2016 study, Iraq ranks 166 out of 176 countries in fighting corruption. The Business Anti-Corruption Portal reported that the country's public administration is "corrupt, weak and inefficient," and "plagued by nepotism and politically-motivated appointments." In Iraqi politics, "everyone has an interest in the state's survival but also in keeping it weak," Bilal Wahab, a Soref fellow at the Washington Institute for Near East Policy, wrote in a report.
Iraq is more than 90 percent dependent on oil for its revenues, according to Finance Minister Hoshyar Zebari, who said in 2017 that Iraq has exhausted its domestic-borrowing capacity. "Large flows of aid combined with the country's weak absorption capacity may provide opportunities for mismanagement and encourage rent-seeking behavior," Transparency International found.
But even putting corruption aside, the long list of bad decisions by the United States and many NGOs in trying to rebuild Iraq suggests that history will repeat itself. "Reconstruction aid is going to be spent ineffectively," Vera Mironova, an international security fellow at Harvard University's Kennedy School, told me. "Mosul University was completely trashed. Lots of NGOs that want to help will try to rebuild buildings, because they need those to cut ribbons on primetime TV. But the problem is that there are no teachers."
All this is making Iraqis lose hope for a quick reconstruction of conflict areas, especially Mosul. "We have money but it's not being properly spent," Gailani said.