What Jared Kushner's Statement Reveals About Russian Methods
There were numerous attempts to establish contact with the campaign and the transition team.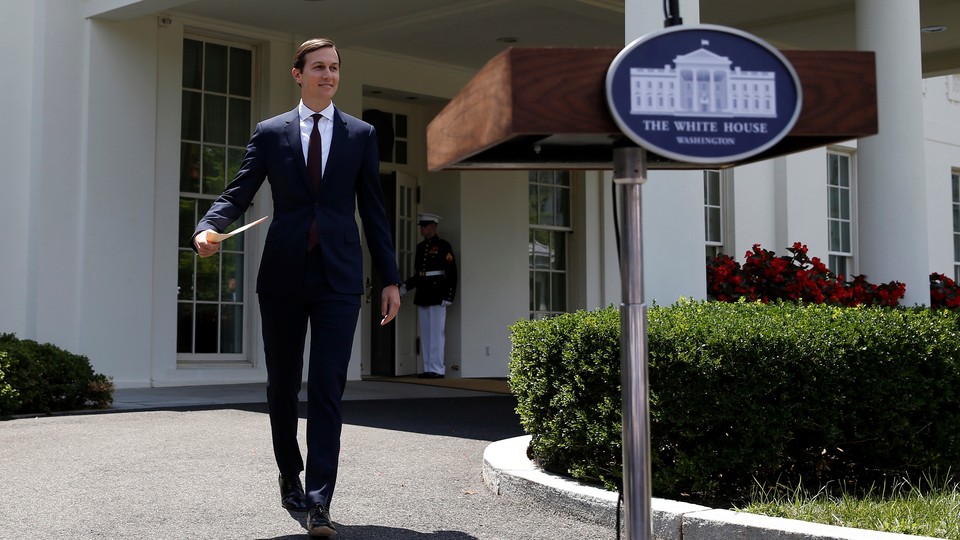 In trying to fend off suspicion of collusion with the Kremlin, Donald Trump Jr. and Jared Kushner have recently provided the public with two very interesting documents. Shoving responsibility for any outreach onto the Russian side, the two men have given us with a partial account of Russian methods in approaching the Trump camp in 2016.
If the accounts are true—and, given that their accounts have changed in the past, these latest accounts could change too—then, taken together, the Trump Jr. emails and Kushner's statement show a Russian side that is experimenting with ways of getting the Trump team's attention. They show a side that really is, as one former Obama administration official told me, "throwing spaghetti at the wall and seeing what would stick."
According to the emails Trump Jr. released two weeks ago, some Russians who insist they were acting in a private capacity tried approaching the campaign through Rob Goldstone, the British tabloid journalist turned music promoter, and through the Agalarov family, themselves builders and aspiring pop culture icons who had forged a tie to the Trumps through the 2013 Miss Universe pageant. Goldstone told Trump Jr. that the Agalarovs had "very high level and sensitive information" on Hillary Clinton and that it "is part of Russia and its government's support for Mr. Trump - helped along by Aras and Emin [Agalarov]." They, in turn, seem to have sent Russian lawyer Natalia Veselnitskaya, who is close to Yury Chaika, the Russian prosecutor general, or, as Goldstone refers to him, "the Crown prosecutor of Russia."
Kushner's statement describes his ignorance of the people involved in the June 2016 meeting in Trump Tower that resulted—he even says he asked his assistant to make a fake phone call to him, to rescue him from a meeting he and other participants have claimed was about adoptions. But the statement is telling in that it outlines even more approaches, ways the Russians seemed to be poking around for openings. There was the formal meeting with then-Russian ambassador Sergei Kislyak at the reception for Trump's April 2016 foreign policy speech. Kushner says the encounter "lasted less than a minute"—which other witnesses confirm—and that Kislyak suggested lunch at the embassy, which Kushner says he didn't take him up on.
Then there was a more aggressive approach, an email from someone using the name Guccifer400, who Kushner says tried to extort the Trump campaign to the tune of 52 bitcoin for not publishing Trump's tax return. It's unclear if this was a Russian attempt, or just a highway robber riffing on Guccifer, the publisher of stolen Democratic National Committee documents who American intelligence believe is a front for a Russian government hacker.
After the election, Vladimir Putin reached out directly to the Trump camp to congratulate them on their victory, and Kislyak again asked for a meeting, which took place on December 1, 2016. It is in this meeting, according to Kushner, that the president's son-in-law asked the Russian if there were "an existing communication channel at his embassy" through which "Russian generals" could supply the Trump transition team with information on Syria. This seems to be a confirmation of the Post's May story that Kislyak radioed back to Moscow, saying Kushner was looking for a back channel; both the Post story and Kushner's statement say such a channel was never set up, though Kushner denied it would have constituted a "secret back channel" as the Post described it.
Indeed, the Russians clearly thought the meeting went well, because a week later, according to Kushner, the Russian embassy requested another audience with the Trump team. "I declined," Kushner wrote in his statement of this request, as well as of the embassy probing for another time Kushner could meet Kislyak. The third poke in this series was the Russians requesting a meeting with Kushner's assistant. "In order to avoid offending the Ambassador," Kushner writes, "I agreed." Kislyak met with Kushner's assistant on December 12, 2016.
Apparently, this meeting went well, too, but was also an opportunity to find another opening, with Kushner's assistant reporting back that Kislyak—who, in my personal experience, is not a shy man—wanted yet another meeting. This time it would be with Sergey Gorkov, head of Vneshekonombank (VEB), the Russian state development bank that was, among other things, responsible for building up Sochi for the 2014 Winter Olympics. According to Kushner, Kislyak said Gorkov was "a banker and someone with a direct line to the Russian President who could give insight into how Putin was viewing the new administration and best ways to work together." Kushner says, "I agreed to meet Gorkov because the Ambassador has been so insistent, said he had a direct relationship with the president, and because Mr. Gorkov was only in New York for a couple days."
Gorkov is a particularly suspect figure. Before spending the last 10 years working in key roles in Russian state banks, Gorkov briefly lived in exile in London. He had spent a decade working for Mikhail Khodorkovsky at his oil company Yukos, before Putin jailed Khodorkovsky for 10 years in 2003 and dismantled the company, selling the biggest chunks to his friend Igor Sechin. Many other Yukos executives were jailed, including Gorkov's subordinate, who served eight years of a 15-year sentence; many more, like Gorkov, were forced to flee the country to avoid a similar fate. But Gorkov somehow managed to return both to the country and to top positions in state jobs. "How he was able to escape prosecution in the YUKOS case is the biggest mystery of the whole case," one of Gorkov's colleagues told Russian Forbes. The speculation is that he cut a deal with the Kremlin, thanks in part to his ties to the FSB (he went to the KGB academy).
The meeting between Kushner and Gorkov has drawn particular scrutiny because VEB, Gorkov's bank, is subject to U.S. sanctions for its role in the Russian invasion of Ukraine. It has also been tied to espionage before. In 2015, one of the bank's New York employees, Evgeny Buryakov, was arrested and charged with being a spy and gathering information for Russia's clandestine service, or SVR. (Buryakov, who pleaded guilty in 2016 and was deported, was charged by the office of then-U.S. Attorney Preet Bharara, whom Trump fired in March.)
Kushner's description of the meeting is doubly strange, and, if accurate, shows Gorkov to be a deft operator, skilled at getting his hooks into his subject. He gave Kushner two gifts: "a piece of art from Nvogorod, the village where my grandparents were from in Belarus," and "a bag of dirt from the same village." Though Kushner's grandparents, both Holocaust survivors, were indeed from Belarus, it seems Kushner may have misremembered the name of the village: Nvogorod seems like a misspelling of Novgorod, one of two ancient cities in Russia by that name. In either case, it seems Gorkov did his research on Kushner—and wanted to show it. He also wanted Kushner to be aware of his stature, bragging to him "that he was friendly with President Putin." (Kushner says that they didn't discuss sanctions or "specific policies" and did not speak again.)
Though we are still missing big pieces of the puzzle, and though Kushner and Trump Jr. have proven themselves to be unreliable narrators when it comes to the extent of their involvement with the Russians, these two documents together give us a hint of how Russians went about trying to establish a connection with the Trumps, whom they were heavily advertising on state television as the way to restart U.S.-Russian relations. The emails and public statement describe a search, a process of poking and testing, of trying to find a pressure point or an opening. This is consistent with the intelligence on the Russians' election-meddling effort, which has been described as a multi-pronged and opportunistic one. "The Russians had a line of, say, 1,000 ways to attack," an intelligence official told me recently. "They don't need all of them to get through. Just a few are enough."
---
Related Video