The Anger in Jordan's Streets
Protests in the country's capital are directed not only at Israel but also at the Jordanian government.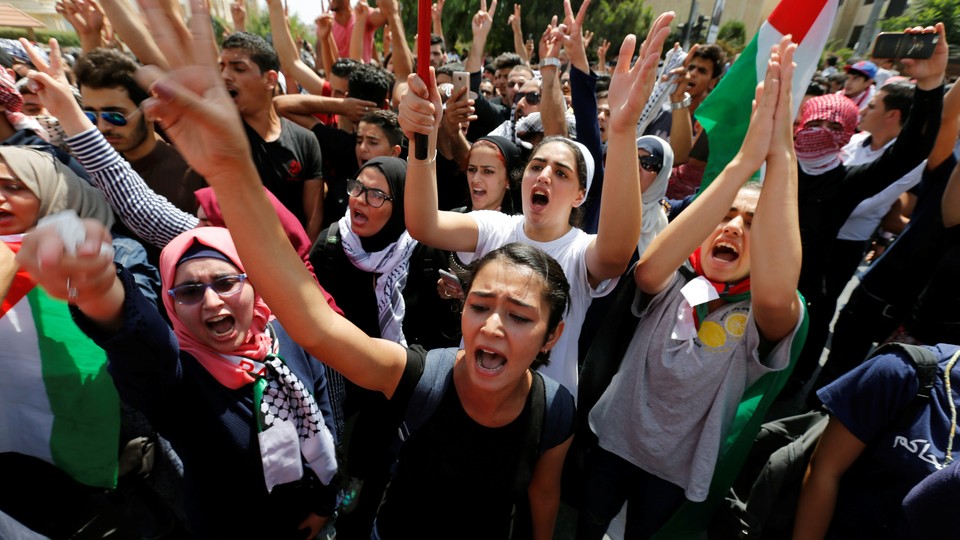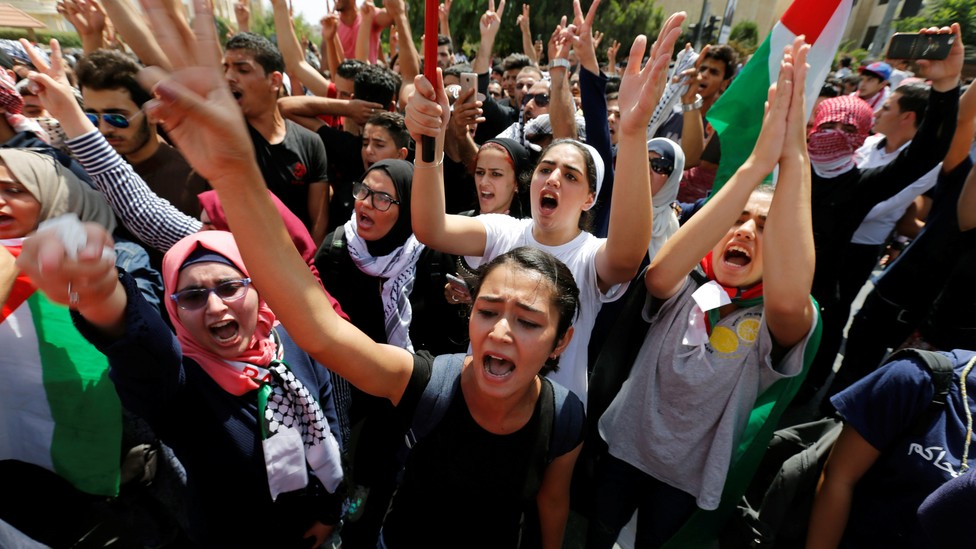 Updated on August 2, 2017
AMMAN, Jordan—The family of Mohammad Jawawdeh, the 16-year-old Jordanian who was killed by an Israeli embassy guard on Sunday night, lives on the southern outskirts of Amman, near a large concrete lot. On Monday, the family had already set up a mourning tent there for the relatives and neighbors who came to grieve the teenager's death. They arranged rows of chairs and carpets for praying, printed photos of their lost son with the words "Martyr of the Embassy" underneath, and served dates and cold water to everyone who came.
That tent was still standing on Thursday, after the teenager's funeral and three-day wake were attended by hundreds of Jordanians, journalists, and King Abdullah II himself, but with one difference: Someone had painted a large Israeli flag on the floor—so that everyone coming to visit would step on it—with the words "Death to Israel" underneath.
Last Sunday afternoon, Jawawdeh's father had sent him to install some furniture in an apartment near the Israeli embassy. A dispute broke out between the teenager and an Israeli guard, during which Jawawdeh attacked the Israeli with a screwdriver, according to Israeli and Jordanian authorities. The guard shot and killed the boy in response. He also shot Bashar Hamarneh, the apartment's landlord, an orthopedic surgeon in his 50s who happened to be present. Hamarneh died in a hospital, while a third witness, the furniture truck driver, was said to be severely wounded and in intensive care, though his wife later revealed that he was unharmed and being questioned in police custody.
The first news of the shooting was shrouded in confusion. Two Jordanians had died, but the reasons were unknown. Israeli authorities quickly announced that one of them had attacked the embassy guard, a description that seemed to hint at premeditated violence, especially given the violence that had been building over a holy site in nearby Jerusalem for weeks. Two days earlier, thousands of Jordanians had marched in protest against Israel's installation of metal detectors at Al Aqsa mosque, a highly sensitive religious site where Israeli security forces are perceived to be encroaching on Islamic holy land. Palestinians were meanwhile protesting in Jerusalem by praying en masse in the streets, refusing to pass through the metal detectors. Israeli forces killed three of the protestors, and on the same day, a Palestinian teenager killed three Israeli settlers in the West Bank.
Jordanians' proximity to the Israeli-Palestinian conflict is geographical, familial, and visceral. More than 60 percent of Jordanians are of Palestinian descent, displaced by Israeli forces in 1948 or 1967. Some 2 million are still registered as refugees, with almost 370,000 living in "camps" that have grown over the years into overcrowded, underserviced neighborhoods. Many have close family members who are living across the border in the West Bank or in Gaza, and whose difficulties spread into their relatives' consciousness.
Despite these deep connections, the bloodshed in Jerusalem had not spilled over to Jordan before Sunday. Jordan has long been the place where Palestinians, their cousins, and neighbors shout against Zionism while the government quietly cooperates with Israel on security, energy, and shared friendliness to U.S. policies. Jordanian police work with Israel to man a stable border where hundreds of Palestinians cross between the West Bank and Jordan every day. Israeli tourists, especially of the young backpacker variety, visit Petra and go camping in Jordan's southern deserts. Jordan and Israel have had a peace treaty since 1994, surviving even through crisis years like 1997, when the Israeli Mossad tried to assassinate a Hamas leader in downtown Amman, and when a Jordanian soldier massacred seven Israeli schoolgirls (after which then-King Hussein flew to Israel and begged forgiveness from the families), or 2014, when Israeli soldiers killed a Jordanian at the Jordan-West Bank border.
This time around, Jordanian anger is directed not only at Israel but also at Jordan's government. While Israel announced almost immediately that Jawawdeh had attacked the guard before being shot, Jordanian police kept silent a full extra day, unable to investigate the complete story because Israel claimed that the shooter had diplomatic immunity and couldn't be interrogated. Despite their initial insistence on interrogating the guard, Jordanian authorities let the shooter go on Monday night, allowing a complete evacuation of the embassy staff after a compromise: The guard told his story only to Israeli diplomats, with Jordanian police present. By 11 p.m. on Monday, the shooter was home in Israel, where Prime Minister Benjamin Netanyahu gave him a hug.
Jordanians are outraged. On Tuesday morning, lawmakers staged a walkout while the Minister of the Interior was presenting details of the investigation in Parliament. Jordanian media has abounded with outcries at the Jordanian government's kowtowing to Israeli wishes. In one widely shared article from the independent news site 7iber, Jordanian journalist Doa Ali wrote: "We don't need new evidence to assure us that this [Israeli] enemy doesn't see us as anything but semi-humans that must be removed from the road. But today's new proof is that the rulers of this country see us that way as well."
On Thursday, King Abdullah finally came home. He had been on vacation in Hawaii throughout the crisis but quickly spoke against Israel's prime minister, calling for Netanyahu to pursue legal investigation of the shooting, instead of trying to "achieve personal political gains" by receiving the guard like a hero. "Such unacceptable and provocative behavior at all levels infuriates all of us, leads to insecurity and fuels extremism in the region," the king said.
Hundreds of protestors marched both in downtown Amman and near the Israeli embassy on Friday, waving Jordanian flags, chanting "Death to Israel," and calling for a shutdown of the embassy and cancellation of the Israel-Jordan peace treaty. Many of the protestors tied the embassy incident to the Al Aqsa crisis, even though the final Jordanian investigation reported that Jawawdeh had fought with the guard over a furniture dispute, not for any political purpose.
"It's all related, Al Aqsa and the existence of this embassy. The king didn't do anything while our people were killed," said 22-year-old Abdullah Mohammad, whose family is originally from Jenin. "We as Jordanians are with Jerusalem and Palestine, and we refuse any normalization or engagement with the Zionist government."
One elderly man who gave his name as Abu Samer called the embassy incident "embarrassing." He was 83 years old, he said, and didn't want to give a full name in case of repercussions. "This is Jordan. This is a dirty state. How can you allow a criminal to kill two citizens and just go?" he said. "All the Arab states are collaborating with Israel. They're convinced that their thrones are backed by Israel. The police protect them."
Hanan Najjar, a 55-year-old woman with roots in Nablus, walked out of the mosque nearby and joined in. "We're not terrorists. We don't love killing. But they stole our land, they stole our country, and now they're killing here too," Najjar said, referring to Israeli displacement of Palestinians. "I just came to pray today, but I'm angry."
At the front of the protest, 35-year-old Rula Safi wore a black-and-white keffiyeh and waved a sign in Arabic: "Close the terrorist embassy for the sake of the people's dignity." She was there for both Al Aqsa and for the embassy shooting, she said. "They're all martyrs, all killed by Zionists," Safi said.
The anger on Jordan's streets is at once religious, national, and political, a mix of holy obligation to protect a sacred site, patriotic affront at the meaningless killing of two unarmed citizens, and decades-old humiliation at Jordanians' inability to do anything against the reality of Israel, besides chanting and painting on the ground. It's also mixed with grief, which weighs heaviest right now in the Jawawdeh and Hamarneh homes.
Far from the Jawawdeh house in an upper-class neighborhood of West Amman, the Hamarneh family also held a wake, mourning Dr. Bashar Hamarneh in the arched hall of an Orthodox church. The king also visited the doctor's Christian family, meeting his German wife and two children, and promising the doctor's 60-year-old brother Bassem that this killing would not go without punishment. Al Aqsa is a Muslim site, Bashar's death had nothing to do with its defense, and none of his immediate family members were participating in the anti-embassy protests. But they weren't against the protests, either, Bassem said.
"They are saying what every Jordanian feels. I don't know how many martyrs died at Al Aqsa in the last few weeks," Bassem said. "All Jordanians—Christians and Muslims—we're against this."
The doctor's son, 18-year-old Fadi Hamarneh, stood quietly next to his uncle. His father had been adventurous and kind, he said; he'd become a proficient surgeon in Germany, loved his patients, and visited 150 countries in his 57 years of life. "My father was never political, never hated anyone. He had no problem with Muslims, Jews, Christians, anyone," Fadi said. After all, he'd even rented his apartment to the Israeli embassy.
"We don't care about the guy going to jail. We just want the truth," Fadi said. "My mother, she just wants a 'Sorry' from the embassy. We want to know how and why he died."