The Gulf Crisis, as Told Through Cartoons
"There's a very thin line between being a propagandist and a cartoonist. In the end, we're critics."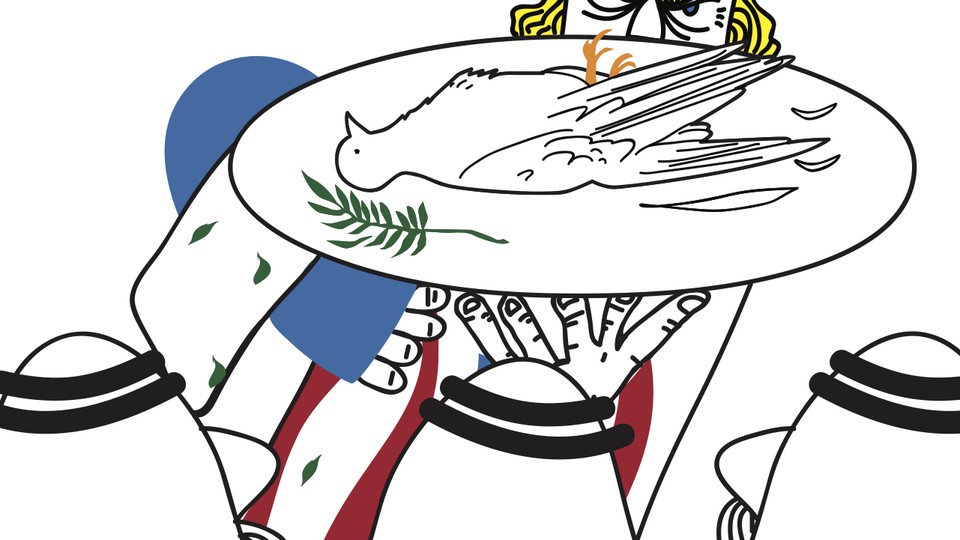 In May, on his first official trip overseas, President Donald J. Trump engaged in good-natured chinwag with Arab presidents and emirs, and even bobbed his head along to a traditional Saudi sword dance in Riyadh. Perhaps the most memorable image of his Mideast sojourn was a comical photo-op with the Saudi king, the Egyptian president, and a certain glowing orb as they announced the launch of joint counter-terrorism initiative.
Two weeks later, Washington found itself caught up in a Persian Gulf squabble when a coalition of seven countries, led by Saudi Arabia, severed diplomatic ties with neighboring Qatar. The move was allegedly prompted by the small, hyper-wealthy peninsular kingdom's support for terrorists both at home and abroad, and its supposed alignment with Iran. As many have pointed out, Qatar's foreign policy is nothing new; what is novel is that Trump's vocal support of Saudi Arabia could have given license to Riyadh and the rest to punish Doha.
But these destabilizing events have proven a goldmine for political cartoonists in the Gulf, where most media outlets are affiliated with or owned by government officials. Each side of the crisis is rallying around the flag and painting the other as malicious, power-hungry, and reckless—resulting in a propaganda war between illustrators. Meanwhile, though, a handful of independent illustrators in the region are working to challenge skewed perceptions about this increasingly ridiculous imbroglio.
When I visited Qatar last year, I noticed that the cartoons in the country's newspapers were innocuous: jokes about selfie culture, texting while driving, or the dangers of tobacco. But over the past month, mainstream Qatari cartoonists have shifted into a highly politicized gear. Some are putting out two cartoons a day commenting on tensions with Saudi Arabia. Others produce web videos depicting the challenge of life under blockade.
As a freelance web cartoonist in Qatar, Khalid Albaih is an outlier in a country where many illustrators stick to their strict editorial guidelines. "There's a very thin line between being a propagandist and a cartoonist," Albaih told me. "Cartoonists, in the end, we're critics. You need to be critical of everybody." He rose to prominence during the Arab revolutions of 2011, drawing web comics that ridiculed dictators and championed free speech. He has continued to self-publish critical work through the subsequent wave of repression and counter-revolution that has gripped the Arab world. But those conflicts have largely occurred beyond the borders of Qatar, where Albaih, who is of Sudanese origin, has lived most of his life.
Arab media outlets have largely escalated the conflict. The Doha-based Al-Jazeera has mirrored the official Qatari position in lambasting Saudi Arabia, et al; Al-Arabiya, the Saudi-owned satellite network, has done the opposite, demonizing Qatar. That's why, in one recent cartoon, Albaih censured the media's coverage of recent events. The cartoon is labeled, "Pay as we talk," a dig at how Arab networks do the bidding of their overlords. In not explicitly naming Al Jazeera or Arabiya, Albaih subversively provides equal-opportunity criticism of the Gulf media's penchant for propaganda.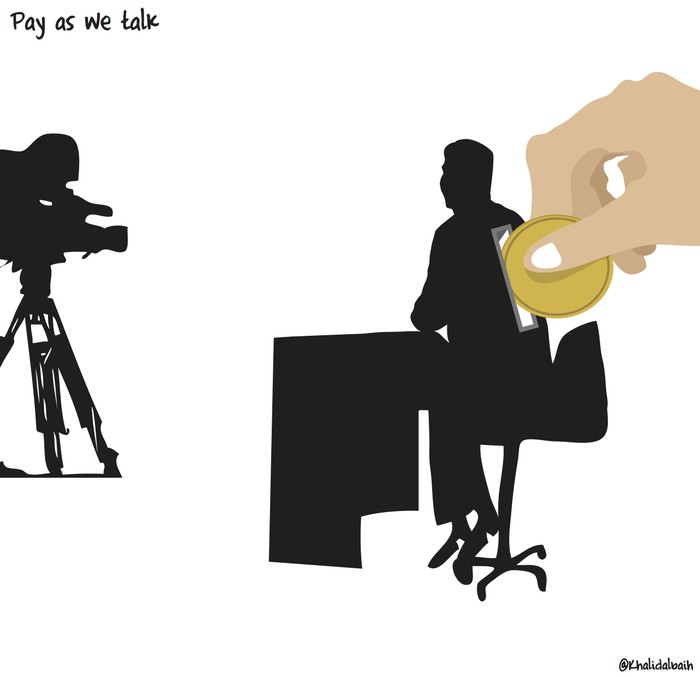 It's not the first time that Albaih has served as a sort of media ombudsman. When Doha News, an independent Qatari news and culture site, was blocked in the country in December, he drew a cartoon pointing to the inconsistency of allowing Al Jazeera to maintain a critical lens on foreign affairs while censoring local outlets for covering domestic news.
One of Albaih's most scathing and irreverent cartoons is a drawing of a pudgy Saudi sheikh who bears a clear resemblance to the new crown prince, Mohammed bin Salman, jumping on a trampoline bearing the Gulf Cooperation Council's logo. Look carefully: the trampoline, which is coming apart, is marked as "New Toy," suggesting that Saudi Arabia and its unruly new young leader behave as if they own the GCC. Such an audacious caricature alluding to emirs and royals is unusual.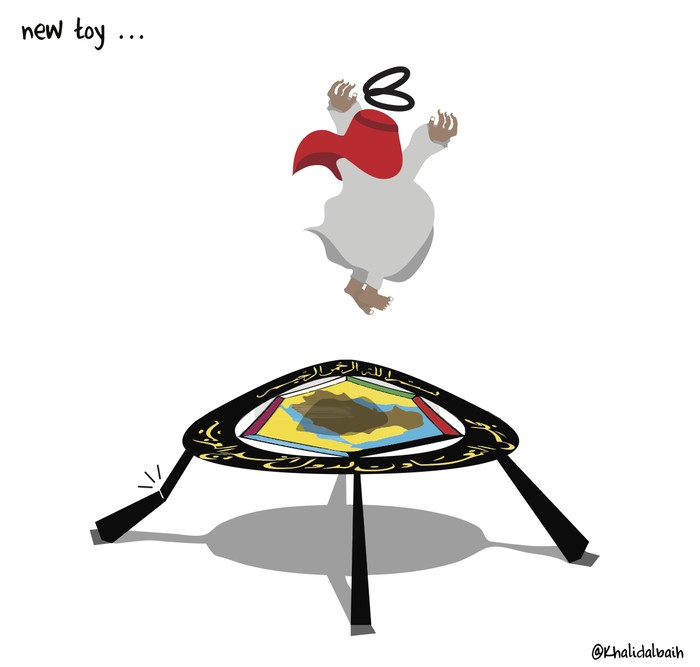 Across the inlet, Saudi cartoonists known for their inventive gags and veiled criticisms of authority have taken clear sides. Take Abdullah Jaber, who draws for the newspaper Mecca and has faced censorship in the past. Recently, Jaber has depicted Qatar as pugnacious, deceptive, and back-stabbing. In one of his several anti-Doha drawings, a blonde man wearing a shirt with Al-Jazeera's logo and holding a saw cuts the Qatari peninsula off from the Gulf region; adjacent to him, another man wearing the distinct cap and gray, fuzzy beard of the Muslim Brotherhood sits on Qatar, paddling off into the Gulf, suggesting that the Qatari state is merely doing the Islamist party's bidding. Saudi cartoonist Khaled Ahmed went even further with a drawing of a Qatari sheikh flinging bills at a belly-dancing terrorist who dons a black mask and a suicide vest. Such bellicose cartoons replicate the rhetoric of Saudi officials.
The crisis among Gulf states brings into relief how the fraternity of cartoonists (the majority of cartoonists are men) suddenly finds itself on either side of a constructed fault line. At the same time, their cartoons, regardless of their editorial line, shed light on aspects of the conflict that observers abroad may have missed.
In the midst of the Arab revolutions of 2011 and the shifting geopolitics that followed, most of the Gulf states doubled down on their support of monarchies like Morocco and Jordan, supported counterrevolutionary regimes in Bahrain and Egypt, and managed to convince Washington of the supposed stability of dynastic regimes. The exception was always Qatar, which evinces a sense of independence through its unconventional policies. It gets the most flak from the Western media for welcoming exiled Muslim Brothers, Hamas leaders, and Taliban members. Perhaps equally important is that Qatar and the Emirates took opposing sides in the unfolding insurgencies in Libya and Syria.
But there's also the matter of what Qatar and its Gulf brethren share: a record of grievous human rights abuse. Across the region, free speech can be a jailable offense, and labor violations are widespread. So it's an odd irony that these fraught times have cast Qatar, an absolute monarchy where those who oppose the regime are liable to face jail time, as a beacon of free speech. Emirati authorities have gone so far as to ban their citizens from expressing sympathy for Qatar. "Most people are saying we really want to comment or 'like' but we can't," Albaih, the Doha-based cartoonist, said of his latest cartoons. "It's quite notable that a lot of the intellectuals in the Emirates or Saudi [Arabia] are not even talking about the subject at all because they cannot say anything positive."
In this stifled, conservative environment, the role of the cartoonist is sacrosanct. In the Arab world, the politically inflected art form dates back to the late 19th century, when Yaacub Sannu crafted anti-government, anti-imperial caricatures and satire in self-published broadsheets in Egypt. From the 1920s through the 1950s, cartoonists were integral to the rich illustrated press in Cairo and other Arab capitals. Since then, cartooning has played an outsized role in Arab media. In the face of a stifled press often unable to publish critical journalism, cartoonists take it upon themselves to fill the gap. They expertly employ tricks of the trade—metaphors, sarcasm, slang, and double entendre—to break the rules in ways that investigative reporters simply can't.
That doesn't mean the task is easy. In the early days of the Syrian revolution, regime thugs went after the veteran cartoonist Ali Ferzat, breaking both of his arms; he now lives in exile in Kuwait. His colleague, Akram Raslan, died under the Assad regime's custody. Moreover, religious extremists have also been known to target them. Last September, the Jordanian writer Nahed Hattar was assassinated by a lone gunman on the steps of an Amman courthouse for sharing an allegedly blasphemous cartoon on Facebook. Most cartoonists are well versed in the ever-evolving red lines and thrive on the risks.
Egypt, the most populous country in the region, has been the epicenter of political cartooning. Since 2013, newspapers in Egypt have vilified Qatar through outrageous caricatures; Doha's support for the ousted Muslim Brotherhood and the short-lived presidency of Mohammed Morsi has been depicted as tantamount to terrorism. Recently, these cartoons have grown even more preposterous, like one by the Egyptian cartoonist Abdallah, in which a masked terrorist withdraws an entire sack of cash from an ATM labeled, "Qatar." In another by Hany Shams for the Egyptian state newspaper Al-Akhbar, Iran and Turkey prop up a credit card labeled "Qatar" (the official Egyptian media regularly scolds Turkey and Iran for interfering in Egyptian affairs and supporting terrorism—without offering much proof). Such cartoons are characteristic of the spurious pro-government Egyptian view that Qatar is responsible for all the ills facing the country.
By contrast, the handful of cartoonists that have offered salient analysis, as opposed to partisan hackery, are among the most compelling. For instance, the Palestinian Mohammad Sabaaneh has not shied from lambasting either side of the Qatar dispute. In one cartoon, he renders the spat as a high-school tiff hashed out over Facebook, with the states blocking and un-friending one another. More cutting is an image of a Saudi wagging his finger at a Qatari—except both stand inside a military boot, one that is made in the USA. (Both Qatar and Saudi host American military bases.)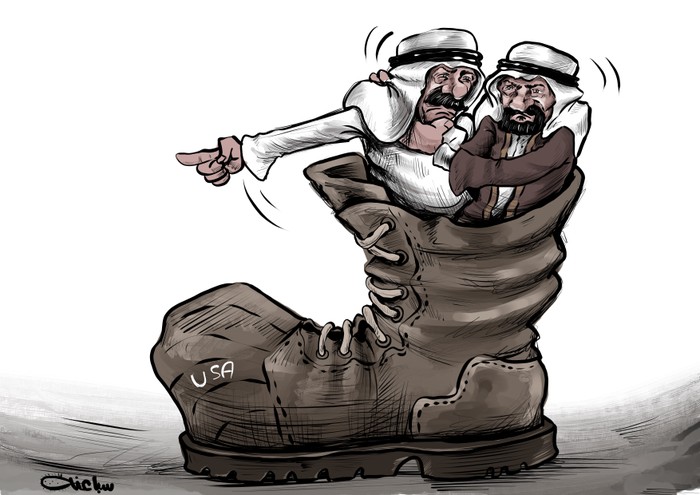 The prominent Jordanian cartoonist Osama Hajjaj offers a similar perspective in a cartoon labeled, "What America Wants." Gulf Arabs push shopping carts filled with guns and missiles as they queue up for the cash register at the "weapons market," where behind the counter Uncle Sam eagerly counts his dough. For Hajjaj, infighting Arabs bring profit to America.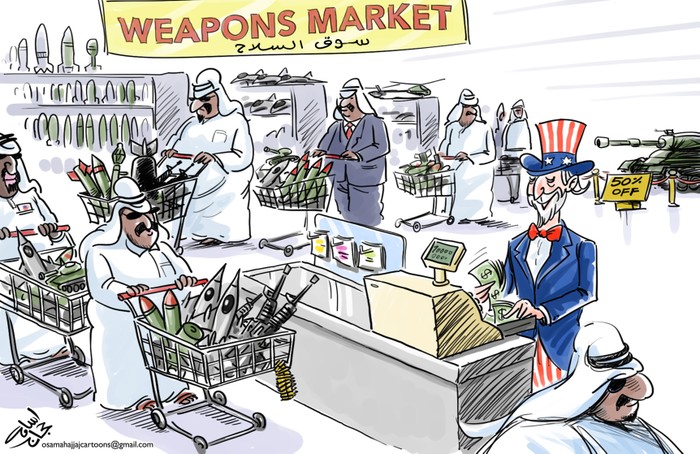 While many cartoonists in the privately owned Egyptian newspaper Al-Masry Al-Youm drew cartoons of Qatar funding balaclava-wearing terrorists, Anwar drew something different. "This is my latest painting," the bespectacled artist said, showing off a surreal canvas of explosions and chaos, in Anwar's frame. "I call it 'Inter-Arab relations.'"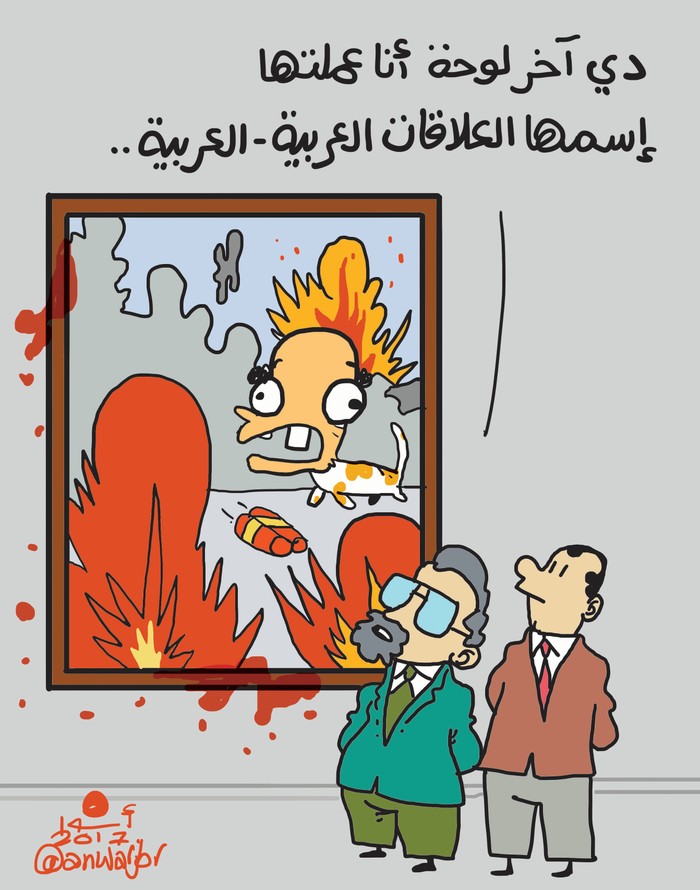 Others, like the Egyptian satirist Andeel, have skewered the Egyptian-Saudi alliance. Mada Masr, the independent news and commentary site where Andeel's cartoons appear, is currently blocked inside Egypt along with dozens of platforms that authorities consider pro-Qatar, sympathetic toward terrorism, or purveyors of fake news. The State Department has not publicly commented on the crackdown on Egyptian media that quickly followed Trump's meeting with Egyptian President Abdel-Fattah El-Sisi.
Ask any of these cartoonists and you'll find that the struggle for free expression is more than just a career choice. It's personal. Albaih feels at risk when in his home country of Sudan; he has previously been detained in Egypt. So he has planted roots in the Gulf, "the only safe space in the Arab world," he said. He has exhibited cartoons at a Saudi-owned gallery and regularly visits the Emirates. All of that is now out of the question. With more doors closing by the day, his task only grows more difficult with each cartoon he draws. Said Albaih, "I'm fighting as much as I can to stay independent."