Emmanuel Macron's State of the Union
The French president promised a "profound transformation" of the country's political system, but critics said the speech demonstrated a "monarchical" drift.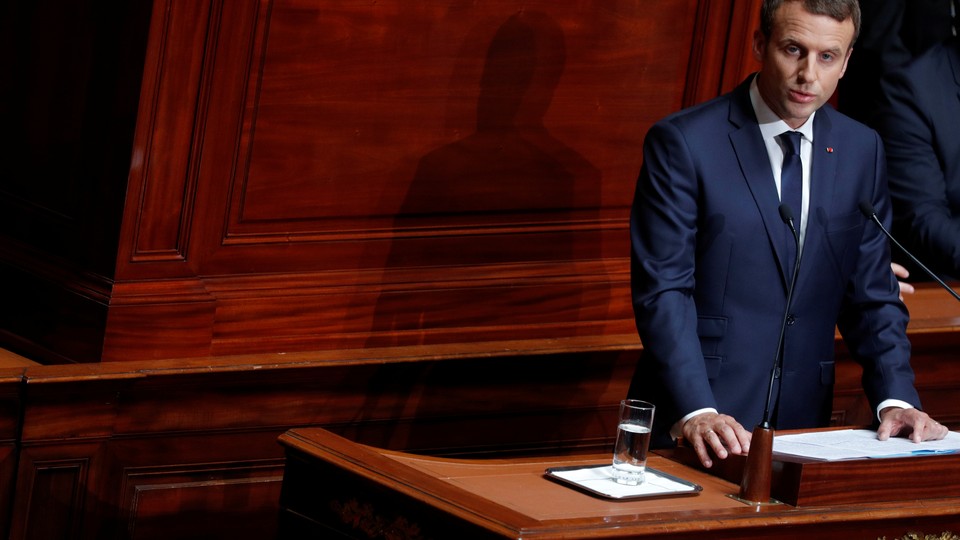 French President Emmanuel Macron promised a "profound transformation" of the country's political system in a rare address Monday to both chambers of Parliament at the Palace of Versailles.
The 90-minute address, which drew comparisons to the U.S. State of the Union, laid out proposals Macron said would serve as a roadmap for his five-year term, including shrinking the number of lawmakers in both houses of the country's parliament by a third. "A smaller parliament, but strengthened in its means, is a parliament where work becomes more fluid, where parliamentarians can surround themselves with more trained and more numerous collaborators," Macron told members of the National Assembly and the Senate, which have 577 and 348 members, respectively. "It's a parliament that works better."
In addition to giving citizens the right to petition to get key topics discussed in parliament, Macron also pledged to add a "dose" of proportional representation to the country's winner-take-all electoral system and called for imposing shorter term limits to MPs.
Although such proposals are seemingly aimed at making the legislative body more efficient and representative, it could have adverse repercussions. As Dr. Rainbow Murray, an associate professor of politics at Queen Mary University of London, noted, reducing the number of lawmakers could result in an influx of more unelected officials at the legislative level, as well as in a more inexperienced parliament.
In my interviews, French MPs said it took at least 1 elected term (5 years) to learn all the unwritten rules, unless already an insider

— Rainbow Murray (@RainbowMurray) July 3, 2017
Macron's address comes weeks after his La République En Marche (LREM) party earned an overwhelming majority in France's legislative elections, in which LREM and its small centrist ally, Democratic Movement (MoDem), won 350 of the National Assembly's 577 seats.
Though the majority will undoubtedly bolster Macron's ability to push through some of his more ambitious reforms, he does face challenges, including the fact turnout in the legislative elections were the worst in modern times. But the newly elected president suggested he doesn't want to waste any time, noting he would reserve the right to put certain issues up to referendum if lawmakers don't pass his reforms within a year.
Macron also confirmed the country's state of emergency, which has been in effect since the November 2015 terrorist attacks, would be lifted later this year and replaced with new anti-terrorism legislation. Though the legislation was given the green light by the country's top administrative court in June, rights groups have criticized it for enshrining into law some of the state of emergency's most restrictive measures and curbing peaceful protest.
Not all lawmakers were present Monday for Macron's speech. Some, including members of the far-left France Unbowed party, chose to boycott what they dubbed a "monarchical" speech. Jean-Luc Mélenchon, a former presidential candidate and the leader of France Unbowed, accused Macron of "crossing a line with the pharaonic aspect of his presidential monarchy." Jean-Christophe Lagarde, the leader of the centrist Union of Democrats and Independents (UDI) party, called the occasion "a PR stunt."
Though Macron is not the first French leader to address both houses of parliament, such addresses are rare and typically reserved for times of crisis. Indeed, it was only in 2008 that then-French President Nicolas Sarkozy made the constitutional reform to allow presidents to address parliament in person (prior to that, they could only address both houses through written speeches that were read aloud by the prime minister). Since then, there have only been two such addresses at Versailles: the first in 2009, when Sarkozy announced his plans to ban the burka, the full-veil Islamic garment; the second was given by former President François Hollande in the aftermath of the 2015 terrorist attacks.
Macron also pledged that the address would become an annual tradition of his presidency.