Egypt's Best Friends in D.C.
Why is a PR firm working directly for one of Egypt's top spy services?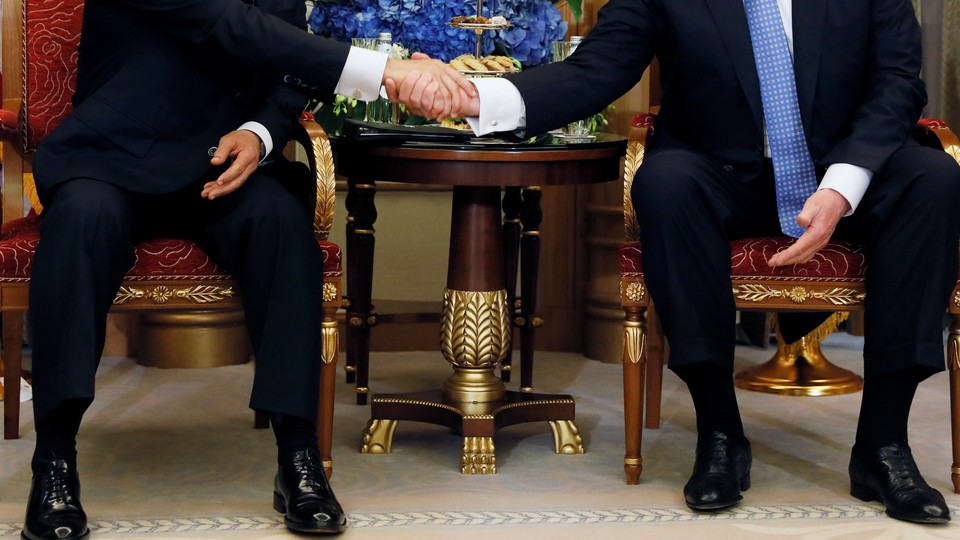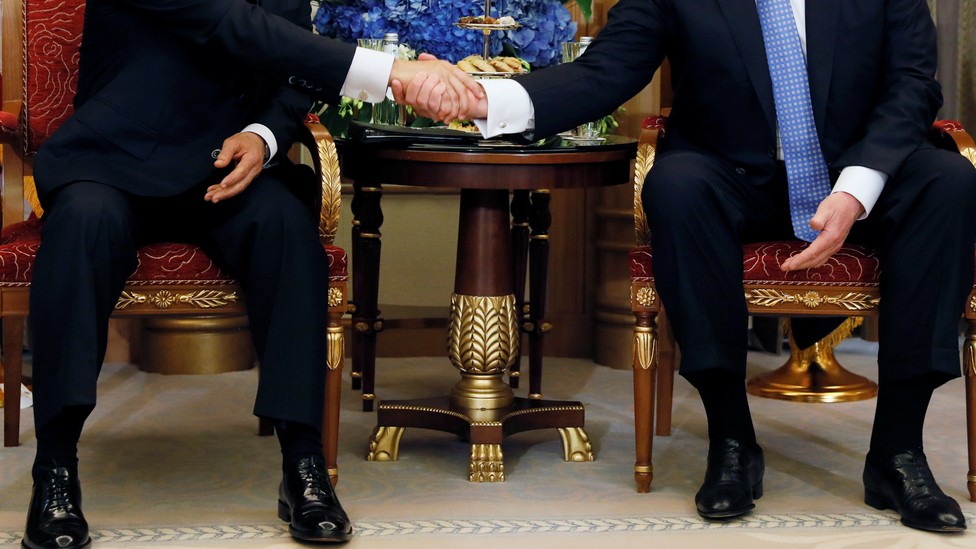 On a Tuesday night in early May, all the big players in the public relations industry gathered at Cipriani 42nd Street, a lavish restaurant in Manhattan, for the annual "Superior Achievement in Branding Reputation & Engagement" awards. The event, where winners were selected by a panel of industry insiders, was billed by its organizers as a "showcase for the best that public relations has to offer"—it was like the Oscars, but for the titans of PR. #CupFusion, a hashtag designed to build buzz around a new Reese's Peanut Butter Cup, won a best in show award for Ketchum. Edelman took home a trophy for a Starbucks video campaign focusing on "normal" people doing "extraordinary" things.
The New York-based Weber Shandwick was also a big winner, taking home three trophies: one for North American agency of the year, another for a social-media campaign celebrating a body-positive Barbie Doll, and one more for a science-education program sponsored by Lockheed Martin. One of its campaigns, however, did not attract much notice: a $1.2 million-a-year deal with Egypt's General Intelligence Service (GIS). The agency, roughly the country's equivalent of the CIA, is part of a constellation of infamous intelligence services known as the mukhabarat. Perhaps most notorious in the United States for collaborating with the CIA in the torture of suspected al-Qaeda members after 9/11, GIS has been accused of working in secret with Egypt's domestic intelligence to manipulate elections and suppress internal dissent since the coup that installed Abdel Fattah el-Sisi as president in 2013.
Weber's contract with the Egyptians is not, in itself, unconventional. But the firm's decision to do business with a foreign-intelligence service known for torture and repression, one that has been instrumental to Sisi's crackdown on the Muslim Brotherhood and other groups, is unorthodox. And it comes at a key moment. Four years after Sisi toppled Egypt's elected government, he's eager to cement ties with a new U.S. administration that's willing to overlook his authoritarianism, and at the same time win friends in Congress who oversee Egypt's massive aid package. In Weber Shandwick, it would appear that the Sisi regime has found a PR firm willing to apply its considerable messaging prowess to the cause of funneling U.S. taxpayer money and goodwill towards the increasingly brutal leadership of the world's largest Arab country.
Weber and the lobbying firm Cassidy & Associates—a "specialty" firm that's part of Weber (both are owned by InterPublic Group, a public company)—signed deals with Egypt in late January, eight days after Donald Trump's inauguration. According to paperwork filed with the Department of Justice, the firms would be reporting directly to General Naser Fahmy of the GIS. They would be promoting Egypt's "strategic partnership with the United States," and emphasizing its "leading role in managing regional risks." The firm, in other words, would be amplifying the Egyptian government's own message: that arming and backing up an increasingly authoritarian Egypt state is necessary to keep the peace.
From Sisi's perspective, Trump presented a massive opportunity. On the campaign trail, the billionaire reality-TV star had expressed a strong admiration for the Egyptian strongman. And in April 2016, General James Mattis, Trump's soon-to-be defense secretary, said "the only way to support Egypt's maturation as a country with civil society, with democracy, is to support President el-Sisi."
So far, Trump has been a boon for the Sisi government, inviting the Egyptian leader to the White House after years of arm's-length dealings with the Obama administration. On a policy level, Trump has largely delivered. Although his "America First Pledge" and early budget proposals suggested he was considering downgrading Egypt's generous military aid package, he quickly abandoned that tack. His State Department has moved to de-prioritize human rights—meaning that Washington would not publicly scold Egypt for its crackdowns—a major source of tension between the Obama State Department and the Sisi government.
In some ways, this contract seemed an odd fit for Weber. The last time the firm had worked for Egypt was more than a decade ago, to help promote its cotton industry. Egypt also has more recent relationships with lobbyists at the Glover Park Group, which helped convince lawmakers to restore U.S. military aid to Cairo after the 2013 coup. But unlike Glover Park, an insider D.C. firm staffed with former Democratic party operatives, Weber is a public-relations firm that's known for selling brands to the general public. It is perhaps best known for a public awareness campaign for the Obamacare exchanges.
The firm began its work for Egypt by creating a catchy brand name, "Egypt Forward," and setting up a website and Twitter account to churn out a steady diet of upbeat videos and articles characterizing Egypt as a vibrant, stable place, marching towards a more democratic and inclusive society. The timing was crucial. In the spring, the U.S. Senate would be taking up a $1.5-billion aid package for Cairo. Lawmakers would also be deciding whether to attach any human-rights conditions to that aid. Sisi's government was also lobbying hard on its own for Washington to keep in place "cash-flow financing," which allows Egypt to purchase weapons made by American manufacturers on credit. The Obama administration had hoped to phase out this mechanism.
Though the military-aid budget has not been finalized, Trump administration officials have reassured Egypt that its package will remain intact, even as aid to other U.S. allies like Pakistan and Colombia may be downgraded. Funding to USAID programs in Egypt, however, remains on the chopping block, and the administration has seemed to signal that it will carry through with Obama's plan to end the much-coveted cash-flow financing. Weber Shandwick, it seems, still has work to do.
The Muslim Brotherhood could provide it with an opportunity. The group, a globe-spanning Sunni Islamist party, won Egypt's first democratic elections in 2012, only to quickly lose popular support. It was then-General Sisi who first led a popular military coup to oust the Brotherhood government of Mohamed Morsi, and then spearheaded a bloody crackdown on the party's supporters. Sisi has long wanted Washington to designate the group as an official terror organization—something the Obama administration refused to do—which would make it illegal to support or work with any of its international branches, even though many of those branches work closely with U.S. allies, most notably Turkey.
Trump, for his part, has stacked his foreign policy staff with Muslim Brotherhood critics. Within weeks of taking office, he was seriously weighing Egypt's request to designate the Brotherhood a terrorist organization. White House chief strategist Steve Bannon has also reportedly been pushing Trump to use executive action to label it a terror organization.
Weber Shandwick is playing its part in this effort. This spring, it began blasting Washington think tanks and policy makers with ghost-written memos and videos, all posted on egyptfwd.org. The material described Egypt as a country on the path towards a more democratic order, and as a partner in the fight against the very terrorists that threatened America—as one policy brief prepared by the firm put it: "Egypt Is Fighting Terrorism On Behalf of Humanity."
But the campaign soon erred. On March 31, egyptfwd.org published its very first posting, titled, "What the World Needs To Know About the Muslim Brotherhood." It blamed a late-2016 suicide attack in Cairo that had killed dozens of Christians on the Brotherhood. Yet, the Islamic State had already claimed credit for the attack.
Weber Shandwick also neglected to include some key context on the Brotherhood in its materials. When Sisi came to power, his security forces massacred its supporters, forcing it underground and fracturing it in the process. While several of its factions have resorted to violence, even the group's harshest U.S. critics consider labeling the entire group a terror organization to be wrongheaded. "I think it would be an incredibly stupid thing to do … the top reason being that it's not a terrorist group," Daniel Benjamin, a former coordinator for counterterrorism at the State Department, told Politico earlier this year.
Since Weber Shandwick signed the deal with Egypt, Sisi has intensified his crackdown, blocking access to newspapers and imprisoning opposition figures, while doubling down on his scorched-earth campaign against terror groups. After footage leaked in April showing Egyptian military forces performing extrajudicial executions, Republicans and Democrats on the Senate Foreign Relations Committee slammed Egypt's human-rights record. At a hearing, Democrat Ben Cardin and Republican Lindsey Graham suggested cutting Egypt's military-aid package.
Weber Shandwick representatives were at the hearing too, distributing a glossy packet touting Egypt as "a stable and reliable partner." The 14-page document offers a glowing assessment of the Sisi regime's record. The first two years of his term, the document claimed, had produced "improvements in the social, political, economic institutions of the nation, and the civil rights of the people."
Though Egypt-watchers are divided over the severity of the terror threat Egypt now faces and the wisdom of Sisi's harsh crackdown, political and social freedoms are undeniably under assault from the state. Najia Bounaim, the director of campaigns for North Africa for Amnesty International, called Weber Shandwick's messaging campaign "ludicrous. … Objectively, things are far worse than they were under Hosni Mubarak, in terms of space for dissent."
The firm has also played the role of political facilitator. When a delegation of Egyptian parliamentarians arrived in Washington to brief think tankers and U.S. lawmakers several weeks ago, it was Weber Shandwick, working through its lobbying shop Cassidy & Associates, that distributed talking points, helped arrange meetings on Capitol Hill, and prepared the lawmakers for those meetings, according to people who attended meetings with the delegation but wished to remain anonymous.
Texas Senator Ted Cruz has made classifying the Muslim Brotherhood a terror group a mission, sponsoring a bill that would accomplish this. While there is no evidence that he met with with the most recent Egyptian parliamentary delegation, he did meet with one in April, not long after the Weber Shandwick website went live; it's unclear if Weber Shandwick played any role in that meeting. Cruz's office did not respond to a request for comment.
Michael Wahid Hanna, an Egypt expert at the Century Foundation, said that Weber Shandwick's influence would likely be limited, since many power players in Washington already have set opinions on the U.S.-Egypt alliance. "They aren't going to sway someone like McCain, Leahy, or Graham," some of Egypt's harshest critics in the U.S. Senate.
But Weber remains dogged in its mission. It also produced a video recapping the visit, which boasts of meetings with 15 lawmakers where, in the words of Egyptian MP Ahmed Youssef, the Egyptians presented a message of unity. "Let us unite and be hand in hand in the face of terrorism," he said. Another member of the delegation, MP Dalia Youssef, said the delegation was focused on pushing back against "misperceptions" about what's really going on in Egypt. The Egyptian embassy in Washington did not respond to a request for comment.
One of those misperceptions, according to think tankers who met with the delegation but wished to remain anonymous, concerned a recent law regulating Egyptian NGOs. The measure empowers the GIS—Weber Shandwick's client—to help shut down foreign-funded human rights NGOs. It establishes "the creation of a regulatory body comprised of members of the General Intelligence Service, as well as representatives from the Ministries of Defense, Interior, and Judiciary, among others." The Egyptian delegation, along with the Weber Shandwick website and materials, characterized the NGO law as a run-of-the-mill regulation. But according to Human Rights Watch, it would "effectively prohibit independent non-governmental groups." Amnesty International said it would "annihilate human rights groups."
What is most notable about Weber Shandwick's emergence on the scene, Hanna and other longtime Egypt-watchers say, is its decision to work directly with Egyptian intelligence. Historically, the mukhabarat has preferred to stay out of the limelight, as Owen Sirrs, a former Egypt analyst at the U.S. Defense Intelligence Agency, and the author of a history of Egypt's secret police, told me. That's helped keep the extent of the GIS's human-rights abuses a mystery. Although the U.S. aid program doesn't benefit the GIS directly,  viewed through a certain lens, the United States is paying indirectly for the PR firm's services. "When you're being electrocuted and tortured, you never know if it's the GIS, or some other Egyptian intelligence service" Sirrs said. "I was never able to get a full picture on what the CIA gave [EGIS] each year in and year out, but there's a reason they have a nice shiny headquarters," he added. "The great irony here is that U.S.-taxpayer money [is] being funneled through Egypt's notorious secret police, and then recycled back in the hands of lobbyists … [all] to spruce up Egypt's image in D.C."
That GIS has emerged from the shadows seemingly to quarterback Egypt's lobbying efforts "reflects which institutions are ascendant back home," Hanna said. Indeed Sisi has been moving to consolidate more and more Egyptian institutions—including parliament and the media—within the security apparatus' orbit. Investigative reporters in Egypt have detailed how the country's intelligence agencies played an outsize role in recruiting candidates for the pro-Sisi parties in the Egyptian parliament, and provided money to businessmen buying up Egyptian media companies. And civilian institutions like the foreign ministry are finding themselves sidelined, as intelligence officers are increasingly taking up diplomatic roles. Since Sisi took power, over 40 career diplomats have been reassigned at the urging of intelligence officials, the Egyptian investigative website MadaMasr reported.
But even though Weber Shandwick is representing Egypt's elite intelligence institutions in their efforts to spread dubious information, it could undermine, rather than bolster, Egypt's standing in Washington, said Mokhtar Awad, an expert on terrorism in Egypt at George Washington University. "If this continues, they will single-handedly guarantee that no one will take [the Egyptian government's] claims seriously ever again," he said.
Weber Shandwick did not respond to multiple emails and phone calls requesting comment for this story.
There are also moral concerns surrounding U.S. aid to Egypt, as Michele Dunne, former Middle East specialist at the State Department and a senior associate at the Carnegie Endowment for International Peace, outlined in testimony before the Senate Foreign Relations committee in April​. "The state of human rights in Egypt is so egregious that it becomes very difficult to work with the government without in some way being complicit," Dunne told me.
Ganzeer, the pseudonym of a renowned Egyptian artist forced out of the country because of his anti-government message, isn't surprised that a U.S. PR firm is carrying water for GIS. But he says the Egyptian state could find a better use for for the money. "It's an impoverished country, and to throw that kind of money at public relations is severely misguided," he said. As for the American PR workers helping GIS's efforts to spread information about Egypt, Ganzeer had little sympathy: "They are the scum of the Earth," he said. "And if there is ever a hell, I hope there is a special place there reserved just for them."