What Can China Do About North Korea?
President Trump says Beijing isn't doing enough, but it's difficult to measure the country's actual influence.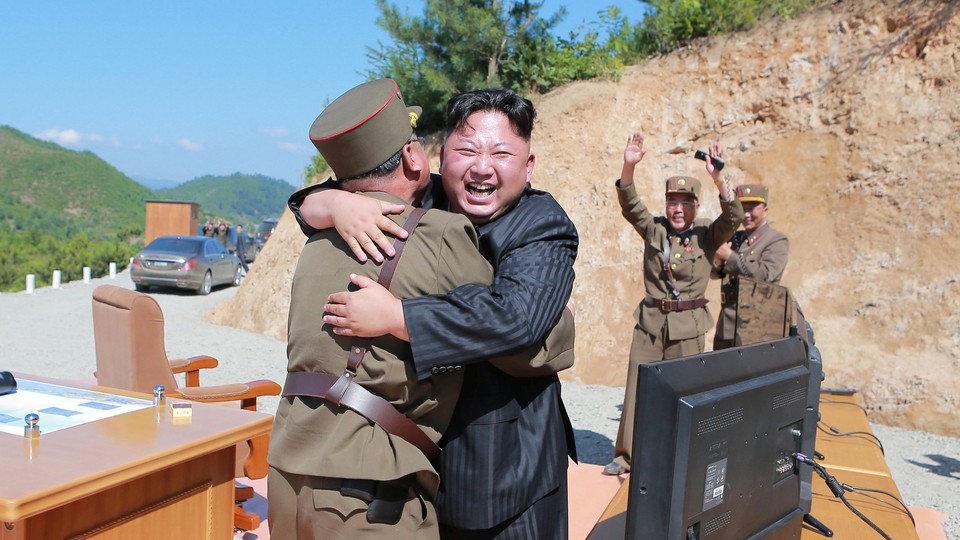 President Trump meets with the leaders of South Korea and Japan Thursday evening to discuss the North Korean crisis. Absent from their dinner is Chinese President Xi Jinping, who Trump has said is key to resolving the impasse over Pyongyang's nuclear-weapons and missile programs. His absence is reportedly intended to put pressure on Beijing over its perceived inaction on North Korea.
Trump has made China's role a centerpiece of his North Korea policy. Even before his inauguration, he said Beijing has "been taking out massive amounts of money & wealth from the U.S. … but won't help with North Korea," which he has described as "a real threat to the world." But after meeting Xi at Mar-a-Lago in April, Trump said the Chinese president had convinced him that "it's not so easy." Then this week, after North Korea tested what it said was an intercontinental ballistic missile that experts say could reach Alaska, Trump tweeted:
Trade between China and North Korea grew almost 40% in the first quarter. So much for China working with us - but we had to give it a try!

— Donald J. Trump (@realDonaldTrump) July 5, 2017
Whether or not that figure is reliable, China has more influence on the North Korean leadership than any other nation does. But is that influence is enough to persuade Kim Jong Un, the North Korean leader, to stop testing missiles and nuclear devices?
Chinese experts have long maintained that the West overstates their country's influence over North Korea, especially in the Kim Jog Un era. They acknowledge that China has economic leverage over Pyongyang, but at the same time point out that China is boxed in because its ultimate goal is a stable North Korea—and because any international pressure could lead to instability on the Korean Peninsula, Beijing is reluctant to take forceful action.
"It is difficult to estimate China's influence over Pyongyang," Lu Chao, director of the Border Study Institute at the Liaoning Academy of Social Sciences, a government think tank, told NK News in an interview in 2015. He said that in the era of Kim Jong Il, Kim Jong Un's father, "the two countries followed the practice of notifying each other on serious issues. But the ties are going through a relative low point, and there seems to be no such practice now." In an interview in May with the Globe and Mail, Luo reiterated those comments: "Frankly speaking, we are right now at the lowest point in the relationship between China and North Korea."
Americans who have dealt with Chinese diplomats on North Korea empathize, but say there's no question China still wields enormous influence on the leadership in Pyongyang.
"I think it's a fair statement that China is experiencing a significantly different dynamic with Kim Jong Un than with his predecessor, which should be extremely concerning to all of us, and which I think is legitimately concerning to Beijing as well," said David Pressman, a former U.S. ambassador to the UN for special political affairs during the Obama administration. "I think there was a time when there was more predictability in the relationship between China and North Korea and the leadership of both countries."
But Pressman, who is now partner at Boies Schiller Flexner LLP, added while China has the "ability to influence" North Korea's calculus on its weapons programs, "we're not even seeing a significant effort from Beijing to attempt to do that." He noted that in early 2016, China was willing to adopt strong sanctions against North Korea at the UN, but "proved systematically prepared to look for excuses to not implement and not force the measures, including the measures that they've supported, being implemented."
Indeed, at the time the UN imposed sanctions—which, among other things, prohibited North Korea's sale of coal—China insisted on an exemption that permitted Pyongyang to export coal to facilitate the livelihoods of individual North Koreans.
"What the Chinese then proceeded to do with the livelihood exemption was funnel enormous amounts of coal trade under the guise of this exemption," Pressman said. "So they were prepared to support the political message of banning the export of coal, but they weren't prepared to deliver in practical terms that would actually make the North Korean regime feel some financial pain. And for sanctions to work, obviously that has to happen."
The Chinese continued to exploit this loophole until February of this year when Beijing announced that it was halting coal imports from the North—though it continues to import, in small amounts, other commodities from North Korea.
"Unless North Korea starts a war against China or some other country, China will not cut off all trade," Shi Yinhong, an international relations specialist at People's University in Beijing, told the Associated Press. "Some [economic] activities are not for making money but for political concerns, so the people in Pyongyang will want to listen to us sometimes when we talk."
But Trump has argued the stakes in North Korea are too high for diplomacy as usual. The president, in remarks Thursday in Warsaw, said the U.S. would take "pretty severe" steps to retaliate against the North's latest missile test. It's that possibility—an unstable nation with a nuclear weapon capable of reaching the U.S.—that most concerns U.S. officials, and indeed the nations surrounding North Korea.
"I think Kim Jong Un is dangerous enough and certainly has the instruments of lethality in his possession that threaten international peace and security," Pressman said, "such that … no one is going to be comfortable with this man continuing to possess and threaten the world with nuclear weapons."
Zhang Tuosheng, director at the China Foundation for International and Strategic Studies, said it's not in China's interests for North Korea to become a de facto nuclear state. "It will ... be a disaster for China," he said Thursday at a panel discussion at the Center for Strategic and International Studies (CSIS) in Washington. He said the goal of international diplomacy should be, first, to freeze North Korea's nuclear program and, ultimately, denuclearization of the Korean Peninsula.
"We should strive for the best," he said. "We should prepare for the worst."
Zhu Feng, a professor of international relations at Nanjing University, who also spoke at the CSIS panel, was less sanguine about the prospect of persuading Pyongyang to renounce its nuclear program. He said nuclear weapons were the only way for Kim "to magnify how magnificent he is" to the North Korean people.