What to Make of Trump and Macron's Upcoming Rendezvous in Paris
For all their ideological differences, the two leaders have some surprising similarities.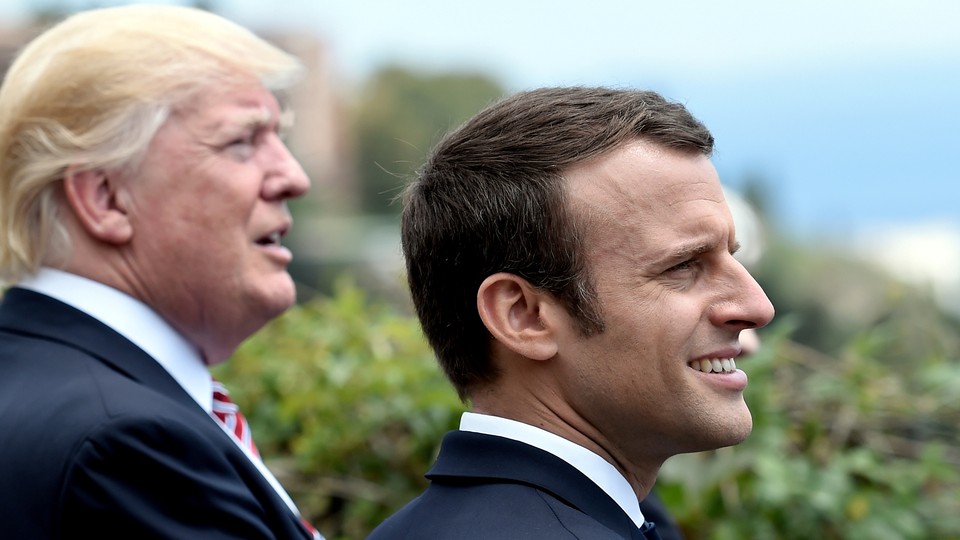 President Trump accepted French President Emmanuel Macron's invitation Wednesday to attend next month's Bastille Day parade in the French capital, less than a month after the leaders' first tense meeting in Brussels.
The parade, which commemorates the storming of the royal fortress during the French Revolution more than 200 years ago, will also celebrate the 100th anniversary of the U.S. entering World War I—an occasion the Élysée Palace said will include American troops marching alongside their French counterparts on the Champs-Élysées. The White House said in a statement that "President Trump looks forward to reaffirming America's strong ties of friendship with France," adding that the visit will provide both leaders an opportunity to discuss counterterrorism, economic partnership, and other issues.
This won't be Trump and Macron's first meeting. Their brief relationship has been tense, beginning last month with a now-infamous handshake at the NATO summit in Brussels (one which Macron later characterized as a "not innocent" exchange to demonstrate that he would not make concessions). Though both men rose to power on seemingly populist platforms—each capitalizing on the anti-establishment attitudes of their respective electorates—the two appear to hold worldviews that are diametrically opposed, with Macron embracing a globalist, pro-European Union platform, while Trump advocates a more protectionist, "America first" agenda.
Indeed, Trump made no secret of his preference for Macron's far-right rival Marine Le Pen (he suggested the National Front candidate would win the French presidential election "because she is the strongest on borders and she is the strongest on what's been going on in France"). Macron, on the other hand, earned the endorsement of President Obama, who praised then-candidate Macron as someone who "appeals to people's hopes and not their fears."
This ideological difference was perhaps best demonstrated earlier this month when Trump announced the U.S.'s withdraw from the Paris Agreement, the most ambitious international agreement to combat climate change to date. The move prompted Macron to issue a response in English defending the accord, which he capped with an appeal to "make our planet great again," in a pointed reference to Trump's campaign slogan.
But for all of Trump and Macron's differences, the Bastille Day invitation could signal the French president's eagerness to engage with his American counterpart on issues of mutual concern. In a phone call Tuesday, both leaders pledged to work together to form a common response in the event of another chemical attack in Syria. And like Trump, Macron pledged during his campaign to be "uncompromising" on terrorism. He also pledged to increase France's defense spending to 2 percent of its GDP—an issue of great importance to Trump, who has long criticized NATO allies for not doing enough to meet the alliance's 2-percent target. "In terms of the fight against terrorism, he has the same drive for efficiency that I do," Macron said of Trump last week in an interview The Guardian.
Though the meeting could present an opportunity for both leaders to find common ground, it won't necessarily calm existing tensions, nor will Macron necessarily shy away from them. During his meeting last month with Russian President Vladimir Putin at the French royal palace at Versailles, Macron took the opportunity to highlight disagreements with his Russian counterpart; while standing alongside Putin during a joint news conference, Macron labeled Moscow's state-run media outlets Russia Today and Sputnik as "propaganda" which he accused of spreading "falsehoods about me and my campaign."
Even if Trump's relationship with Macron improves, the prospects for his relationship with the French people don't look as promising. A Pew Research poll released Tuesday found that only 14 percent of French people have confidence in the American president to do the right thing when it comes to world affairs (84 percent, comparatively, had that confidence in Obama).