What Exactly Is the U.S. Policy on Qatar?
Trump administration officials, including the president, have issued seemingly contradictory statements about the dispute among Arab states.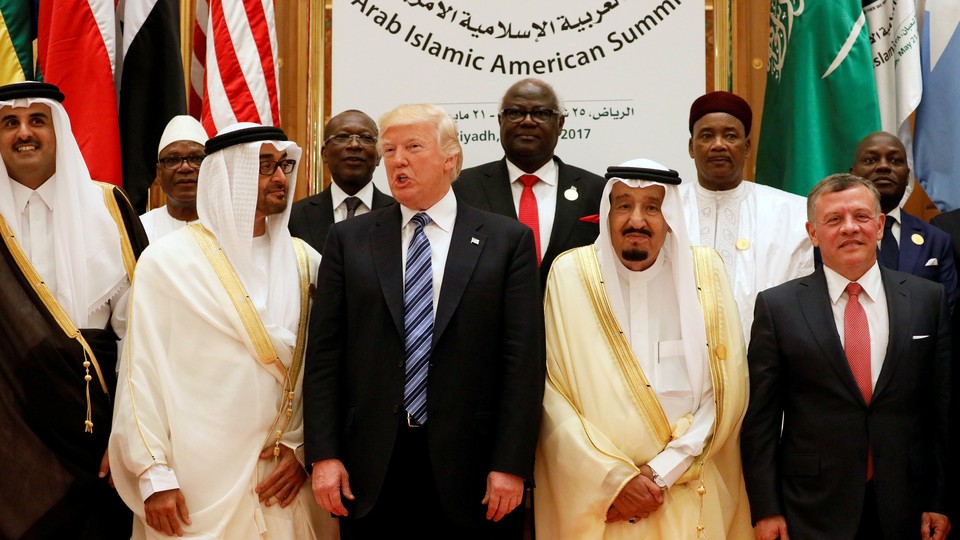 This week six Arab countries—Saudi Arabia, Egypt, Bahrain, the United Arab Emirates, Libya, and Yemen—severed their relations with Qatar over its alleged support of terrorism. The action went further than any previous Arab response to Qatar's alleged support: It included stopping all flights, preventing all travel, and the closure of all borders.
The move, which came after President Trump visited Riyadh in May and called for a united front against ISIS and extremism, could have far-reaching consequences for U.S. alliances in the Middle East, as well as the U.S.-led effort against ISIS in Iraq and Syria. Qatar is home to 11,000 U.S. military personnel stationed at Al Udeid Air Base, the largest U.S. military base in the region. The base has been used to stage attacks against ISIS targets.
Energy-rich Qatar has a regional and global influence that far outweighs its size, partly through Al Jazeera, the Arabic-language channel that is funded by the Qatari government, and partly through its policy of supporting groups, in the words of U.S. Secretary of State Rex Tillerson, "that span the spectrum of political expression from activism to violence." Qatar's Arab neighbors say it supports the Muslim Brotherhood and Hamas, as well as al-Qaeda and ISIS. Qatar, which also has friendly relations with Iran, Saudi Arabia's main regional rival, and Israel, denies it supports terrorism.
Meanwhile the countries in the region are watching the issue carefully. Kuwait's emir has offered to mediate. Qatar, which relies heavily on its land border with Saudi Arabia for food and other essential supplies, is holding talks with Turkey and Iran, and Tehran offered to ship supplies in. Turkey's parliament voted Wednesday to approve sending troops to Qatar in solidarity. Tass, the Russian news agency, reported Qatar's foreign minister would visit Moscow. All of which give the U.S. incentives to want the issue resolved quickly. Indeed, that's how it seemed at the outset.
Immediately after the joint action by the Arab states, Tillerson, speaking in Sydney, said "a growing list of some irritants in the region … have now bubbled up" and urged the countries "to sit down together and address these differences." Those comments were echoed by James Mattis, the U.S. defense secretary, who said "the diplomatic situation, it will probably take some time—I don't know how long—but it will be resolved."  Then on Tuesday came Trump's first tweets on the matter, in which he suggested it was his pressure on Saudi Arabia and others to target the funding of radical Islamic terrorists that brought about the joint action against Qatar.
Here's what happened next, according to The New York Times:
The Qataris were shocked at the contradiction between evenhanded statements from the State Department and Pentagon, and Mr. Trump's Twitter posts castigating the tiny Gulf state. They began asking American officials whether their longtime alliance was in peril.

Mr. Tillerson was forced to try to adjudicate the dispute in phone calls while flying back from a trip to Australia and New Zealand.
Later Tuesday, Sean Spicer, the White House spokesman, said: "The U.S. still wants to see this issue de-escalated and resolved immediately, in keeping with the principles that the president laid out in terms of defeating terror financing and extremism." That night, Trump spoke with Saudi King Salman and, according to the readout of the call, "underscored that a united Gulf Cooperation Council is critical to defeating terrorism and promoting regional stability."  Qatar is a member of the GCC.
On Wednesday, Trump spoke to Qatari Emir Sheikh Tameem Bin Hamad al-Thani and offered to resolve the dispute. The Trump administration appeared to be speaking with one voice on the subject.
Then on Friday, Tillerson, in a televised statement, once again urged the countries involve to resolve their differences. He called on "Saudi Arabia, the United Arab Emirates, Bahrain, and Egypt to ease the blockade against Qatar" and urged Doha to be "responsive to the concerns of its neighbors."  He said Qatar's emir had made progress on the issues raised by his neighbors, "but he must do more and must do it more quickly." He also urged other countries in the region to drop their support of terrorist groups—but did not name any of them.
Less than an hour later, Trump addressed the issue during a joint news conference with the Romanian president.
"The nation of Qatar, unfortunately, has historically been a funder of terrorism at a very high level," he said, adding Arab leaders had spoken to him during his visit "about confronting Qatar over its behavior." Those remarks would suggest the U.S. was aware of the impending action by the Arab states against a country that is home to the largest U.S. military base in the Middle East. Qatar's emir was among the Arab leaders who met with Trump in Riyadh.
"I decided, along with Secretary of State Rex Tillerson, our great generals and military people, the time had come to call on Qatar to end its funding," Trump said. "They have to end that funding, and its extremist ideology in terms of funding."
And once again, in attempting to explain U.S. policy, the U.S. president had made it even less clear.