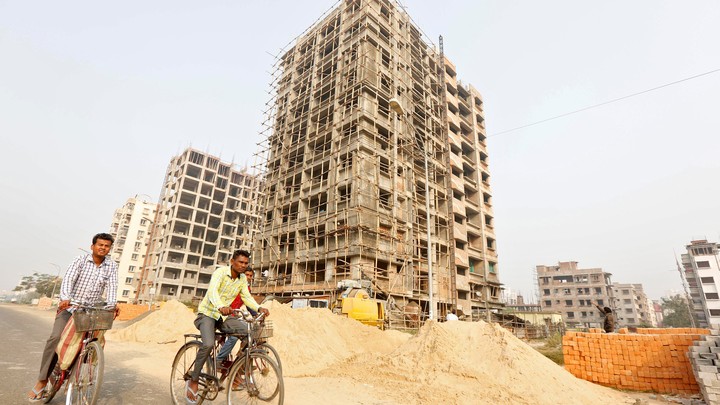 Urban Dreams
Rollo Romig | California Sunday
"The three titans of India at its mo­ment of independence had divergent visions of the country's urban future. Mohandas Gandhi insisted that 'the true Indian civilization is in the Indian villages.' B. R. Ambedkar, champion of Dalits, the so-called untouchables, disdained the Indian village as 'a sink of localism, a den of ignorance' and urged lower-caste Indians to begin anew in cities. Likewise, but in service of his industrial dreams, Jawaharlal Nehru, the republic's first prime minister, endorsed an urban ideal 'unfettered by the traditions of the past.'
Gandhi is losing this argument badly. The consulting firm McKinsey & Company has estimated that at its current rate of urbanization, India will need to build the equivalent of 'a new Chicago every year.' Most of those Chicagos will materialize by expanding already existing cities. A handful will be built from scratch, and Amaravati is one of them. So why this particular Chicago, at this particular time, in this particular place? The short answer is that in 2014, the state of Andhra Pradesh split in two, and the new state, called Telangana, got the capital. So what's left of Andhra Pradesh needs a new capital city ASAP."
* * *
The Arab World Has Never Recovered From the Loss of 1967
Hisham Melhem | Foreign Policy
"Fifty years after the defeat, the brittle world the Arabs built is unraveling in civil wars fought with abandon by cruel men supported by equally cruel foreign and regional marauders. Ancient cities that survived many an invader now lay in ruins in Syria, Iraq, Libya, and Yemen. Schools and hospitals, places of worship, bakeries and pharmacies—all were repeatedly violated by governments and rebels. Millions of bereft souls wandered over large swaths of scorched earth before fleeing their countries, by choice or by force, forming rivers of refugees and spilling over into neighboring lands and then scattering across Europe. A tragic modern version of the 'Middle Passage' has taken place in the Mediterranean, whose deceptively calm waves became the watery graves of many a refugee braving the sea on rickety, overflowing boats operated by greedy seamen, the slave traders of yesteryear. In the second half of the second decade of the 21st century, Arabs—who barely constitute 5 percent of the world's population—burdened the world with more than 50 percent of its refugees."
* * *
Can a New Generation in the Banlieues Change French Politics?
Elisabeth Zerofsky | The New York Times Magazine
"The campaign season in France this spring revolved around the meaning of 'Frenchness,' a perennial question given new urgency by a refugee crisis, terrorist attacks that resulted in the highest number of deaths on French soil since the 1940s, the year-and-a-half-long state of emergency that followed and a generalized economic anxiety. Every week seemed to bring a new polemic about 'mass immigration' (in reality, France granted refugee status to only 26,000 people who applied in 2016, and the total immigrant population has increased only slightly in the last 10 years) or the role of France's Muslims (estimated at less than 6 percent of the population, half of whom are largely secular) in formulating an Islam compatible with the French Republic or the importance of affirming French culture,' whatever that might be. In one way or another, politicians were often talking about the banlieues, which served as a kind of boogeyman, a stand-in for the social currents unsettling France. Bouteghmès, himself a product of these forces and a consummate proponent of French Republicanism, was, like many of the people he represents, an object of much of this discussion if seldom an equal partner in it."
* * *
Blaming the Internet for Terrorism Misses the Point
Emily Dreyfuss | WIRED
"Though the internet helps terrorists communicate (and celebrate their actions), experts agree it does not cause terrorism, or even do much to radicalize. 'The internet is often oversold in terms of radicalization,' says Colin Clarke, a counterterrorism expert at RAND. Despite what you've heard, he says, most conversations among extremists occur face to face.
'Traditionally the way [UK extremist group] Al-Muhajiroun have worked is that most of their radicalization has occurred offline,' says Michael Kenney of the University of Pittsburgh who has extensively studied the Al-Muhajiroun extremist group that one of the London attackers has been reportedly linked to. 'It occurs in small group settings. It's a group of guys. They gather, they talk, they indoctrinate each other,' he says. Expanding online surveillance, eliminating full encryption, and even preventing the spread of violent videos can't eradicate that."
* * *
May's Catastrophic Result Clouds U.K.'s Future
Jörg Schindler | Der Spiegel
"Theresa May couldn't let it go, even on this night that seemed as though it would never end. Nerves jangled and voice trembling, the 60-year-old British prime minister stepped before a group of supporters in Maidenhead, her parliamentary constituency located just outside London. 'At this time, more than anything else, this country needs a period of stability,' she called out. It is, she added, 'incumbent on us to provide that stability.' It was as though she wanted to parody herself one last time.
As the election approached, May had repeated her slogan 'strong and stable' ad nauseam, to the point that it had become little more than the object of ridicule. And even if the final election results were still a long way off as the prime minister spoke in Maidenhead, it had become clear that stability was little more than a pipe dream. Especially when it comes to Theresa May's job."
We want to hear what you think about this article. Submit a letter to the editor or write to letters@theatlantic.com.