Dissecting Duterte and Taxiing in Technicolor: The Week in Global-Affairs Writing
The highlights from seven days of reading about the world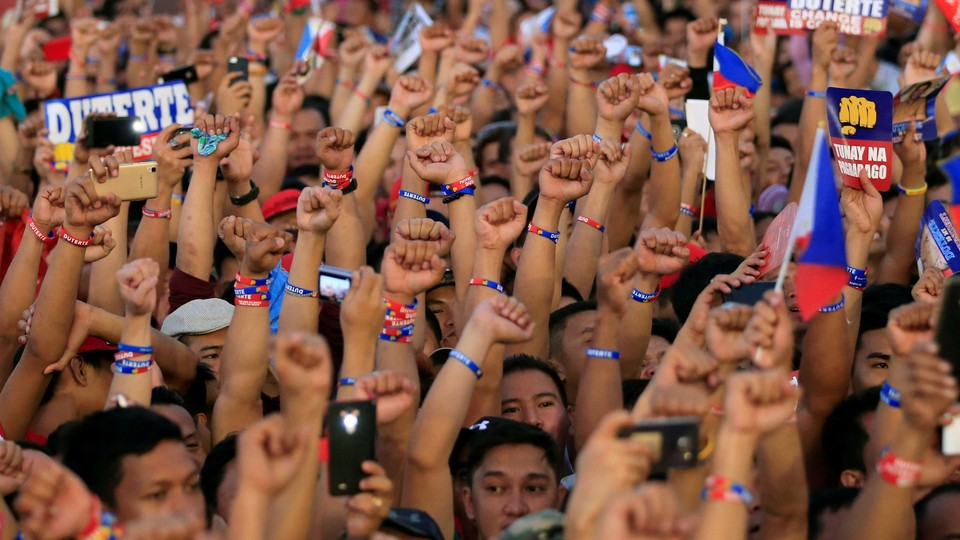 Refugees in Their Own Country
NPR
"Hotel Kartli, as Salakaia's current home is called—even though it hasn't been a hotel for many decades—houses roughly 300 families uprooted by war more than two decades ago.
In 1992, in the chaotic aftermath of the collapse of the Soviet Union, the western region of Abkhazia, a 3,000-square-mile chunk of land along the Black Sea, declared independence from Georgia. Over the next 13 months, battles raged between Georgian and Russian-backed Abkhaz forces, devastating the resort region. Some 300,000 ethnic Georgians, including Salakaia and his family, were forced out of their homes.
Kartli sits on the edges of a man-made reservoir, a 20-minute taxi ride from the bustle of downtown Tbilisi, but feels much farther away. In Tbilisi's city center, commuters jostle their way onto the metro and young people crowd into smoky cafes serving artisanal teas."
* * *
Russia Escalates Spy Games After Years of U.S. Neglect
Ali Watkins | POLITICO
"It's a trend that has led intelligence officials to conclude the Kremlin is waging a quiet effort to map the United States' telecommunications infrastructure, perhaps preparing for an opportunity to disrupt it. 'Half the time they're never confronted,' the official, who declined to be identified discussing intelligence matters, said of the incidents. 'We assume they're mapping our infrastructure.'
As the country—and Washington in particular—borders on near-obsession over whether affiliates of Donald Trump's campaign colluded with the Kremlin to swing the 2016 presidential election, U.S. intelligence officials say Moscow's espionage ground game is growing stronger and more brazen than ever."
* * *
Looking for Right and Wrong in the Philippines
Albert Samaha | BuzzFeed News
"Uncle Pepo supports Rodrigo Duterte, of course. Most Filipinos do.
A year into his presidency, with nearly 8,000 extrajudicial killings linked to his war on drugs, polls showed that around 80% of Filipinos approved of Duterte—this authoritarian strongman executing criminals, cleaning out corruption, cursing like an uncle, joking about rape, reviled by the West yet beloved by his countrymen.
Over my two weeks in the Philippines in April, hitting more than a dozen big and small cities from the northern tip to the southern edge, I spoke to scores of people—vendors, farmers, professors, drivers, politicians, cops, writers, business owners, lawyers, dentists—and nearly all of them, even those who voted against him, said they believe that their president is making the country better."
* * *
In Mumbai, Uber Must Compete with Vibrant Taxi Roofs
Rachel Lopez | PRI's The World
"If you need to take a taxi, cross your fingers. Mumbai's 58,000 metered taxis (or kaali-peelis as the black-and-yellow fleet is affectionately called) are driven by a temperamental species. They refuse short-distance rides. They're picky about out-of-the-way destinations. They're simply grouchy—even on a good day.
But once you've scored a taxi, get in and look up. You'll notice a canvas that holds the most unusual art. Approximately half the city's cabs decorate their ceilings and doors in some kind of colorful plastic or vinyl sheeting."
* * *
What Happens When You Join the Islamic State—Then Change Your Mind
Rachel Weiner | The Washington Post
"As soon as his cab arrived in an Islamic State safe house in December 2015, his lawyers say, Mohamad Khweis realized he had made a huge mistake.
The 27-year-old Fairfax County native fled the group three months later and was captured by Kurdish forces in Iraq. Now, as his trial begins this week in federal court in Alexandria, a jury will weigh whether a mistake of that gravity can be forgiven under terrorism laws.
Khweis, prosecutors say, quite clearly committed the crimes of which he is accused. He knowingly offered himself up as a fighter for a bloodthirsty terrorist group. He conspired with Islamic State facilitators online to do so. And he handled weapons while he was there."