Saudi Arabia's Aggressive New Heir to the Throne
The ascension of Mohammed bin Salman may help entrench a more assertive foreign policy for the kingdom.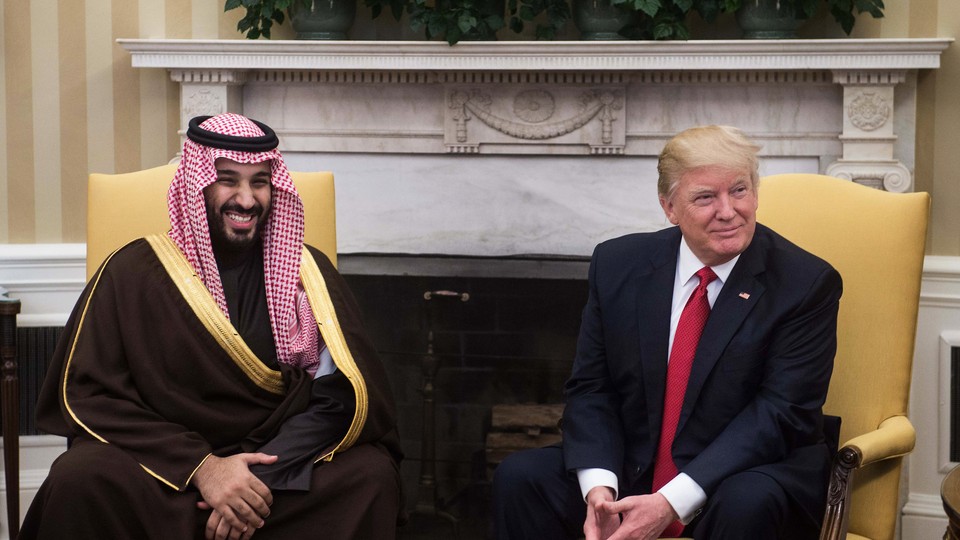 In December 2015, a remarkable memo from Germany's foreign intelligence service was leaked to news outlets. It argued that Saudi Arabia's new leaders were destabilizing the Middle East. The memo said King Salman and his advisers had replaced the kingdom's decades-long, cautious foreign policy with "an impulsive policy of intervention." The Germans singled out the king's favored son, Mohammed bin Salman, who had quickly amassed tremendous power as deputy crown prince and defense minister, in addition to serving as something of an economic czar. The memo warned that the concentration of so much power in the hands of a young, relatively inexperienced prince posed a "latent danger that, in an attempt to establish himself in the royal succession while his father is still alive, he could overreach."
Today, the 81-year-old Salman removed his nephew as crown prince and elevated Mohammed bin Salman as first-in-line to the throne. The brash 31-year-old prince secured his place in the royal succession, and is now virtually assured of becoming king, possibly for decades. Bin Salman's ascent entrenches Saudi Arabia's newly emboldened foreign policy throughout the Middle East—especially its aggressive posture toward its chief regional rival, Iran. The younger Salman has been the major force behind the kingdom's biggest gambles since his father ascended to the throne in January 2015: the Saudi-led war in Yemen; the recent campaign to isolate Qatar; and an overhaul of the Saudi economy intended to wean it off its dependence on oil.
Bin Salman's consolidation of power could mean more conflict and instability in the region—he's dismissed any prospect of negotiating with Iran, saying the Islamic Republic seeks to dominate the Muslim world and displace Saudi Arabia from its traditional role as the guardian of Islam's two holiest cities, Mecca and Medina, where the religion was founded. "We know we are a major target for the Iranian regime," bin Salman told a Saudi TV network last month. "[We] will work so the battle is there in Iran and not in Saudi Arabia."
The prince's elevation also brings the House of Saud—at least Salman's now-dominant branch—closer to the Trump administration. Trump has taken a liking to the young prince, who's also struck up an alliance with Jared Kushner, the president's son-in-law and senior adviser. In March, bin Salman met with Trump at the White House to lay the groundwork for Trump's visit last month to Saudi Arabia, the first stop on his maiden foreign trip. Kushner and bin Salman continued to work out the details for several weeks, ensuring that Trump would get a grandiose reception in Riyadh, where he addressed dozens of Arab and Muslim leaders assembled by the Saudis. In an earlier government shakeup in April, Salman appointed his son, Prince Khalid bin Salman, a fighter pilot believed to be in his late 20s with no political or diplomatic experience, as the Saudi ambassador to the United States. The king's message was clear to Trump, who has also put close relatives in positions of power: There would be a direct line between the House of Saud and the House of Trump.
Once Trump took office, the Saudis had high hopes—and they haven't been disappointed. Trump and his top advisers shifted U.S. policy toward more explicit support for Saudi Arabia and constant criticism of Iran. The Trump administration's anti-Iran rhetoric—and its focus on Tehran as the biggest source of instability in the region—fits well with the newly emboldened Saudi leadership. For decades, the kingdom pursued a largely behind-the-scenes foreign policy that benefited from economic expansion fueled by soaring oil prices. Saudi leaders exerted their power by funding proxies, media outlets, and friendly Arab and Muslim politicians. For example, after Egypt's military-led a coup against the Muslim Brotherhood-dominated government in July 2013, the Saudis provided more than $12 billion to keep the Egyptian economy afloat, and pressed two other Arab monarchies to pledge more aid. In the summer of 2015, WikiLeaks released a trove of leaked Saudi diplomatic cables that showed the kingdom's extensive checkbook diplomacy.
The Saudis largely avoided direct military intervention. But that changed in early 2015, when Salman ascended to the throne after the death of his brother, King Abdullah, who was in power for 20 years. Instead of relying on U.S. military intervention and battling Iran through proxies and economic diplomacy, as his predecessor had done, Salman and his inner circle quickly adopted a more aggressive foreign policy. As oil prices plummeted, he launched a war against Houthi rebels in Yemen after only two months in power. Salman also appointed his then-29-year-old son as deputy crown prince and defense minister to oversee the Yemen campaign. The kingdom's leaders made it clear they were prepared to confront Iran in their growing regional proxy war, which extended through Iraq, Syria, Yemen, Bahrain, and Lebanon. As the German intelligence memo put it: "Saudi Arabia wants to prove that it is ready to take unprecedented military, financial, and political risks in order not to fall into a disadvantageous position in the region."
The result of Riyadh's more bellicose posture? Since launching its war in Yemen in March 2015, the kingdom has been bogged down in a conflict that has killed 10,000 Yemenis and left a quarter of the country's population on the brink of famine. By some estimates, the war is costing Saudi Arabia up to $200 million a day. Despite intensive airstrikes and a blockade, the Saudis and their allies have been unable to dislodge the Houthis from Yemen's capital. But the Saudi leadership—and especially bin Salman, who has staked much of his political pride on directing the Yemen campaign—is reluctant to abandon the war and give Iran a perceived victory.
The Obama administration occasionally criticized Saudi actions in Yemen, but Trump has stayed silent and resumed sales of U.S. munitions to Riyadh that had been blocked by Obama. In Trump, the Saudis see an ally who will not abandon them as they thought Obama did by negotiating the July 2015 nuclear agreement with Iran. Aside from Obama's perceived shift of U.S. policy toward Iran, Saudi leaders also disdained his rhetorical support of the 2011 Arab uprisings and his rebuking of Arab leaders on the need for democratic reforms.
Since taking office, Trump has shown little inclination to criticize the Saudis, despite his vitriol against the kingdom during the presidential campaign. After Trump's visit and his pronouncements to firmly side with Saudi Arabia and its Sunni Arab allies against Iran, Salman and his son became even more emboldened. On June 5, two weeks after Trump's visit, Saudi Arabia and four of its Arab allies severed all diplomatic and economic relations with Qatar, accusing it of financing terrorism; supporting Islamist groups like the Muslim Brotherhood and Hamas; and undermining Arab efforts to isolate Iran. They also imposed a partial blockade, sealing off the peninsula's only land border, with Saudi Arabia, and restricting air travel to and from Qatar.
Like the war in Yemen, the isolation of Qatar is an effort by Salman and his son to subdue a recalcitrant neighbor to fall in line with Saudi policies. With his royal succession now assured, the young prince is likely to take even greater risks.