Russia's Cyberwar Lab and Haiti's Portable Pharmacies: The Week in Global-Affairs Writing
The highlights from seven days of reading about the world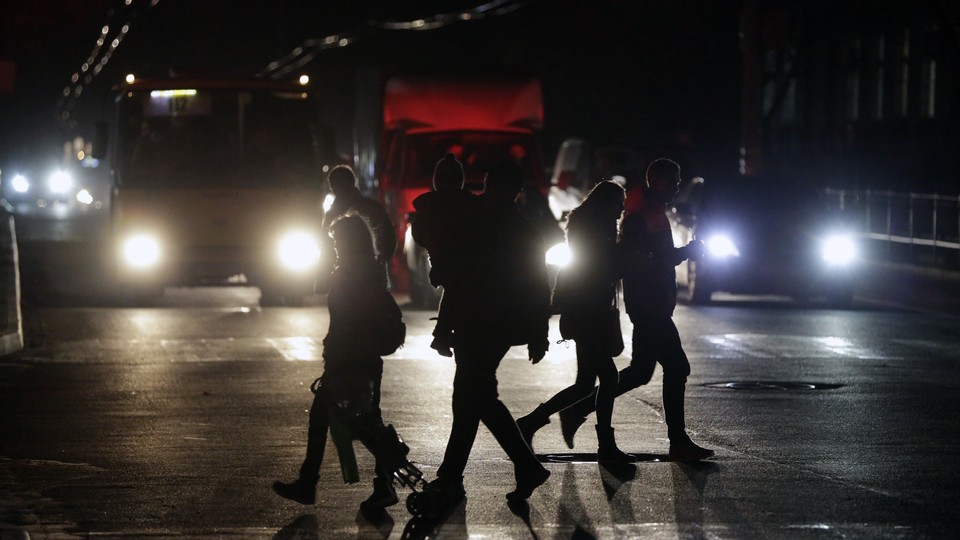 How an Entire Nation Became Russia's Test Lab for Cyberwar
Andy Greenberg | WIRED
"Yushchenko, who ended up serving as Ukraine's president from 2005 to 2010, believes that Russia's tactics, online and off, have one single aim: 'to destabilize the situation in Ukraine, to make its government look incompetent and vulnerable.' He lumps the blackouts and other cyberattacks together with the Russian disinformation flooding Ukraine's media, the terroristic campaigns in the east of the country, and his own poisoning years ago—all underhanded moves aimed at painting Ukraine as a broken nation. 'Russia will never accept Ukraine being a sovereign and independent country,' says Yushchenko, whose face still bears traces of the scars caused by dioxin toxicity. 'Twenty-­five years since the Soviet collapse, Russia is still sick with this imperialistic syndrome.'
But many global cybersecurity analysts have a much larger theory about the endgame of Ukraine's hacking epidemic: They believe Russia is using the country as a cyberwar testing ground—a laboratory for perfecting new forms of global online combat. And the digital explosives that Russia has repeatedly set off in Ukraine are ones it has planted at least once before in the civil infrastructure of the United States."
* * *
Trained to Kill: How Four Boy Soldiers Survived Boko Haram
Sarah A. Topol | New York Times Magazine
"Like many armed groups, Boko Haram uses a variety of methods aimed at changing an abducted child's identity and breaking their bonds to home, making any return to their old life extraordinarily difficult. This is an intellectual and emotional separation that surpasses the physical one. As the group steadily escalates a child's participation in violence, they are resocializing them. Training breaks a child's will, and the first kill is a kind of baptism. Ritual becomes important. Charms and magic reduce guilt. Killing becomes normalized. The more gratuitous the violence—gang rape, ceremonial sacrifice, mutilating, and murdering neighbors or family members—the harder it becomes to contemplate returning home.
'Over time, this strains the children's ability to cope and to stay true to their civilian identity,' says Michael Wessells, a professor in the Program on Forced Migration and Health at Columbia University. 'Many children engage in this strategy of splitting—technically the term would be 'disassociation.'' Disassociation is akin to being torn in half—children see or feel the atrocities they commit like surreal dreams. This allows them to exist in a state somewhere between their previous selves and the reality of their new life."
* * *
Nobel Laureate Svetlana Alexievich on Her Fears for Russia's 'Collective Putin'
Guy Chazan | Financial Times
"Alexievich is reluctant to demonize the president. What worries her more is the 'collective Putin', the deep sense of wounded national pride and contempt for liberal values that now runs so deep in both Russia and Belarus. She says 60 to 70 percent of the population hold such views — and that is a challenge for the beleaguered minority of pro-western liberals to which she belongs. 'To be in conflict with the authorities is one thing. We Russian writers have got used to that,' she says. 'But to be in conflict with your own people—that is truly terrible.'
It is particularly hard for Alexievich because these people are the source and wellspring of her work. Each of her books is a dense tapestry woven from encounters with those caught up in epoch-making events, from the second world war to the Chernobyl nuclear disaster of 1986. She is like a doctor probing the scar tissue of a traumatized nation—a hazardous enterprise in a country that is busy consigning memories of the gulag to oblivion, and whose president once described the collapse of the Soviet Union as the 'greatest geopolitical catastrophe' of the 20th century."
* * *
Where Street Vendors Run Pharmacies Out of Buckets
Arnaud Robert | National Geographic
"Street dispensaries, they say, are the main source of medicine for many Haitians. 'Pharmacists are an endangered species,' explains Lionel Étienne, a local drug importer. 'Medicine is considered an ordinary consumer good.'
The portable pharmacies may look like contemporary art installations or candy store displays, but they can be as dangerous as Russian roulette. The government's lack of oversight allows untrained merchants like Bonord to obtain and sell pharmaceutical products: generic medicines from China, expired pills, counterfeit drugs imported from the Dominican Republic.
The activity is technically illegal, but the laws are rarely enforced by the Ministry of Public Health and Population. So the vendors sell anything they can get their hands on, from abortion pills to Viagra knockoffs. Sometimes they give bad advice to their clients. One seller told a teenager to take powerful antibiotics for his acne."
* * *
Why You Should Still Visit North Korea
Isaac Stone Fish | Roads & Kingdoms
"What, then, are the benefits of Americans visiting? Pyongyang teaches its citizens that Americans are cruel, bloodthirsty creatures who loathe Koreans. Person-to-person contact is perhaps the only 'kind of representation these people get of Americans that is not this cartoonish devil caricature,' said someone who traveled to North Korea on the same tour as Warmbier, and who asked to remain anonymous. 'People would hear that I'm American, feel some sort of awkwardness, and then realize, this is not a devil, but a person.'
Yes, American interactions with North Koreans are incredibly constrained. It's rare for tourists to have a serious conversation with anyone besides their minders and occasionally with a guide at a monument or a museum. Perhaps the most important encounter happens the other way: It humanizes North Koreans in the minds of the Americans who visit. Reading about North Korea in the U.S., one pictures a cartoonishly evil ruler, goose-stepping troops, and a populace consisting entirely of brainwashed automatons. And this dehumanization makes it easier for American policymakers and the American public to overlook the human costs when considering whether to bomb North Korea. The most rewarding part of visiting Pyongyang for me were the cliché glimpses of everyday life: families eating barbecued meat in the park, children giggling, of men in tank tops drinking beer and draping their arms around their friends."