How Russian Journalists Dealt With Fake News
It seems new to the U.S. But the Russians have been dealing with it for years.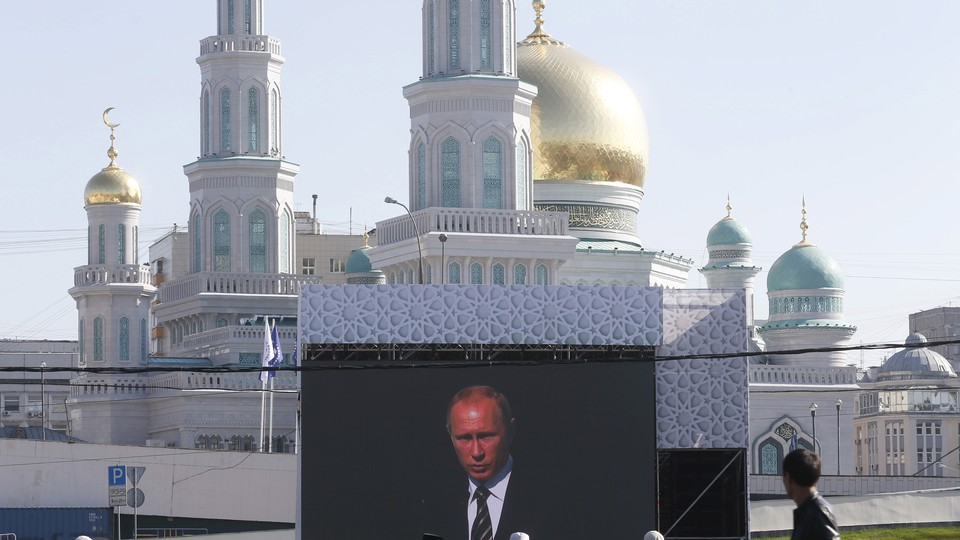 The phenomenon of fake news has become almost trendy in the U.S., but the Russian public and media have experienced it for years.
"We dealt with this when it was not so fashionable," said Galina Timchenko, the executive editor of Meduza, a Russian-language news website based in Latvia. "We have been working with a fake agenda for years."
Timchenko,who was speaking Friday at a session at the Aspen Ideas Festival, which is co-hosted by The Aspen Institute and The Atlantic, traced fake news in post-Soviet Russia to the Yeltsin years. Over time, fake news, combined with an increasingly hostile state attitude toward a free press, has culminated in a media environment with little space for free and independent journalism.
"The Kremlin's idea is, and unfortunately they won, that there is no truth at all," she said. "[That] everybody has his own truth."
This has resulted in a situation where truth is seen as relative, where there is no provable fact, and, from the point of view of a journalist, no so such thing as journalistic objectivity.
Alexey Kovalev, a Russian journalist who was also at the Aspen panel, said he didn't like the term "fake news." It's a problem, he said, but it's not the whole problem.
"Fake news is completely made up pieces of information, concocted with a clear intention to deceive," he said. "It's not so much a problem as genuine news that has no informational value at all: endless repetition of every nonsensical statement."
He said part of the problem in Russia is that few publications can afford full-time fact-checkers. "It's extremely easy to put out anything you want because there will be no one to challenge you," he said. "Very few people will care and speak out publicly."
Russian state TV often broadcast segments of completely fake news—such as stories on Russian military operations against the U.S., he said. These events are then discussed on TV as if they happened. Part of the problem, he said, is that independent media organizations like his are "competing against a state-owned industry funded to the tune of $1.5 billion a year."
"I'll never in my life be able to commit one-tenth" of that, he said.
Indeed, while the mortal dangers faced by Russian reporters have been well chronicled, the country is a difficult space for independent journalists to work in other ways. Timchenko is a case in point. In 2014 she was fired as editor in chief of Lenta, a Russia-based news site, and replaced with a pro-Kremlin editor. Timchenko moved to Latvia, an EU member, where she set up Meduza. She detailed her strategy of dealing with pressure.
"We are pretending that Kremlin's pressure does not exist at all," she said. "Because if you do your job, looking in every place, it is dangerous. ... You have to pretend that this pressure does not exist at all."
Timchenko says one way to deal with Russian authorities is to "laugh at them," pointing to regular columns that mock the often inane statements issued by the Kremlin and others in the Russian government.
Kovalev, who still works in Russia, was less sanguine. Russian media, in general, and its propaganda arms like RT, he said, repeat a well-tuned message.
That message: "Russia and its client states are never to blame for anything. The collective West ... is to blame for everything. And if there's incontrovertible evidence that Russia is indeed to blame for something, let's please look the other way because there's Guantanamo, and there are human rights abuses in Saudi Arabia, etc. etc."
Eventually, Timchenko said, both the public and the media buy that message.
"After 10 years dealing with such an agenda," she said, "I see this is the view of many, many journalists and editors."