Protests in Russia and the Tragedy of the Trump Dossier: The Week in Global-Affairs Writing
The highlights from seven days of reading about the world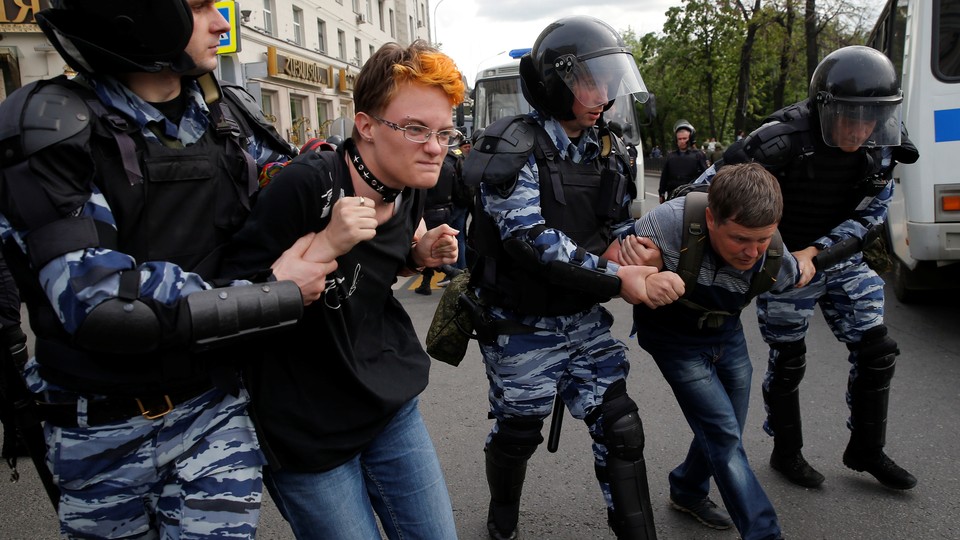 The New Face of Russian Resistance
Masha Gessen | The New York Review of Books
"There is a feverish tone to Russian blog posts in the aftermath of Monday's protests, a sense of hope struggling to defy fear. Without a doubt, Monday's protests—often in open defiance of Russian authorities, who in many cities refused to give permits to hold them—were the most geographically widespread in all of Russian history: eight people, including five minors, were detained in the sleepy southern resort town of Yeysk (population 88,000), and nine people were detained five thousand miles across the country, in Blagoveshchensk, on the border with China. In all, more than 1,700 people were thrown in jail—nearly half of them in Moscow—the single largest wave of arrests in many decades. In Moscow, some of the detainees had to spend the night on benches in a police courtyard because there was no room for them inside the precinct. On the other hand, this means that enough people took to the streets on Monday to make that many arrests possible. Most of the detainees were released within hours; many were sentenced to fines and between five and thirty days behind bars; a few will certainly face several years in a prison colony. This is how post-totalitarian terror works—by punishing a randomly chosen few to frighten the many. What is giving some Russians hope is that a new generation of people who are not yet frightened seems to have burst onto the scene."
* * *
How the U.S. Triggered a Massacre in Mexico
Ginger Thompson | ProPublica and National Geographic
"In March 2011 gunmen from the Zetas cartel, one of the most violent drug trafficking organizations in the world, swept through Allende and nearby towns like a flash flood, demolishing homes and businesses and kidnapping and killing dozens, possibly hundreds, of men, women and children.
The destruction and disappearances went on in fits and starts for weeks. Only a few of the victims' relatives—mostly those who didn't live in Allende or had fled—dared to seek help. 'I would like to make clear that Allende looks like a war zone,' reads one missing person report. 'Most people who I questioned about my relatives responded that I shouldn't go on looking for them because outsiders were not wanted, and were disappeared.'
But unlike most places in Mexico that have been ravaged by the drug war, what happened in Allende didn't have its origins in Mexico. It began in the United States, when the Drug Enforcement Administration scored an unexpected coup. An agent persuaded a high-level Zetas operative to hand over the trackable cellphone identification numbers for two of the cartel's most wanted kingpins, Miguel Ángel Treviño and his ​brother Omar."
* * *
The 'Trump Dossier,' or How Russia Helped America Break Itself
Mark Galeotti | Tablet Magazine
"The real tragedy, from the Western standpoint, is that a passion for conspiracy theory and polarizing positions can very quickly acquire its own momentum. Most of those currently ripping America apart are Americans, who are doing so because they believe it is their patriotic duty to stand up to Moscow. Others are Trump supporters who are enraged by what they see as a conspiracy to smear their hero and weaken America. They are both right—and they are both missing the larger point of the campaign in which they serve as unwitting agents of influence. The damage they inflict on each other, and on American political and state institutions, is precisely what the Kremlin wants: a self-sustaining process that erodes the country's democratic legitimacy and reduces the scope for compromise and consensus, even without another single Russian hack, leak, or disinformation operation.
At the same time, the Kremlin is also realizing it should have been more careful in what it wished for. It is tempting to assume the Russians are now sitting back, eating popcorn, and watching the unfolding drama in America with glee. And yet, truth be told, they are worried."
* * *
Long Before it Lost Turf, ISIS Was Already Targeting Britain
Rukmini Callimachi and Laure Fourquet | The New York Times
"From a publicity standpoint, the attacks in Britain and Iran are a lift to the Islamic State as it loses ground steadily in Syria, Iraq and Libya. Some analysts have interpreted the strikes as a bid by the group to demonstrate its resilience, even as its territory-holding caliphate slowly disappears.
But a review of court records and statements by officials suggests that the violence in London and Tehran was more than just a message. It reflected persistent efforts by the Islamic State since its rise in 2014 to hit targets once thought unassailable—especially in Britain. During this period, officials there intercepted and foiled more than a dozen plots, including five in the past three months."
* * *
A Joke in Very Poor Taste
Daniel Finn | London Review of Books Blog
"The text of the Good Friday Agreement explicitly referred to the Irish and British states as 'partners in the European Union', and tacitly assumed that questions of sovereignty would get hazier as European integration progressed; anyone born in Northern Ireland is entitled to an Irish passport, and the only sign of the border in recent years has been the text message from your mobile phone company when the train goes past Dundalk. The prospect of a harder-edged approach to national identity after Brexit seemed to delight the DUP leadership. The party is adamantly opposed to any special status for Northern Ireland when its departure from the EU is finalized—although with an eye to farming interests, it also wants to keep trade flowing across the border. Squaring that circle will be a key issue in the negotiations to come."