How Will the London Attacks Affect the U.K. Elections?
Both Prime Minister Theresa May and Labour leader Jeremy Corbyn have been accused of politicizing recent attacks.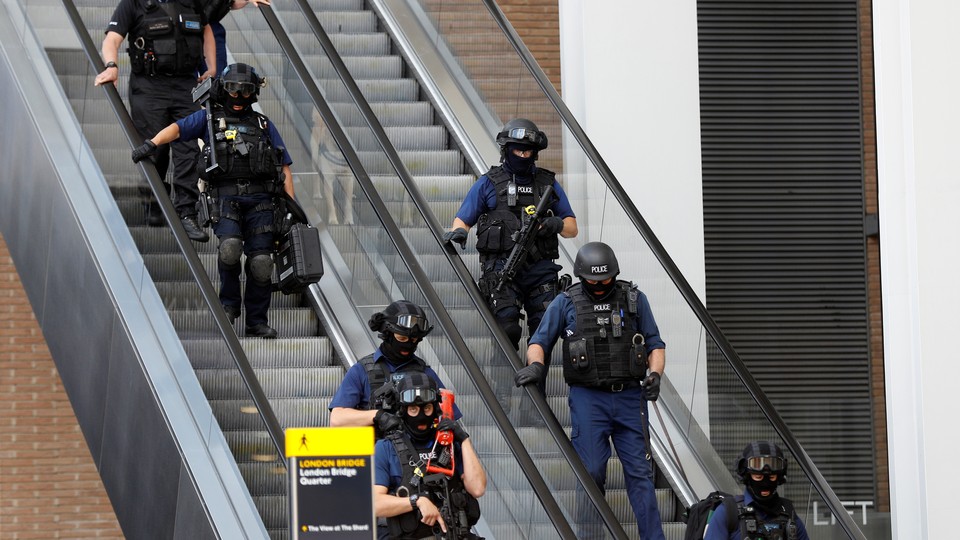 U.K. Prime Minister Theresa May's assertion after Saturday night's terrorist attack in London that there is "far too much tolerance of extremism in our country" comes less than a week before the June 8 general elections.
Terrorism was on the minds of the British public even before Saturday night's attacks. This is the third such attack in the U.K. in 2017. Two weeks ago, a bomber detonated a device outside the Manchester Arena following a concert by Ariana Grande. In March, a man drove a car into pedestrians on London's Westminster Bridge, killing four people and then stabbing a police officer to death. According to a recent poll, terrorism was the Number 2 issue Britons worried about (after healthcare and before immigration).
The issue is likely to weigh on the minds of voters ahead of the elections: May, who hopes to continue as prime minister, said Sunday that "in light of what we are learning about the changing threat, we need to review Britain's counter-terrorism strategy to make sure the police and security services have all the powers they need. And if we need to increase the length of custodial sentences for terrorism-related offenses, even apparently less serious offenses, that is what we will do." Jeremy Corbyn, the Labour Party leader, said: "I ... hope we reflect on the need to have sufficient police officers on our streets but also sufficient intelligence to look at the terrorist threat but in response, as in Manchester, all communities must come together."
As I wrote in the aftermath of a terrorist attack in Paris in April, three days before that country held presidential elections, research suggests that the impact of terrorism on electoral outcomes isn't straightforward. Political scientists have found that, in general, terrorism can increase support for conservative candidates, like May, more than it does liberal ones, like Corbyn. But there is little data for an election conducted in the immediate aftermath of a terrorist attack. Indeed, in France, the centrist candidate, Emmanuel Macron, defeated Marine Le Pen, the far-right candidate, with a larger vote share than expected (though Le Pen captured more votes than her party ever has). Similarly, Socialists won in Spain after the 2004 Madrid bombing, though their defeat of the ruling conservative Popular Party could be attributed to other factors, as political scientists Ignacio Lago and Jose Ramon Montero wrote.
Will Saturday's London attacks, as well as the terrorism in Manchester and on Westminster Bridge, affect the outcome of the June 8 election?
As recently as last month, May's Conservatives had led Labour by more than 20 percentage points in the polls, but that lead has been slowly shrinking, and more people disapprove than approve of the prime minister's performance for the first time during her leadership. May, in her remarks, said the U.K. must destroy terrorism in its safe spaces—both online and in the real world. "Yes, that means taking military action to destroy ISIS in Iraq and Syria," she said. "But it also means taking action here at home." Commentators have accused her of politicizing the attack ahead of the election, with many noting that she was home secretary in David Cameron's Cabinet and oversaw drastic cuts in police personnel and budgets.
Corbyn, has in the past, been criticized for being soft on terrorism (he once said he favors talks with his "friends" in Hamas and Hezbollah). He was accused after the Manchester attack of politicizing terrorism when in remarks he pointed out the police cuts made when May was home secretary. Under a Labour government, he said, "there will be more police on the streets." Corbyn also linked U.K. involvement in foreign wars with terrorism at home. "That assessment in no way reduces the guilt of those who attack our children," he said, adding: "But we must be brave enough to admit the war on terror is simply not working. We need a smarter way to reduce the threat from countries that nurture terrorists and generate terrorism." That's a view that polls suggest resonates with a majority of Britons, both on the left and the right.
Where will the U.K. public, already worried about a future without EU membership, the fate of the National Health Service, the rise of extremism, and the growth of inequality, place the recent terrorist attacks when they vote June 8? The clues will emerge in the days to come.