A Brief History of Trump's Feud With Sadiq Khan
It spans 18 months, an op-ed, several interviews and, of course, Twitter.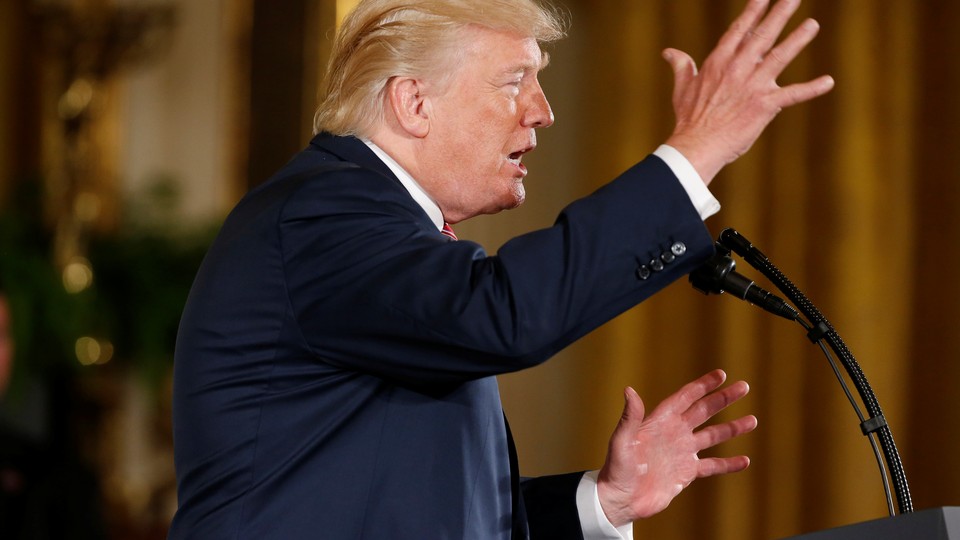 If it seemed strange for the president of the United States to engage in a Twitter spat with the mayor of London—a city that on Saturday night experienced the U.K.'s third terrorist attack this year—the feud did at least have a historical context. In fact, President Trump and London Mayor Sadiq Khan have been bickering in public since about a year and a half ago. Their feud can be traced to Trump's call as a presidential candidate, following the attacks in Paris in November 2015, for a ban on Muslims from entering the U.S. A month later, following the attack in San Bernardino, California, Trump called for a "total and complete shutdown" of Muslims entering the country.
In May 2016, Sadiq Khan became London's first Muslim mayor. Writing in the Observer that same month, Khan, the son of Pakistani immigrants to the U.K., accused David Cameron, then the prime minister, and Zac Goldsmith, Khan's Conservative rival in the often-nasty mayoral race, of employing tactics "straight out of the Donald Trump playbook"—a reference to his rival's attempt to paint him as an extremist.
When asked by Time on May 9 after winning the mayoral race, "What's your view on a potential Trump presidency given his remarks on Muslims?" Khan replied:
Clearly [I'll visit] before January in case Donald Trump wins ... I want to go to America to meet with and engage with American mayors. If Donald Trump becomes the President, I'll be stopped from going there by virtue of my faith, which means I can't engage with American mayors and swap ideas.
That same day, The New York Times asked Trump, at the time still a presidential candidate, what he thought of Khan's victory. Trump said he was "happy" that London had elected its first Muslim mayor, and said "there will always be exceptions" to his proposed travel ban on Muslims. Trump also said Khan's victory was a "very good thing … because I think if he does a great job, it will really—you lead by example, always lead by example. If he does a good job and frankly if he does a great job, that would be a terrific thing."
On May 10, the BBC asked Khan what he thought Trump's remarks that he would be an "exception" to the proposed ban. He replied: "I think Donald Trump has ignorant views about Islam. It's not just about me. … It's about my friends, family, and others, from all around the world … and my concern is he's playing into the hands of extremists who say it's not compatible to be Western and mainstream Muslim."
And, as if to reinforce his rejection of Trump, Khan added he was supporting Hillary Clinton. "I hope that she trounces him," he said. (Trump ultimately defeated her in last November's presidential election.) But when asked whether he would do business with Trump, Khan replied: "I'm the mayor of London. … As the mayor of London, I'll speak, within reason, to anybody if it's in the best interests of our country."
Six days later, Trump attacked Khan, saying it was the London mayor who was "ignorant," and challenged Khan to an "IQ test."
"He doesn't know me, hasn't met me, doesn't know what I'm all about," Trump said on May 16. "I think they were very rude statements and, frankly, tell him I will remember those statements. They are very nasty statements."
Fast-forward to March of this year, and it was Donald Trump, Jr., the president's son, who criticized Khan in the aftermath of the deadly terrorist attack in the British capital. Trump, Jr., tweeted "You have to be kidding me?!" linking to an article in the Independent that quoted remarks Khan made to the Evening Standard. In those remarks, the London mayor said the threat of terrorism had become "part and parcel of living in a great global city. You've got to be prepared for these things. We've got to be vigilant. We've got to support the police. They're doing an incredibly hard job. You've got to support the security services." Trump, Jr., appeared not to have read the remarks completely.
Then came the latest chapter in the feud. After Saturday's attack in London, Khan said: "Londoners will see an increased police presence today and over the course of the next few days. "There's no reason to be alarmed." Trump responded on Twitter:
At least 7 dead and 48 wounded in terror attack and Mayor of London says there is "no reason to be alarmed!"

— Donald J. Trump (@realDonaldTrump) June 4, 2017

noted: "Trump apparently interpreted the reference to increased security as a reference to the attack itself."
When Khan was asked for a response, a spokesperson said: "He has more important things to do than respond to Donald Trump's ill-informed tweet that deliberately takes out of context his remarks urging Londoners not to be alarmed when they saw more police―including armed officers―on the streets."
Trump reiterated his criticism Monday, accusing Khan of having to "think fast" and the media of "working hard to sell it." Khan led a vigil in London for the victims of the attack. He did not mention Trump, but he later told the BBC: "We aren't going to allow anybody , whether it's Donald Trump or anybody else, to divide our community."
Chances are we haven't heard the last of the feud between the American president and the London mayor. It might seem unusual for the leader of a country to engage in such a public dispute with a man who is, in essence, a locally elected official—albeit one who is very popular nationally—but as Trump himself said of Khan's remarks last year: "[T]ell him I will remember those statements." He did. It seems likely he will again.