Which Christians Is Trump Willing to Protect?
The president promised to save them from persecution in the Middle East, but in Detroit, some Iraqis are being rounded up for potential deportation.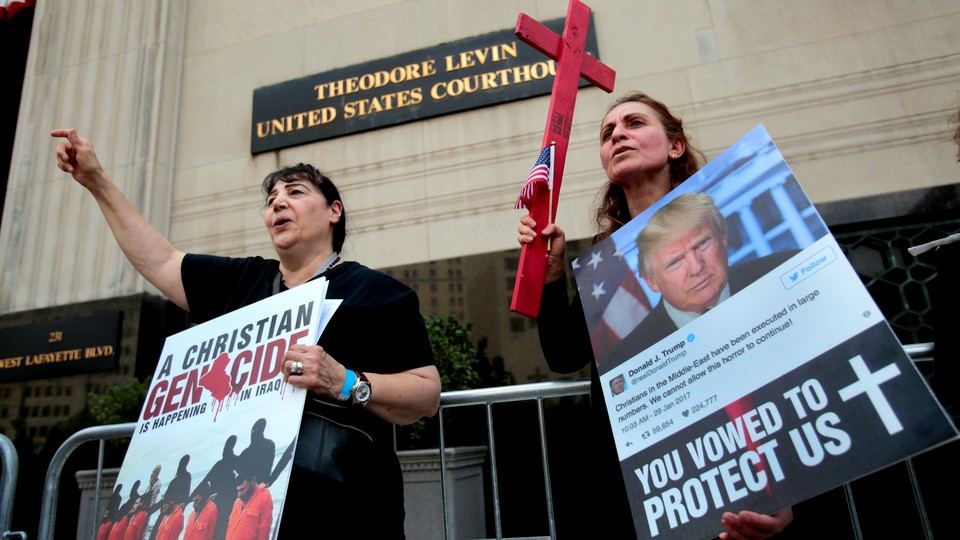 On Sunday, June 11, when some Iraqi Christians were on their way to church, Detroit's Immigration and Customs Enforcement office arrested dozens. More were arrested on their way home from church. Torn from children and families, they were sent to various detention centers, most going to a facility in Youngstown, Ohio. They are now facing deportation to Iraq.
President Donald Trump and Vice President Mike Pence promised earlier this year to prioritize protecting Christians from persecution in the Middle East. In a speech in May, Pence said that "protecting religious freedom is a foreign-policy priority of the Trump administration" and that the persecution of Christians around the world was "of enormous importance." He also declared that the administration would be "reaffirming America's role as a beacon of hope and life and liberty" and that "America was and is and ever will be a shining city on a hill."
It was a sermon-like speech brimming with allusions to Christian scripture and with explicit vows to help "followers of Christ." And yet, by rounding up these followers within that "shining city," the Trump administration is now sending the very people it pledged to save—Middle Eastern Christians—back into the hands of their persecutors.
Families and advocates fear this is a "death sentence" for loved ones because Christians are a minority group in Iraq and face likely persecution or torture there. On Monday, a federal judge ordered a nationwide temporary stay for the 199 detainees, who can legally fight their deportation for two more weeks.
Also on Monday, the Supreme Court partially reinstated Trump's travel ban. Iraq was originally one of seven Muslim-majority countries whose residents were banned from entering the United States, but after negotiating with the U.S., Iraq won an exemption. Unfortunately for Iraqi Christians, this victory appears to have come at their expense by prompting Iraq to take some of them back. "As a result of recent negotiations between the U.S. and Iraq, Iraq has recently agreed to accept a number of Iraqi nationals subject to orders of removal," ICE said in a statement.
"The operation in this region was specifically conducted to address the very real public safety threat represented by the criminal aliens arrested," said Rebecca Adducci, the field office director for ICE Enforcement and Removal Operations in Detroit. "The vast majority of those arrested in the Detroit metropolitan area have very serious felony convictions, multiple felony convictions in many cases."
The weekend's arrests sparked major protests in Detroit outside of the Federal Building and at Chaldean churches. The Chaldean Community Foundation has been preparing ways to halt or slow the process until conditions improve in Iraq, something CCF president Martin Manna says is "highly unlikely."
"This is of great concern for the community," Manna told me. "It isn't your typical deportation scenario—this is a community with a [threat of] genocide [leveled] against them. It's been an ongoing persecution."
Some of the Iraqi Christians being detained are former refugees who have lived in the U.S. for many years. Other Iraqi Christians living in the U.S. are refugees who escaped from Iraq more recently, under threat of genocide and torture at the hands of ISIS. Both the Obama and Trump administrations declared the latter individuals victims of genocide. Metro Detroit's Iraqi Christian population is the largest in the world outside of Iraq and is one of the hardest hit by ICE raids on the religious community.
Iraqi Christians are one of the oldest Christian communities in existence, with most belonging to the Chaldean Catholic Church. They've long been subject to persecution as non-Muslims in Iraq. In 1987 there were more than 1.4 million Christians in Iraq (about six percent of the population). In August 2014, there were about 500,000 Christians, but only 300,000 remained following an ISIS "cleansing." As of last year, the number fell to an estimated 250,000. Canon Andrew White, called "the Vicar of Baghdad," said, "The time has come where it is over, no Christians will be left."
Justin Hanna, a Michigan attorney representing Iraqi Christian detainees, said that sending these individuals back to Iraq violates the United Nations Convention Against Torture, and that emergency motions have been filed on their behalf to reopen their cases to prevent them from being deported. Motions have also been filed to stay their cases so they're not deported in the meantime.
"The Convention Against Torture … it's not optional, it's mandatory that the U.S. does not send or deport an individual back to a country where there is likelihood that they will be tortured or persecuted," Hanna said.
The U.S. government argues that conditions have improved in Iraq and that there isn't likelihood of either torture or persecution. But Hanna insisted that even though ISIS has been losing territory in Iraq, conditions will still be dangerous for the detainees: "There's still likelihood that these people will be persecuted and tortured to the extent that they're minority Christians and that they'll be seen as supporting Western governments and having been Westernized to the point where the people that live in Iraq would persecute them."
Many detainees came to the U.S. when they were young, and are well into their 50s and 60s now. In some cases, they've lived in the U.S. for up to 50 years. "A lot of these people don't speak the [Arabic] language anymore, or never did," said Hanna. Although Arabic is the majority language of Iraq, it is not a native tongue for some minority groups.
Take 57-year-old Laith Francis, for instance, who left Iraq with his family when he was just four years old. On June 11, he was taken from his home in Walled Lake, Michigan, by two ICE agents who said he was being brought in for routine questioning. Instead, they pulled over on the side of the road and handcuffed him. Francis now waits in the Youngstown detention center, where he's allowed two phone calls a day.
Laith was charged with possession in 1991, a crime for which he was convicted and served time. Lawyers and family members believe that his orders for deportation have been in place for years, as have orders for many of those currently being detained by ICE. The orders previously did not go through because it was deemed too unsafe to send individuals back to Iraq, but they are going through now that the Trump administration deems the country safe enough.
"Our whole family is very hurt," said his sister Joanne Francis, who hasn't heard from her brother in several days. "Everybody is praying that they let him out. This was unexpected."
Just two months ago, Laith had major surgery and is still recovering. His sister was taking care of him up until his arrest. Laith was the only member of their family who did not get U.S. citizenship, and Joanne fears for his future.
"Laith has a cross tattoo on his arm and doesn't speak Arabic," she said. "Iraq is the last place he should be. He'll be tortured and killed."
Like Laith, many other detainees—notably those who came to the U.S. as children with their families and built their lives in America—don't have family, friends or contacts in Iraq. Without a sponsor or connection, they wouldn't be able to seek refuge in northern Iraq, and would instead get stuck in Baghdad, where they'd likely be persecuted, according to Hanna. The attorney added that the village where many of Detroit's Iraqi Christians originate from—Tel Keyf, also known as Tel Keppe—now has zero inhabitants, due to ISIS activity.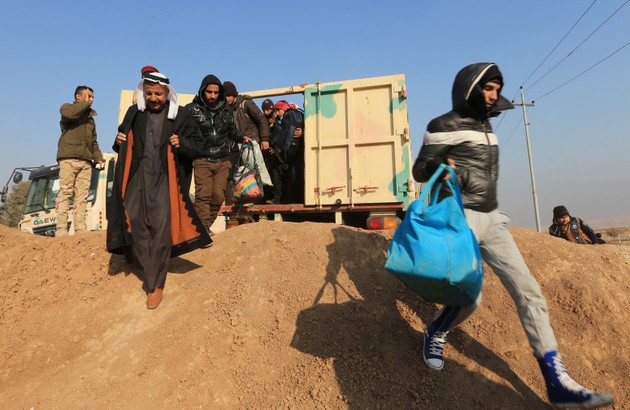 One detainee Hanna's firm represents has a niece with blood cancer. The detainee is her bone marrow donor. "She's already had two bone marrow transfusions and should she need another, there's no other match," Hanna told me.
This detainee was originally held in a facility in Monroe, close to Detroit, and was subsequently moved to Louisiana and then to Arizona. "We don't understand why they're moving him. They're claiming there's not enough space in Michigan," Hanna said. Detainees are being shuffled around. "I could get on a plane and fly to Arizona tomorrow to have my client sign documents with the court," Hanna continued, "but I could get there and he might not even be there and I wouldn't know."
Khaalid Walls, a spokesperson for the ICE Detroit Field Office, wrote in an email that "an overwhelming majority" of the 199 Iraqi nationals arrested nationwide had criminal convictions for crimes including homicide, rape, aggravated assault, kidnapping, burglary, and other offenses.
The statement from Walls noted that the agency "focuses its enforcement resources on individuals who pose a threat to national security, public safety, and border security."
According to Hanna, however, roughly 85 percent of detainees committed nonviolent crimes. They are people who entered the country legally, but lost their legal status due to criminal activity—something for which they've already been punished.
"These people have paid their dues to society through probation or jail time," he said. "They've paid those consequences, and now they're being criminalized again 10, 20, 30 years later after they've been members of the community."