The Fall of a Foreign-Affairs Reporter
The Wall Street Journal has fired Jay Solomon for becoming involved with an arms dealer, but reporters have often been unable to resist getting their hands dirty with the topics they cover.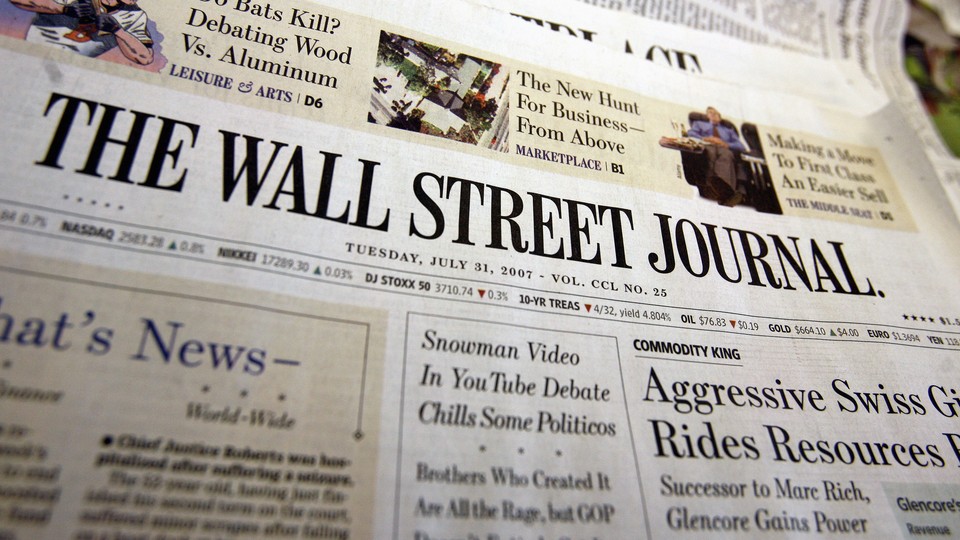 Clarified on June 23, 2017
Journalism scandals are all too common: Reporters are as fallible as the practitioners of any other profession, and because the press loves to cover itself, such stories receive great attention. But typically they're of the garden variety—plagiarism, dishonesty, fabrication.
The story of Jay Solomon is in an entirely different league. Solomon, until Wednesday The Wall Street Journal's chief foreign-affairs correspondent, apparently considered becoming involved in business deals with a source who has worked for the CIA—and in particular, Solomon was asked to take a proposal for hundreds of millions of dollars to the government of the United Arab Emirates, according to the Associated Press. He was offered a 10 percent stake in Denx, a company owned by the Iranian-born mogul Farhad Azima, the AP reports, though there's no evidence Solomon ever took it.
Azima was also involved in a plan to help stage a coup in Kuwait, the AP reported on Tuesday.
The Journal fired Solomon on Wednesday. The reporter apologized.
"I clearly made mistakes in my reporting and entered into a world I didn't understand." Solomon told the AP. "I never entered into any business with Farhad Azima, nor did I ever intend to. But I understand why the emails and the conversations I had with Mr. Azima may look like I was involved in some seriously troubling activities. I apologize to my bosses and colleagues at the Journal, who were nothing but great to me."
The correspondence quoted by the AP doesn't offer any evidence Solomon ever did receive money. Some of his conversations resemble those of a journalist trying to butter up a source, without firmly committing to any specific action. But elements of them appear to clearly cross ethical lines.
In an April 2015 email, Azima wrote to Solomon about a proposal for a $725 million air-operations, surveillance and reconnaissance support contract with the United Arab Emirates that would allow planes to spy on activity inside nearby Iran. Solomon was supposed to ferry the proposal to UAE government representatives at a lunch the following day, the email said.
"We all wish best of luck to Jay on his first defense sale," Azima wrote to Solomon and two ex-CIA employees, one of whom—in a cinematic flourish—sometimes went by the alias "The Vicar." In another case, Solomon texted Azima, "Our business opportunities are so promising."
The news stunned reporters at U.S. organizations, who frantically traded rumors and surprise on Slack and Gchat, and for good reason. Not only was Solomon a well-regarded reporter at a major newspaper, but it's a clear breach of ethics for a journalist to become involved in arms deals or attempt to interfere in foreign relations through subterfuge.
Which is not to say that it doesn't happen. In fact, there's a long, if not especially glorious, tradition of it. For as long as journalists have covered foreign affairs, they've felt the pull of getting involved in the conflicts themselves, whether to earn a little extra cash, to satisfy their own ambitions of grandeur, or as a method of covering up other work.
Throughout his military career in the 1890s, for example Winston Churchill frequently worked as a war correspondent, writing dispatches for British papers about the very campaigns in which he participated as a soldier. (This was not uncommon in the era; The Atlantic employed Theodore Winthrop, a Union soldier, to write on the Civil War until his death in battle at Big Bethel in June 1861.) When Churchill quipped that "history will be kind to me for I intend to write it," he may have been referring to his book-length works, but he'd also worked to shape "the first rough draft of history."
The British press has historically been a magnet for such conflicts of interest. The recently deceased historian Alistair Horne worked in intelligence during World War II, then went into journalism at The Daily Telegraph after Hitler's defeat. Soon he picked up a second job:
The following year he was approached by his old boss Maurice Oldfield, who wanted him to run three agents for MI6, all of whom worked in sensitive posts in various Bonn ministries.

"I said I thought the Telegraph wouldn't be too pleased about me being a spy," Horne recalled, "but Maurice said they'd have a word with the foreign editor, who'd been a wartime intelligence officer himself, and there wouldn't be a problem."

For a couple of years Horne was busily employed filing copy to the paper while transporting secret West German government documents to his MI6 handlers in a suitcase with a false bottom.
But when Horne offended his bosses by refusing to run a personal errand for the wife of the paper's owner—checking a train schedule—he was sacked and forced to return to Britain, thus ending his intelligence career as well.
Another post-war British journalist was Kim Philby, who used work for various U.K. outlets as a cover for working for MI6. In fact, that was not the only cover: Philby was working as a double agent, spying for the Soviet Union. Philby eventually escaped to Moscow, bringing with him his wife, Eleanor, whom he'd stolen away from New York Times Beirut correspondent Sam Pope Brewer, and his step-daughter.
The thriller writer Frederick Forsyth said in 2015 that he had worked as a spy for MI5 while also working as a journalist in Africa in the 1960s.
U.S. journalists were perhaps only slightly purer. The powerful columnists Joe and Stewart Alsop effectively did the CIA's bidding on many occasions during their long career, though Joe Alsop insisted their motivation was not money but patriotism.
"I was closer to the Agency than Stew was, though Stew was very close. I dare say he did perform some tasks—he just did the correct thing as an American," he told Carl Bernstein in 1977. "I never received a dollar, I never signed a secrecy agreement. I didn't have to.... I've done things for them when I thought they were the right thing to do. I call it doing my duty as a citizen."
The longtime New York Times foreign-affairs correspondent C.L. Sulzberger, a member of the family that controls the newspaper, was also an CIA asset, Bernstein reported. (Sulzberger and the Times denied it.)
Has that practice stopped? It depends whom you believe. Journalists are sometime easily manipulated by intelligence sources (just ask former New York Times reporter Judith Miller), but wittingly working for the U.S. government, or any other, has become anathema. (Some conservatives criticize U.S. journalists for withholding information from the government, in fact.) In the U.K., the picture is less clear. As recently as 2000, the longtime Guardian investigative journalist David Leigh was complaining, "British journalists—and British journals—are being manipulated by the secret intelligence agencies, and I think we ought to try and put a stop to it."
One can meddle in domestic affairs as well. In 2004, USA Today revealed that conservative radio host Armstrong Williams had received $240,000 from the Bush administration to boost the No Child Left Behind policy on his show, in what critics called a violation of anti-propaganda laws. (More recently, Williams emerged as Svengali to presidential candidate and current Secretary of Housing and Urban Development Ben Carson.)
In 2010, the Indian television journalist Barkha Dutt and several others came under controversy for their leaked conversations with a lobbyist who is said to have influenced the appointment of a Cabinet minister linked to a telecom scam. There has been no suggestion Dutt or others tried to influence political decisions, and they say they were simply attempting to glean information from a source. *
There's a certain irony to the sort of journalistic moonlighting of which Solomon is accused. In an age when journalism jobs are disappearing, salaries are shrinking, and public approval of the business is at record lows, what motivation is there to remain in a reporting job? Becoming an arms dealer would likely be good for a salary increase—and probably an improvement in public esteem, too.
---
  * This story has been updated to clarify the nature of the controversy involving the Indian journalists.