What Got Buried in the Crazy News Cycle: 'Forgotten War' Edition
A few of the stories that have nothing to do with the Paris climate accords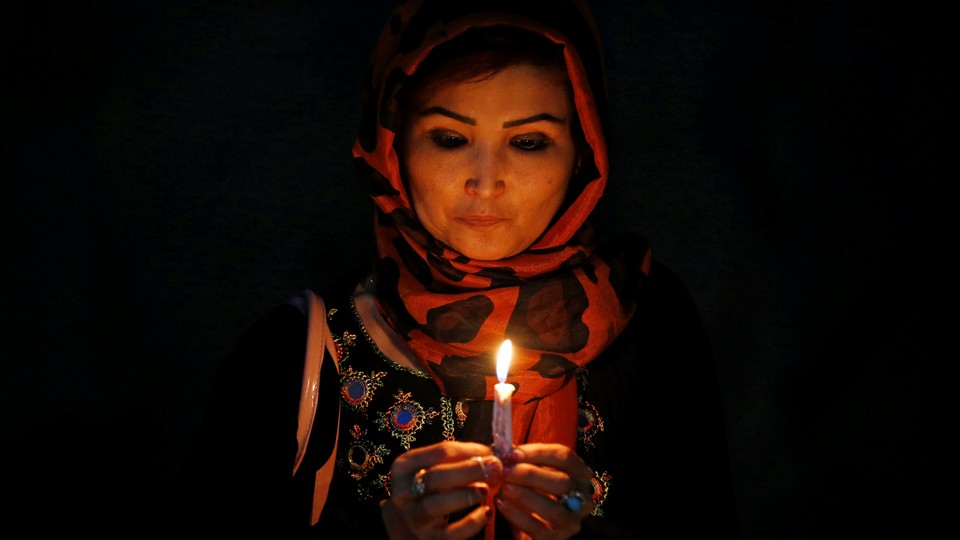 Whether you're recovering from your coal-drunk celebration of President Donald Trump's decision to withdraw from the Paris climate accord, or if you're just checking out of the hospital after suffering a rage-induced stroke, you might have missed a few stories this week. Still, as we all know, the best way to recover from a news hangover is the hair of the dog that bit you. Here's a few stories to help you nurse yourself back to health.
Remember how Theresa May was cruising to victory in the British election?
That was a long time ago. Since Theresa May stunned Britons by calling elections nearly six weeks ago (or roughly 12 years in Trump-scandal time), May's Conservative Party has seen its lead over the Labour Party cut in one poll from 24 to 3 points. She has repeatedly reversed course on key policy decisions, including the election itself, which she promised not to call, as well as Brexit, which she was against before the referendum, and including a recent embarrassing stumble in her campaign over who would have to pay what got labeled a "dementia tax" that she was forced to drop. That has undermined her intended message that her government will be a source of strength and stability during the tough Brexit negotiations. When May first became prime minister, commentators relished in comparing her to Margaret Thatcher, the Iron Lady who was famously "not for turning." In the wake of May's decision this week to skip a debate with the other major party leaders, a new joke has been making the rounds: This lady's not for turning up.
Meanwhile, Americans forgot the Forgotten War, again.
Even before a massive suicide bomb blew up outside the German Embassy in Kabul earlier this week, the government shared by President Ashraf Ghani and his rival, national CEO Abdullah Abdullah, had been steadily losing control, as the two have failed to agree on basic measures like who should be defense minister during an active war. (The post has been vacant since the minister resigned in April after the Taliban infiltrated a military base in a bloody incident.) The two men share government in an awkward arrangement hammered out by the U.S. after contested elections in 2014. But they have never come to a working agreement on who is really in control, and a promised plan to transform the awkward CEO title into a prime minister position never materialized. According to the U.S. military, the territory controlled uncontested by Kabul government's fell from more than 70 percent of the country in late 2015 to less than 60 percent in late 2016. Alternate power bases outside the presidential palace are abundant. One former prime minister moved back into Kabul earlier this year, after having shelled it indiscriminately in the 1990s, and called for the Taliban to join him as "brothers" in a peace deal while saying either Ghani or Abdullah should resign. Former President Hamid Karzai continues to hold court and to speak out against the U.S. How is Washington reacting to the political chaos? The current plan: send more troops.
The woman who is "ruining Germany" is having a good week.
Angela Merkel has had a rocky relationship with Donald Trump. After Time picked her as person of the year in 2015, Trump complained bitterly that they didn't choose him. Now she's using that to her advantage. At a campaign event ahead of Germany's September elections, Merkel told a cheering crowd, "The times in which we could totally rely on others are to some extent over, as I have experienced in the past two days." Coming right after Trump had lectured Europeans on NATO budgets, the shot at the U.S. president was clear. But while Merkel has spoken out vigorously against Trump's policies, she has hardly become anti-American. In fact, she's proceeded to embrace Trump in a kind of diplomatic bear hug, calling him immediately after his announcement of the Paris decision. More worrying for the Americans, though, is that she's also equally willing to work with the world's rising powers. She hosted not only the Chinese premier this week, but also Indian Prime Minister Narendra Modi, with whom she discussed "shaping the global order," as she put it. Though the election is still months out, Merkel's party has taken a commanding lead in polls. Trump better get used to those calls.
Kim Jong Un isn't the only steely-eyed missile man these days.
America is testing its missile defenses, too. The Pentagon this week successfully tested a system designed to shoot down incoming ICBMs. Since 2010, these tests have failed more often than they have succeeded, so the positive result was great news for supporters of the program like President Donald Trump. Critics point out that the ideal conditions under which the military conducts these tests don't really resemble an actual attack. (It's not like the North Koreans would say when a missile is coming, especially since Kim Jong Un is probably the only world leader who doesn't have Trump's phone number.) The hope is that robust defenses will persuade North Korea that attacking the U.S. is implausible, but it's a phenomenally expensive strategy, since it would require as many as five interceptors for every North Korean ICBM, for at least $70 million a pop, according to the Arms Control Association's Kingston Reif. And, even though the U.S. program isn't aimed at Russia or China, it's still making them nervous. Unfortunately, North Korea's missile problem can't be solved just with more missiles.
The Philippines suffers terror attacks, just maybe not the one Trump thought.
Trump pointed the world's eyes at the Philippines when he opened his Paris withdrawal speech by calling a shooting at a Manila casino a terrorist incident, only for the Philippine police to call the event, which left 35 dead, a robbery. But while you're gazing at the Philippines, look a little further south, where a pitched battle between ISIS-affiliated militants and security forces has been underway for more than a week. After telling the Islamic State "Do not f*** with me," President Rodrigo Duterte has declared martial law in Mindanao, his home island. The fight, which kicked off after security forces failed to kick off a militant leader, has been bloody. Thousands of civilians have been trapped. Ten government soldiers were killed in a friendly fire incident Wednesday, and locals have warned of collateral damage. "The anticipation of death is worse than death itself," said one Marawi politician, asking the government to call off air strikes. Meanwhile, the martial law declaration, though ratified by the Senate, has raised the specter of Ferdinand Marcos' 1972 takeover after imposing martial law nationwide. One person that's unlikely to bother, though, is Donald Trump, who has been unconcerned about violence in the country's war on drugs. He told Duterte in a call earlier this month, according to a leaked transcript, "Keep up good work, you are doing an amazing job."