A New, New Right Rises in Germany
At a farm in the east of the country, one couple tries to forge a nationalism for the intellectual set.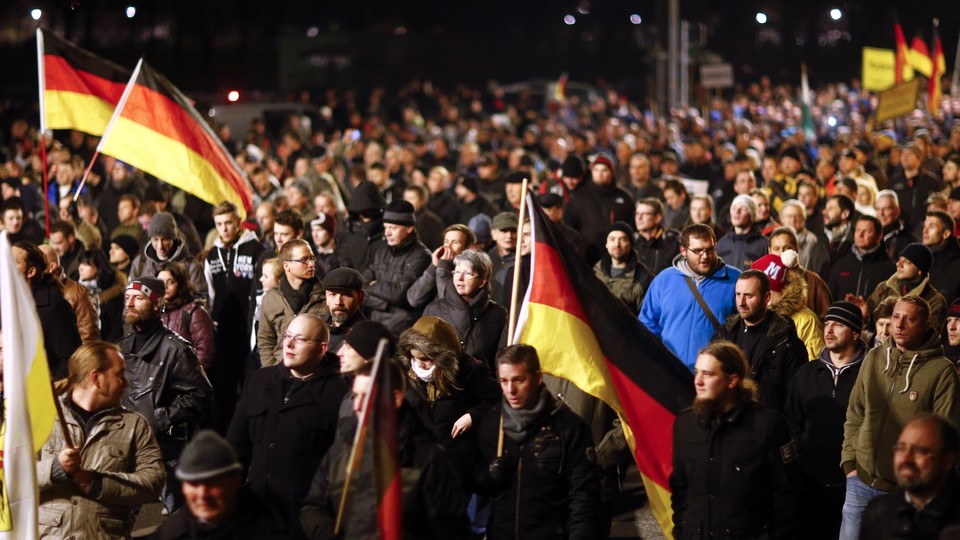 SCHNELLRODA, Germany—In the waning weeks of 2014, an astonishing right-wing fervor swept Germany. Tens of thousands of demonstrators, stirred by anti-Muslim and anti-immigrant sentiment, staged protests under the banner of the Patriotic Europeans Against the Islamization of the West, or Pegida. People streamed through the streets, waving German flags and chanting: "We are the people!" and "Resistance."
That Pegida erupted in former East Germany, where a stubborn far-right scene persists to this day, was little surprise. But the make-up of these seething masses was far broader than the region had ever seen. Beyond the hardened core of right-wing extremists, there were thousands of "concerned citizens" and disillusioned Germans, fueled by frustration with the government's immigration and economic policies.
For Götz Kubitschek, a leading figure in Germany's right-wing scene, the extraordinary turnout at Pegida rallies represented a personal triumph. "It's what we had waited for," he told me at his home in Schnellroda, a sparse two-street village in the eastern state of Saxony Anhalt. He had joined the movement in its beginnings as both a protester and a speaker, and likened its early days to a volcanic eruption of wrath. "They had the dynamism and masses and we knew the path to take, we knew the adversary—we could give it shape." Pegida's rise mirrored his own life pursuit: to shift Germany's left-leaning social and political culture to deeply conservative, nationalist values.
Kubitschek is the architect of Germany's "Neue Rechte," or New Right, a movement rooted in the concept of an ethnopluralist clash of cultures, whereby dominant national cultures and identities co-exist but do not merge. He and his wife, Ellen Kositza, began cultivating a self-described conservative elite in 2000, through the think tank Institut für Staatspolitik (Institute for State Politics), Antaios, a publishing house, and a bi-monthly magazine called Sezession (Secession). Kositza has become the face and voice of the publishing house, reviewing books and promoting Antaios's new releases on her YouTube channel, while Kubitschek is one of its ideological doyens.
In recent decades, Kubitschek, 46, and Kositza, 43, have devoted their lives to what they describe as metapolitics: an effort to generate a conservative revolution that will trigger a political paradigm shift on its own. While they are not officially affiliated with the right-wing populist party, Alternative for Germany (AfD), or Pegida, they see themselves as the intellectual pulse of this transformation, carefully culling like-minded writers, thinkers, and young activists.
Their home in Schnellroda serves as the Neue Rechte's nerve center; German media have flocked there to report on the couple's conservative ideology and way of life. Their centuries-old property includes a working farm with chickens and goats; they source their own fruit and cheese and milk. Kubitschek says the ethical treatment of nature and animals demonstrate the inherently conservative values at the core of his beliefs.
Twice a year at their farm, the couple hosts an academy for some 150 young German-speakers, including members of the Neue Rechte's subversive youth wing, the Identitarian Movement (IB), whose disruptive protests and slick branding have earned them notoriety as the hipsters of the far-right. Kubitschek also organizes readings with prominent writers, like New York-based Israeli playwright and author Tuvia Tenenbom and Jack Donovan, the controversial writer of The Way of Men, a treatise on masculinity.
On a humid late-spring morning, I sat with Kubitschek in his garden at the farm. Tall and sturdy, with a close-cropped, graying beard, he is courteous but measured, leery of being mischaracterized by journalists. His German is piercing, thickened with the accent of his home region in southwestern Germany, a region he said he left because of its misguided liberalism. Ruminating on the Neue Rechte, Kubitschek gestured to ceramic cups and a pitcher of coffee sitting before him. "It's as if I were to shatter this table and throw these cups against the wall. Our job is to go to them and say, 'Don't break the table; don't throw the cups against the wall. Think: Where is the enemy, what is the objective? There are terms and books and theses for all that,'" he said. "We channel their wrath so it isn't aimless. That is our duty: to guide this outburst towards a goal."
Most experts trace the Neue Rechte's beginnings back to the 1960s, when a left-wing radical student movement swept West Germany, recalibrating government institutions, media, education, gender politics, and popular culture. Like the parallel Nouvelle Droite school in France, the Neue Rechte considers itself a counter-revolution battling to correct the left's wildly deviant course. But unlike its French counterpart, the Neue Rechte is haunted by the shadow of Germany's past. Its forebears are political thinkers from the last century, such as Armin Mohler, Ernst Jünger, and Carl Schmitt, all of whom had controversial ties to the Nazis. To cast off charges of neo-Nazism, Kubitschek has sought to fashion the Neue Rechte as serious and highbrow, focused on identity and culture, not race and ethnicity.
Kubitschek bristles at how the left-leaning German government has denigrated its volk, or people, treating German-ness with contempt. "We don't have an interesting narrative to offer like the U.S., a globally powerful nation where every man can seek his happiness—a dynamic, self-confident nation that can wage wars anywhere in the world," he said. "Germany is a nation constantly pondering its guilt, a nation that wonders if it should exist. You can't integrate into such a nation. No young Syrian, Turk or Afghan, would be excited to join a society that is constantly doubting itself."
Kubitschek's world view, and in turn that of the Neue Rechte, has been sharpened by the recent, dramatic spike in immigration—more than one million refugees and migrants have entered Germany since 2015. The Neue Rechte considers Chancellor Angela Merkel's generous refugee policy a treacherous betrayal of the country's safety and well-being.
Many in the movement fear such immigration will result in bevölkerungsaustausch—a dominant Muslim culture that eventually supplants the German one. Their views were spurred on by a best-selling 2010 book written by former German Central Bank executive board member Thilo Sarrazin. The book, called Germany Does Away With Itself, blamed the country's supposed decline on its Muslim immigrants. Right-wing activists say the book's popularity freed them to discard taboos and speak openly about Muslims and failed integration.
According to Kubitschek, Islam is a religion to be respected at its origin. But Muslims have no place proselytizing in Christian countries, particularly ones that have lost sight of their Christian values. Volker Weiss, historian and author of the book The Authoritarian Revolt: The New Right and the Downfall of the West, writes that the Neue Rechte's true enemy is "not Mohammad's message, but rather global modernity with all its consequences." Kubitschek indeed spends more time lamenting decadent secularism, left-wing liberalism, and political correctness.
Right-wing researchers have called Kubitschek a dangerous radical; Weiss sees him as a follower of the ultra-nationalist ideology of Germany's Weimar Republic. Simone Rafael from the Antonio Amadeu Foundation, a Berlin-based NGO combating right-wing extremism, told me Kubitschek is a particularly interesting figure because he is able to connect groups across the right-wing spectrum. "With his publishing house and think tank and magazine, he's not only fighting to push Neue Rechte thought to the forefront, he's also educating people in it," she said. "And now he is an important link to the AfD and Pegida. … [H]e's involved in all the scenes. He brings them together."
Bernd Lucke, a founding member of the AfD, successfully prevented Kubitschek from joining the party in February 2015, pointing to his penchant for sporting brown and black clothing at Pegida demonstrations (colors associated with the Blackshirts in Italy and Brownshirts in Germany). Lucke left the party the same year over concerns it was drifting swiftly to the right.
Kubitschek waves all this off as left-wing invective, insisting that he and his wife welcome activists from across the conservative spectrum and work to temper its more radical elements; hardcore extremists are not welcome in Schnellroda, they said. With age and time and the family's rising prominence across the country, Kositza noted their responsibility as leaders of the Neue Rechte has grown.
While the couple views its work as a multi-generational march towards a conservative revolution, there are indications they might not have to wait for long. A University of Leipzig survey of citizens' political views over the last 15 years indicates extreme right-wing views and anti-democratic attitudes are far more prominent in public discourse now than in previous years. Within the last five years, the terms lügenpresse (lying press) and völkisch (racial), considered vile remnants of Germany's darkest chapter, re-emerged at Pegida protests and among the AfD.
Pegida's numbers have tapered off significantly, but as Werner Patzelt, professor of political science at Dresden's Technical University, told me, the protest movement has found a more effective vehicle in the AfD. The party's chairwoman Frauke Petry has fought to keep the party a viable political force by limiting its links to extreme elements. She thwarted cooperation with Pegida, especially after its founder was found guilty of incitement last year.
But this April, she stepped aside as the party's lead candidate for the September elections. A month later, the AfD officially joined Pegida on stage for the first time at a demonstration in Dresden. German media now speculate that Petry will be stripped entirely of leadership at an upcoming meeting.
Earlier this year, Björn Höcke, an AfD politician, called on Germans to move beyond their culture of guilt as symbolized by Berlin's Holocaust memorial, referring to it as a monument of shame. Five years ago, his comments would have likely spelled the end of Höcke's career and severely damaged the AfD. The party's executive committee put in a motion to revoke his membership but it has gone nowhere; in the meantime, Höcke faced vague "regulatory" measures. In a piece in his magazine Sezession, Kubitschek argued that Höcke's words had been misconstrued—it is not a shame the monument exists, but rather that shame is enshrined, physically and emotionally, in the German psyche.
The AfD is on course to win around eight percent of the vote in September's federal elections, according to the weekly "Sonntagsfrage" poll, but its peak numbers have fallen. Still, the party was founded only four years ago, and is already represented in 13 of Germany's 16 state parliaments. Barring catastrophe, it will enter federal parliament after September's elections. Most significantly, the AfD has also forced Merkel's government to adjust to its rhetoric. Earlier this month, Interior Minister Thomas de Maiziere from Merkel's party triggered widespread controversy when he presented a ten-point plan to cultivate a dominant German culture. It was widely seen as a nod to right-wing voters.
While they wait for their conservative revolution, Kubitschek and his wife dedicate the bulk of their efforts to the publishing house, Antaios. The company's few employees bustle across worn wood plank floors in the office, just past a library lined with dozens upon dozens of conservative authors. The name Antaios refers to Antaeus, a figure in Greek mythology who could not be defeated as long as he kept both feet firmly planted in the earth.
Kubitschek said he is most comfortable here in the former East, where he believes people are freer to think critically and question authority. "They also know here that nothing lasts forever. They have seen a state fall," he added. "They're more suspicious of what comes from above, of politics."
It's difficult to say whether that is an observation or something more ominous. The Federal Office for the Protection of the Constitution cannot disclose whether it is monitoring individuals, only organizations or groups. Kubitschek points to the winding serpent, the company's insignia, along the book bindings.
"A snake sheds its skin time and again but remains the same. I think that characterizes us very well," he said.
---
Julian Ramirez contributed reporting from Berlin.