What Trump's Ramadan Message Was Really About
The president urged Muslims to "reject violence" in a statement that contrasted sharply with those issued by Bill Clinton, George W. Bush, and Barack Obama.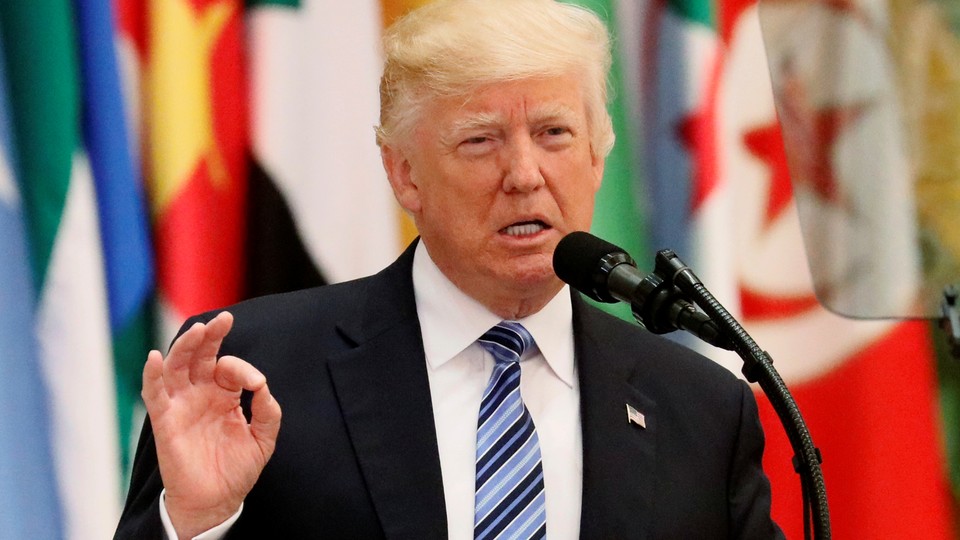 President Trump wished all Muslims a "joyful Ramadan" in a statement Friday, just hours before the start of the month-long Islamic holiday during which those observing fast from sunrise to sunset.
Though such statements are commonplace among American presidents, Trump's remarks took on a markedly different tone than did those of his predecessors. While the statement, like those of presidents past, noted the "acts of charity and meditation" that define the holy month, it went on to focus on a topic that has been at the forefront of Trump's first trip overseas as president: terrorism.
"This year, the holiday begins as the world mourns the innocent victims of barbaric terrorist attacks in the United Kingdom and Egypt, acts of depravity that are directly contrary to the spirit of Ramadan," the White House statement reads, adding that "such acts only steel our resolve to defeat the terrorists and their perverted ideology."
The president goes on to reminisce about his recent visit to Saudi Arabia, where he delivered a speech calling on leaders of 50 Muslim-majority countries to confront "the crisis of Islamist extremism and the Islamist terror groups it inspires." It was a theme Trump reiterated in his Ramadan greeting, in which he reaffirmed that "America will always stand with our partners against terrorism and the ideology that fuels it."
Though the message marks a departure from Trump's more aggressive rhetoric about Muslims —Trump as a candidate spoke of establishing a registry of all Muslims in the United States, claimed that "Islam hates us," and has sought to impose a travel ban on citizens of six Muslim-majority countries that the Fourth Circuit Court of Appeals said "drips with religious intolerance, animus, and discrimination"—it nonetheless signals a shift from the way the White House has traditionally commemorated the holiday.
Former President Bill Clinton, in his Ramadan address, spoke of the history behind the holy month and commended Islam's teachings "of self-discipline, compassion, and commitment to family." Barack Obama, in his final Ramadan message as president, acknowledged the Muslims who "may not be able to observe Ramadan from the comfort of their own homes this year" and reaffirmed the country's commitment to welcoming immigrants and refugees.
Former President George W. Bush's Ramadan message, delivered just months after the September 11 terrorist attacks, didn't mention terrorism at all. Instead, it focused on the diversity within the American Muslim community, whose members "serve in every walk of life, including our armed forces."
But perhaps the most notable difference between Trump's statement and those of past presidents is not the overall theme of the greeting, but rather how it begins. "On behalf of all Americans," the statement opens, "I would like to wish all Muslims a joyful Ramadan." It frames the wishes as being delivered from "all Americans" to "all Muslims," as though describing two distinct entities that don't overlap. Though the president's statement goes on to address the "many Muslims in America," at no point are they referred to as "Muslim Americans" or as "American Muslims."
As seemingly innocuous and perhaps unintentional as this wording may be, it could stand to upset the American Muslims who regard the president's words as further proof of an administration that perceives Islam and its adherents as inherently antithetical to what it means to be American.
As more than three million American Muslims prepare to observe Islam's most sacred month, which begins Friday at sundown, Secretary of State Rex Tillerson has reportedly declined to host a Ramadan event at the State Department—a tradition that's been upheld by Republican and Democratic secretaries of state for nearly two decades. It remains unclear—and a subject of considerable speculation—whether Trump will continue the annual White House tradition of holding an Iftar dinner, the meal that marks the end of Muslims' daily fast at sundown. Perhaps even more unclear is who would accept the invitation if he did.